Icelandic feature Rams and Colombian rural drama Land and Shade take top prizes at Greek festival.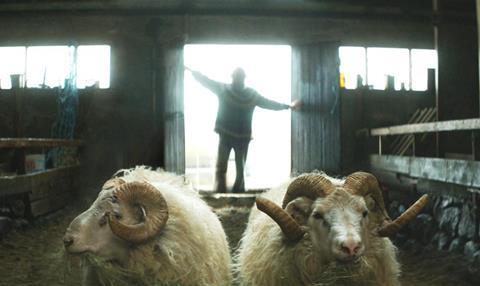 Scroll down for full list of winners
Icelandic director Grimur Hakonarson's Rams (Hrutar) has been named best film at the 56th Thessaloniki International Film Festival (Nov 6-15) winning the Golden Alexander.
It beat competition from 13 other first and second films screened in this year's particularly strong international competition section.
The film, awarded the Un Certain Regard top prize earlier this year in Cannes, deals with two brothers, who haven't spoken to each other for over 40 years though living in neighbouring farms in a remote valley in Iceland raising sheep.
World sales are handled by Polish outfit New Europe Film Sales. It will be released in Greece by AMA Films.
Following a long tradition of Latin American productions sweeping the Thessaloniki awards, features from Colombia, Argentina, Mexico and Venezuela shared the majority of the other official and side awards.
Colombian drama Land and Shade (La tierra y la sombra) by César Acevedo was awarded the Special Jury prize Silver Alexander as well as the Audience and the Greek Parliament Human Values award.
Argentinian filmmaker Francisco Varone received the Bronze Alexander for his debut Road to La Paz (Camino a La Paz), Mexican director Gabriel Ripstein was named best director for 600 Miles, which won best debut at this year's Berlinale, and Venezuela's Lorenzo Vigas' From Afar (Desde alla), winner of Venice's Golden Lion, received the best screenplay and best actor award for his leading man Alfredo Castro.
Land and Shade landed in the Thessaloniki competition following its Golden Camera (Camera d'Or) award at this year's Cannes Film Festival. It is a rural social drama taking place in a remote Colombian village. World sales are handled by France's Pyramid Films.
Road to La Paz is a road movie where an elderly Muslim on his way to Mecca asks an "amateur" taxi driver to drive him from Buenos Aires to La Paz. World sales are handled by US firm FiGa Films.
Ripstein's 600 Miles centres on an arms smuggler for a deadly Mexican cartel and the US agent (Tim Roth) who attempts to apprehend him, but gets kidnapped.
The film is produced by Michel Franco, Ripstein and Moise Zonana's Lucia Films (Chronic) and sold worldwide by French-Mexican outfit NDM International Sales.
Lorenzo Vigas' From Afar centres on a middle-aged man in Caracas who pays young men for their company until he meet the 17-year-old leader of a criminal gang, changing both their lives. World sales are handled by Celluloid Dreams.
The international jury comprised Michèle Ray-Gavras, producer (France) – President, Corneliu Porumboiu, director, screenwriter (Romania), Jay Weissberg, film critic and Pordenone Film Festival artistic director (US), Elise Jalladeau, producer, promoter (France) and Efthimis Filippou, screenwriter (Greece).
Festival highlights and side events
Among this year's highlights were the screening of Fritz Lang's 1927 classic Metropolis in its restored version accompanied by a live performance by the Thessaloniki State Symphony Orchestra.
There was also a retrospective of the 70 years of Greek animation, a homage to the recent Austrian cinema and tributes to Romanian master Mircea Danieluc and to his French colleague Arnaud Desplechin, whose latest My Golden Years (Trois souvenirs de ma jeunesse) was the closing film of the event.
Desplechin introduced the seven films composing the tribute and offered a masterclass.
The Greek Film Centre and the festival organized a conference on the imminent creation of a Greek Film Commission by the GFC and the Culture and Tourism Ministries. The main speaker at the presentation was Thierry Baujard, CEO of the Berlin/Paris based Peacefufish company experienced in the development of film incentives in various European countries.
Also the Greek Film Academy, OTE TV and the Arts and Letters branch of the Onassis Foundation announced the creation of the Film Factory Short Film Fund, set to finance a number of short films by new and upcoming directors.
Appeal for France in the wake of the Paris terrorist attacks
The closing gala and awards ceremony was marked by emotional speeches and a call for support for France related to the Paris terrorist attacks, which happened just 24 hours before the closing of the event.
Taking the floor and also calling for a minute of silence were the president of the Greek Parliament ΝικοςVoutsis, festival president George Arvanitis, jury president Michele Gavras and director Arnaud Desplechin.
International jury awards
Golden Alexander: Theo Angelopoulos award to the best film
Rams (Hrutar) by Grímur Hákonarson (Iceland)
Silver Alexander: Special jury prize
Land and Shade (La tierra y la sombra) by César Acevedo (Colombia, France,The Netherlands, Chile, Brazil)
Bronze Alexander: Special jury Prize
Road to La Paz (Camino a La Paz) by Francisco Varone (Argentina, the Netherlands, Qatar)
Best director
Gabriel Ripstein for 600 Miles (600 millas) (Mexico)
Best actress
Devon Keller in Petting Zoo by Micah Magee (Germany-Greece-USA)
Best actor
Alfredo Castro in From Afar (Desde alla) by Lorenzo Vigas (Venezuela, Mexico)
Best Screenplay
Lorenzo Vigas for From Afar (Desde alla) by Lorenzo Vigas (Venezuela, Mexico)
Side Awards
Audience awards (Fischer)
Foreign film in competition
Land and Shade (La tierra y la sombra) by César Acevedo (Colombia, France,The Netherlands, Chile, Brazil)
Greek film-Michael Cacoyiannis award (all sections)
Ex aequo,
Spring Awakening (To xipnima tis anixis) by Constantine Giannaris
Chevalier by Athena Rachel Tsangaris
Open Horizons section
Me and Earl and the Dying Girl by Alfonso Gomez-Rejon (USA)
Balkan Survey section
Mustang by Deniz Gamze Erguven (Turkey, France, Germany, Qatar)
Fipresci
Film in the international competition
Silent by Yorgos Gkikapeppas Greece)
Greek film (Greek films 2015 section)
Blind Sun (Kafsonas) by Joyce A. Nashawati (Greece, Turkey)
Greek Parliament Award for human values
Land and Shade (La tierra y la sombra) by César Acevedo (Colombia, France,The Netherlands, Chile, Brazil)
Greek film critics association (PEKK)
Wednesday 04:45 (Tetarti 04:45) by Alexis Alexiou (Greece, Germany, Israel)
Agora-Industry awards
Crossroads Co-production Forum
The 2/35 co-production award (full post production image and sound worth up to €100,000) to the project,
Usud by Stefan Malisevic, produced by Vladimir Vasiljevic (EED Productions) & Stefan Malesevic (Slovo Film) (Serbia, Bosnia & Herzegovina)
CNC Development award - €10,000 to the project,
The Land of No One by: Christina Koutsospyrou & Aran Hughes, produced by Vassilis Chrysanthopoulos (Plays2place productions) (Greece)
Works in Progress
GRAAL co-productionaward- image post-production up to €70.000
The City with no Compass by Antonio Savinelli, produced by Ismael Garcia Lopez (Savinelli Films) (Spain)