Art installations, a tech hub and some of the finest indie films of the year. Geoffrey Macnab asks whether there is anywhere better than Rotterdam to kickstart the year.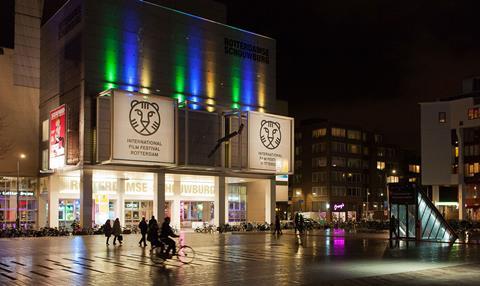 In his second year at the helm of International Film Festival Rotterdam (IFFR, Jan 25 - Feb 5), festival director Bero Beyer is on a mission to persuade visitors the event has a wider remit than films.
"IFFR is much more than just a festival. It has all these different sides and aspects," Beyer explains.
Alongside screenings, IFFR will host directing masterclasses from, among others, the UK's Andrea Arnold, Hungarian master Bela Tarr and Barry Jenkins, the US director of awards favourite Moonlight.
Debates will include one on the future of the EU's Media programme, and there will be musical and social events.
"We are not trying to take over the world," says Beyer. "We are trying to create a space in Rotterdam and online that brings you into an open atmosphere of being enlightened and challenged, entertained, thrilled or confused by the cinematic art and works we represent."
The new European Convention on Cinematographic Co-Production is expected to be signed during the festival - confirming IFFR, with its CineMart co-production event, is considered a key marker for the European industry.
Sidebars this year include Black Rebels, a programme of shorts, features and installations telling the history of black cinema in the Netherlands.
Beyer also draws attention to the art installations and interactive exhibitions IFFR is staging, including an homage to maverick abstract artist Joost Rekveld.
The festival is continuing to build on IFFR Live!, the programme of interactive screenings in which more than 45 cinemas are taking part.
Six films will screen simultaneously in Rotterdam and worldwide, including cinemas in Singapore, Israel, Canada and Curacao, as well as online. They will be accompanied by live Q&As and performances.
This year's programme includes jury member Fien Troch's Home and Johannes Nyholm's The Giant.
IFFR is also hosting Propellor Kickstart, a one-and-a-half day brainstorm of innovative ways to produce, distribute and watch films.
It is the first of four planned events this year as part of the Propellor Film Tech Hub, a collaboration between IFFR, Berlinale's European Film Market, Copenhagen-based film festival CPH:DOX and Berlin-based film innovation studio Cinemathon. Two projects created during the event will go on to be pitched at CineMart.
Don't Miss
Check out the art installations, which are often overlooked. Pay attention to the retrospective of the work of Jan Nemec, one of the great figures of the Czech New Wave but whose work is still relatively little known.
Where to network
The festival schedules regular 'guest meets guest' events in its main base, the Doelen.
Industry delegates are often to be found having dinner at Tai Wu, the Chinese restaurant so admired by Jackie Chan that he is said to have made his 1998 film Who Am I? in the Netherlands just so he could visit it again.
UK delegates enjoy Cafe Brasserie Dudok, well known for its homemade apple pie. The Centraal Hotel bar is traditionally the place for late-night drinking and sometimes deal-making.
Need to know
Make sure you get one of the festival's money cards. The bars and restaurants in the main venue, the Doelen, do not generally accept cash.
Tickets
CineMart and industry badges cost $145 (€140). Press delegates pay an accreditation fee of $52 (€50).
Hot picks
Dutch writer-director Daan Bakker's determinedly quirky competition entry Quality Time, featuring several short stories about struggling men and their concerned parents. Festival director Beyer calls it "funny, daring, very Dutch but incredibly international somehow".
IFFR is hosting the world premiere Double Play, the new film from renowned film and TV cinematographer Ernest Dickerson, whose film credits includes She's Gotta Have It, Mo Better Blues and Jungle Fever. Double Play was shot in the Dutch territory of Curacao in the Caribbean, with which the festival has close links. For the last five years, Curacao has hosted its own Curacao International Film Festival Rotterdam every spring.
CineMart
The 34th edition of CineMart, IFFR's co-production market, will feature 26 projects selected from an intake of 450 applications, up 100 from last year. CineMart organisers put this down to a glut of titles in production, with many struggling to secure distribution. It is why they take their curatorial responsibilities seriously.
"It is very much our responsibility to look at projects that really have a life and are not just doing the circuit of co-production markets," says Marit van den Elshout, the head of industry and CineMart.
There has been a concerted attempt to link CineMart with other strands of the festival and give extra momentum to the event. CineMart has long had close links with Rotterdam Lab, the five-day training workshop for emerging producers.
This is the first year of Boost NL, a collaborative project between Holland Film Meeting, held in September, and CineMart. This gives double exposure and extra opportunity to selected Dutch and international projects, including those supported by IFFR's Hubert Bals Fund.
This year's selection is a characteristic mix of art films, including Ben Rivers' After London, and projects from established auteurs.
These include Gabriel Mascaro (Neon Bull), who is presenting his feature project Centre Of The Earth, and Nepalese director Deepak Rauniyar (White Sun), who will be at CineMart with A King.
There is genre fare including horror movie Martyr's Lane from UK newcomer Ruth Platt and production outfit Ipso Facto.
Animation is represented by Hong Kong director Lei Lei's Ningdu, and there are also bigger projects such as the $4.2m Poissonsexe from French director Olivier Babinet, Michael O'Shea's A Spectacle, Pietro Marcello's Martin Eden and Eva Husson's Les Filles Du Soleil, all budgeted at around $3.1m.