Attendance up 22%; festival director Karl Spoerri talks about Zurich's potential as a film finance hub.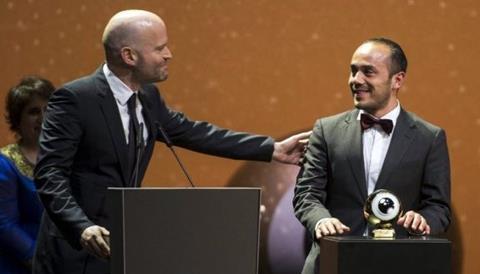 The Zurich Film Festival's ninth edition has given its Golden Eye for best international film to The Golden Cage (La Jaula De Oro) from Mexico's Diego Quemada-Diez. The jury gave a special mention to actor Michael B Jordan in Ryan Coogler's Fruitvale Station.
The International Documentary Film winner was Danish director Kaspar Astrup Schroeder's Rent A Family Inc. (Lej En Familie A/S). A special mention went to Omar Mullick and Bassam Tariq's These Birds Walk from Pakistan.
The German-language competition awards went to Frauke Finsterwalder's German feature Finsterworld and Anna Thommen's Swiss documentary Neuland. A special mention went to Die Frau Die Sich Traut by Marc Rensing for feature and to Sabine Lidl's Nan Goldin – I Remember Your Face for documentary.
Each of the awards comes with a $22,050 (CHF20,000) cash prize and $66,100 (CHF60,000) worth of promotion for the film in Swiss cinemas.
Finsterworld also won the critics' choice award, chosen by three Swiss critics.
The audience award went to Noel Dernesch and Mortiz Springer's Journey To Jah (Germany).
The new Children's Film Audience Award went to David Scheinmann's Believe (UK).
Another new award, for best treatment, went to UK-born, Swiss resident Dave Tucker for his project Sturm – Bis Ich Tot Bin Oder Frei. He receives $5,500 (CHF5,000) cash and a further $27,500 (CHF 25,000) to develop his screenplay.
The international feature film jury was headed by Marc Forster and also included actress Melissa Leo and directors and producers Thomas Imbach, Guneet Monga, Andrew Dominik and Stacey Sher. The international documentary jury was headed by Canadian producer Elizabeth Radshaw, while the German-language feature jury was headed by actress Veronica Ferres and the German-language documentary jury was headed by Markus Imhoof.
Industry and audience growth
Festival visitors rose to 71,000 (up 28% from 2012) and the festival has also grown in industry stature from year to year. This year's honorees and speakers coming to Zurich included Harvey Weinstein, Hugh Jackman, Harrison Ford, Working Title's Tim Bevan, Michael Haneke and dozens of other filmmakers presenting new films, including David Gordon Green with Joe, Atom Egoyan with Devil's Knot, James Gray with The Immigrant, Jonathan Teplitzky with The Railway Man, and Alfonso Cuaron with Gravity, among others.
There were 345 screenings this year (up from 250 in 212) of 122 film titles (previously 111) and some 450 national and international guests (up from 350).
"We have more and more industry coming for a few days. We have more directors wanting to come, this is a really good sign. And distributors really trust us, whether that's the majors or Ascot Elite or Filmcoopi," Festival co-director Karl Spoerri told Screen.
This year's event also drew prominent guests from politics, as a ZFF co-presented Evening With Arthur Cohn was attended by Germany's former Federal Chancellors Helmut Kohl and Gerhard Schröder.
One smart move the festival has made to attract more filmmaker guests is a new partnership with the San Sebastian Film Festival, which starts just before Zurich does.
"We worked together more unofficially last year, and this year the team and the artistic director met us in Berlin, and we really like these guys," Spoerri told Screen.
"They are such an established and important festival for more than 60 years, and they never looked down on us [for being a younger festival]. We try to help each other. For someone like Atom Egoyan to come to Zurich, he had never been here, and it would have been more difficult to get him here [if it weren't for the San Sebastian partnership.] It's an interesting collaboration for us, it's working well."
He added: "It's a win-win situation, also when you are sharing costs you can do more. For instance, the two festivals split the cost to fly Touch of Sin director Jia Zhangke and actress Zhao Tao from Shanghai to Europe.
Zurich as finance hub
This year's Film Finance Forum, in its fourth edition, saw major Hollywood players come to town, as well as connecting filmmakers and high net-worth individuals from the region. "The interest is increasing, there is money here and [film investing] can build," Spoerri said. "More and more people here are starting to think about investing in film." The Finance Forum dinner, for instance, invited high net-worth individuals to network with the attending industry and filmmakers.
The Finance Forum, organised by Winston Baker, welcomed speakers included Christopher Woodrow of Worldview Entertainment, Roeg Sutherland of CAA, Claudia Blumhueber of Silver Reel Partners, Pierre Ange Le Pogam of Stone Angels, Nigel Sinclair of Exclusive Media, IM Global's David Jourdan, IWC Schaffhausen's Georges Kern, Sky Deutschland's Marcus Ammon, Cross Creek's Brian Oliver and Kingsgate Film's Greg Shapiro. (See Finance Forum recap here).
The posh Dolder Grand hotel provides an ideal relaxed networking space for visiting industry. "We don't have a market so what's important for us is to bring these people to Zurich to share quality time with each other. It's not super hectic."
Anniversary plans
The festival will celebrate its 10th anniversary next year (September 25 until October 5), and the public square in front of the opera house will be completed with construction, allowing for a bigger tent/festival hub. It will be Switzerland's largest square. "There are are lot of things we can do for the anniversary," Spoerri says.
The festival budget is $6.7m (CHF 6.1m), up from 2012's $6.3m (CHF 5.7m). Only CHF 500,500 of that comes from the government – the rest comes from numerous sponsors including headline sponsors Credit Suisse, upc cablecom, Die Schweizerische Post, and Audi. The festival has many dozens of other companies also serving as sponsors.