Profiles of projects from the 13th Hong Kong - Asia Film Financing Forum (HAF).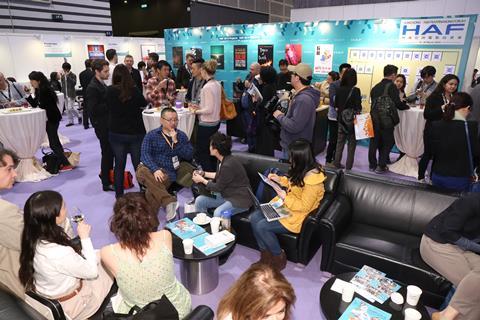 The A Women
Dir Hannah Moon
Project's country of origin Australia
This feature-length documentary examines the growing number of educated 20-something Chinese women who are stepping away from tradition and putting life and work before marriage. The narrative will build towards Chinese New Year, when there is extraordinary pressure to bring home a boyfriend.
"The subject interests me because I'm 31 and single," says director Hannah Moon, who lives in port city Ningbo, where the film is set. "These women are at the centre of China's fast-developing economy and Western feminism doesn't apply. To them, life is about integrating their cultural identity into a changing world — holding on to what's valuable."
Moon will use several protagonists to explore her themes, including how family remains so central in China.
Family is absolutely put first and it's wonderful — grandparents raise kids and people genuinely want to look after their parents. There's a stronger sense of connectedness than in the West," she says.
Her project contrasts starkly with how Western media likes to portray the "weirdness" of China, she adds.
Screen Australia and Film Victoria have provided development funds for The A Women, which Melbourne-based producer Joanna Bence aims to finance as a co-production.
Producer Joanna Bence
Production company Curb Denizen
Budget $350,000
Finance raised to date $205,000
Contact Joanna Bence jo@curbdenizen.com
American Serial Killer In Manila
Dir Mikhail Red
Project's country of origin Philippines
Up-and-coming Filipino director Mikhail Red says his latest project puts a new spin on a popular genre by combining it with "a new, exotic and exciting environment".
He describes the film as a suspenseful serial killer/slasher story seen from the point of view of the mysterious US character. The perspective also shifts to the other main character of the story, a young girl forced into cybersex prostitution, who forms an unusual friendship with her reclusive neighbour.
"From her point of view, we see what it is like to be a victim of a vicious society," says Red. "As she struggles to free herself, we witness a dramatic, emotional escape plot."
Red, son of independent cinema pioneer Raymond Red, made his feature debut with crime thriller Rekorder (2013), which won Vancouver's best new director award.
In script development, American Serial Killer In Manila will have a US lead and most of the dialogue will be in English. PelikulaRED, founded by Red and his father, will produce.
The project was one of the winners at last year's Manila Film Financing Forum and received a script development grant from the Philippines' National Commission for Culture and the Arts.
Producer Pamela L Reyes
Production company PelikulaRED
Budget $880,000
Finance raised to date $92,000 (from Manila Film Financing Forum, National Commission for Culture and the Arts, PelikulaRED)
Contact Pamela L Reyes pamlreyes@gmail.com
Die Beautiful
Dir Jun Robles Lana
Project's country of origin Philippines
Having completed his award-winning 'small-town Philippines trilogy' of Bwakaw, Barber's Tales and Our Father, Filipino director Jun Robles Lana is ready to tell an edgier story with Die Beautiful.
When a transgender beauty queen dies suddenly, her wish to be dressed like Lady Gaga at her funeral is ignored by her estranged, conservative family. This prompts her drag queen friends to steal her body and hold a week-long wake, making her up each day as a different celebrity she impersonated.
"Die Beautiful is comparable to Bwakaw and Barber's Tales in that they all tackle themes of identity, sexuality and self-empowerment, but there ends the similarity. This film is going to be fiery, irreverent and subversive; a departure from the generally quiet and reflective tone of my film trilogy," says Lana.
The director says he was inspired in part by a news story about a transgender woman in the Philippines who was allegedly murdered by a US Marine.
"My government's wishy-washy, tentative stance on the matter was both frustrating and unsettling. It motivated me to write about the complex and often difficult struggles of transgender people," he says.
He has cast actor and model Paolo Ballesteros in the lead. "Die Beautiful is the perfect project for him."
Octobertrain Films has completed funding and is looking at a possible rise in budget to $300,000. Lana is working on the script and hopes to start principal photography by May.
Producers Ferdinand Lapuz, Perci Intalan
Production company Octobertrain Films
Budget $200,000
Finance raised to date $200,000 (private equity, co-producers)
Contact Perci Intalan percinotpercy@gmail.com
Ghost In Mountain
Dir Yang Heng
Project's country of origin China
Chinese writer-director Yang Heng is revisiting Hunan province — his birthplace and the setting for his first three films — in Ghost In Mountain.
The story focuses on a drifter who returns to his home town after being away for years. He is found stabbed to death as the story begins and his wayward journey will unfold in flashback.
Yang aims to explore China's displaced people, who find they cannot fit into urban cities and yet the villages have become unfamiliar to them. "They're always on the road in search of something and live their lives as if in an absurd dream," he says.
Like Yang's previous three films — Betelnut (2006), Sun Spots (2009) and Lake August (2014) — the new project will be made on an ultra-low budget with a small production team. In pre-production, the film will be shot in Hunan in the local dialect.
He is collaborating for the first time with Yang Cheng, CEO of Beijing-based Heaven Pictures Culture & Media and a curator of China Independent Film Festival in Nanjing, where Yang Heng's last film, Lake August, won the jury award last year.
Yang Cheng has produced all his films through his production outfit Xiang Xi Yang Heng Film Studio.
Producer Yang Cheng
Production company Xiang Xi Yang Heng Film Studio
Budget $400,000 Finance raised to date $50,000
Contact Yang Cheng yc2046@outlook.com
The Bicycle Girl
Dir Shivajee Chandrabhushan
Project's country of origin India
The Bicycle Girl revolves around a teenage girl, Meera, who has to convince her father to let her participate in the school cycling competition. Her father hates cycling as he lost his wife some 17 years ago after a treacherous cycle ride to a hospital.
"Though cycling is quite popular in India, the country has never produced a world-class cyclist. This is the story of a teenage girl who aspires to be a champion cyclist. The scope for conflict in the story is immense, with a female character getting into a male-dominated sport in India," says writer-director Shivajee Chandrabhushan.
At script development stage, the film is set in the hill station of Coorg in the Indian state of Karnataka, where it will be shot.
Chandrabhushan's debut film Frozen premiered at Toronto International Film Festival in 2007 and went on to play at Rotterdam, Busan and Hong Kong, winning more than 20 awards. The film also had a limited theatrical release in India.
His second title, One More, was also a sports-themed drama, revolving around an amateur ice hockey team in Ladakh.
Chandrabhushan will produce The Bicycle Girl under his own banner, Shivajee Chandrabhushan Films.
Producers Shivajee Chandrabhushan, Triparna Banerjee
Production company Shivajee Chandrabhushan Films
Budget $200,000
Finance raised to date $26,000 (Shivajee Chandrabhushan Films)
Contact Triparna Banerjee mailtriparna@gmail.com
Breathing
Dir Gilitte Leung
Project's country of origin Hong Kong
Hong Kong director Gilitte Leung turns to Thai boxing for inspiration for her second feature Breathing, which is about a 30-year-old singleton who takes up Muay Thai to lose weight and find a husband.
"There are so many pressures on young women today to look the way a man wants them to. On top of that, they also have to be successful career women and have a husband before society deems them too old. This film doesn't attack that way of living, but shows that success and beauty can be more than skin deep," says Leung.
Inspired by her real-life experience, she came up with the story idea and wrote the script with new writer Anastasia Tsang. The film will be shot largely in Hong Kong with additional scenes in Thailand.
The project marks a change in style for Leung, whose debut feature Love Me Not was a small-budget LGBT drama. It will be much more accessible and entertaining, while maintaining her visual style and personal attachment.
Love Me Not enjoyed a theatrical run in Hong Kong in 2012 and the following year played at Terracotta Far East Film Festival in London, where Leung met Richard Geddes, who programmed the festival's Chinese-language section.
Geddes is now producing Breathing through Terracotta Media, which is making its first foray into film production. The London-based company is also a distributor of Asian films.
Leung was a music composer for Hong Kong singers before turning to films. She still scores her own film projects.
Producer Richard Geddes
Production company Terracotta Media
Budget $800,000
Finance raised to date $250,000 (private equity)
Contact Richard Geddes terracotadistribution.com
The Memory Of Okinawa
Dir Kazuo Hara
Project's country of origin Japan
Japanese documentary film-maker Kazuo Hara, known for controversial films such as The Emperor's Naked Army Marches On, has been thinking about the situation in Okinawa for decades.
Japan's southernmost prefecture was invaded by the US during the Second World War and has housed military bases ever since.
"I've wanted to focus on the issue of Okinawa since I was in my 20s. Now Japan is rocked by the issue of US military bases' relocation to Henoko, and is inclined towards 'the road to war'," says Hara, referring to moves in Japan to reverse the renunciation of war in the country's post-Second World War constitution.
The director says he would like to shoot in Japan and the US. "There was a [US invasion] strategy called the Iceberg Plan, which was not carried out. It seems significant to simulate what would have happened to the relationship between Japan and the US if the plan had been carried out," he says.
Hara's 1987 documentary The Emperor's Naked Army Marches On follows an angry Japanese Second World War veteran looking into the unexplained deaths of comrades. His credits also include documentary Extreme Private Eros: Love Song 1974, which follows his former lover to Okinawa, where she has a relationship with an African-American soldier.
Having focused on "people who rebel against authorities", Hara says he now wants to focus on these authorities from a historical point of view.
Shisso Production, responsible for Hara's previous works including The Emperor's Naked Army Marches On, is producing the project.
Producers Daisuke Hirasawa, Maki Yokoi
Production company Shisso Production
Budget $150,000
Finance raised to date $20,000 (from Mels Club)
Contact Maki Yokoi yokoimaki@gmail.com
The Foolish Bird
Dir Huang Ji
Project's country of origin China
Following her debut feature Egg And Stone, which won Rotterdam's Tiger award in 2012, Chinese writer-director Huang Ji returns with The Foolish Bird as the second instalment of her trilogy about Chinese village women.
Like the 14-year-old girl in Egg And Stone, the 17-year-old girl in The Foolish Bird is left behind with her grandparents in a small village as her parents make a living in the city. In a yearning for love in her mundane life, the girl uses her beautiful voice to flirt with men over the phone, and even sleeps with them.
"While China is undergoing a rapid economic development, there's no outlet for the teenagers staying behind in the villages to express themselves emotionally. They turn to sex to let it all out," says Huang.
The new project is semi-autobiographical — Huang was a left-behind child for a decade. She will cast amateur actors who speak the Hunan dialect and will film in the house where she lived during her teenage years in Meichang, Hunan province.
Production company Yellow-Green Pi was founded by Huang and her husband Ryuji Otsuka, the Japanese producer and DoP of Egg And Stone. He was also the DoP on When Night Falls, which won the best director prize for Ying Liang at Locarno in 2012.
In addition to the Tiger award, Egg And Stone won best first feature film at Toronto Reel Asian, a special mention at Las Palmas de Gran Canaria and a grand prix at Zerkalo film festivals.
Producer Ryuji Otsuka
Production company Yellow-Green Pi
Budget $200,000
Finance raised to date $10,800 (Hubert Bals script development fund)
Contact Ryuji Otsuka ryujiotsuka@hotmail.com
Hell Is Other People
Dir Peng Tao
Project's country of origin China
Chinese director Peng Tao tells the story of a perfect murder that goes badly wrong in his latest project Hell Is Other People.
Based on true events, the psychological thriller is about a detective novelist who devises a detailed plan for a married man to make himself look like a murderer by committing a well-rehearsed crime, as a pretext for leaving his wife and running off with his lover.
"I have a strong preference for real-life stories, which tend to be more dramatic and powerful. Hence all my previous works were realistic films," says Peng, who has been working on the script for the past two years.
"But unlike my previous films, which focused on niche subject matters and socially marginalised people, this project will be more mainstream, with elements of love and crime."
Peng's first feature Little Moth, about a disabled girl forced to beg on the streets, won 15 international awards, including the silver award of Hong Kong International Film Festival's Asian Digital Competition and the NETPAC award at Locarno.
His new project will be produced by Wang Shaofeng, president of Light And Magic Of China, along with producer Lilly Austin. The latter is also working with Peng on crime thriller 2:30AM, a HAF 2013 project at script development stage.
Light And Magic Of China is one of two production companies on Hell Is Other People, along with Heaven Pictures Culture & Media. Heaven Pictures collaborated with Peng on his last film, The Cremator, which had its world premiere at Toronto in 2012.
Producers Wang Shaofeng, Lilly Austin
Production companies Light And Magic Of China, Heaven Pictures Culture & Media
Budget $5m
Contact Peng Tao pengtaowind@aliyun.com
Last Days
Dir Degena Yun
Project's country of origin China
Last Days is about a father and his estranged daughter who spend their final days together after he is diagnosed with cancer. It is the personal story of Chinese director Degena Yun and her father, a forgotten Mongolian film director, who turned to smoking and gambling when facing death.
Like her father, she has become a lost soul with no direction in her life. Her sense of belonging together with her own language is gone after spending years away from her birthplace of Inner Mongolia.
"It's an ordinary story about human beings. The mood will be realistic while the cinematography and production design will be unpretentious yet beautiful," says Yun, who lives in Beijing after graduating from the University of London.
Her script was selected for Beijing Film Academy (BFA)'s New Talent Nurturing Programme last year. Veteran director and BFA professor Xie Fei will serve as producer of the project.
Youth Film Studio was set up in 1979 as the filmmaking arm of BFA. It has produced several critically acclaimed films, including Zhang Yimou's The Story Of Qiu Ju and Xie's Black Snow.
Yun made her debut feature, Latitude 52, with co-director Leon Du. The drama, about the unlikely friendship between a Chinese soldier and Soviet soldier on the China-Russia border, was nominated for best first fiction feature at Montreal World Film Festival in 2012.
Producer Xie Fei
Production companies Youth Film Studio, Mailisi Film
Budget $800,000
Contact Degena Yun degena@qq.com
Lost In Border
Dir Ho Hong
Project's country of origin Hong Kong
Hong Kong director Ho Hong attended HAF in 2013 with his debut feature Doomsday·Party, which won the HAF Award for a Hong Kong project. He returns this year with suspense drama Lost In Border, about a group of Hong Kong teenagers who cross the border into China for a wild night of fun. But events go awry when they get into trouble with local gangsters.
Ho, who is also writing the project, wanted to explore the minds of young people. "What are they thinking when they're making choices? Can they be responsible for their own actions? But the message is clear — there's no second take in life," he says.
While Doomsday·Party weaved together five stories to reach its climax, Lost In Border is told from the perspective of different characters. Ho plans to create a different look and style in each segment to give the audience a refreshing take on the same story.
Ho says a big budget is not required for this kind of story. "I'll use new and young actors while the action will be gritty and impactful without big sets or special effects, similar to the low-budget Hollywood film noirs of the 1940s and 1950s," he explains.
He is a co-founder of award-winning TVC production house Film Plus Productions, which made Doomsday·Party as its first film.
Gilbert Po, who has worked on TV commercials with Ho, will produce Lost In Border, marking his return to the film industry after more than 15 years in the advertising industry.
Producer Gilbert Po
Production company Film Plus Productions
Budget $1m
Finance raised to date $180,000 (Film Plus)
Contact Gilbert Po gilbertpo@yahoo.com
My Beauty Queen Mom
Dir Sen-I Yu
Project's country of origin Taiwan
My Beauty Queen Mom, the only project selected for both HAF and the HAF/Fox Chinese Film Development Award this year, will be the debut feature of Taiwan-born, New York-based writer-director Sen-I Yu.
Set in Taipei, the comedy drama follows the journey of a middle-aged housewife when she joins a beauty pageant to battle her acute anxiety disorder.
"I will use a satirical and humorous tone to portray the inner feelings of the central character. She's a naïve and passionate woman who gives an insight into what's crazy versus what's normal in her fight against mental illness," says Yu.
She received a screenplay development grant from Taiwan's Ministry of Culture last year, and is finishing the script while casting is under way.
Taiwanese producer and talent agent Rachel Chen will produce through her production company We Share Entertainment. She is also the head of Touch Of Light Films, which co-produced Chang Jung-chi's feature debut Touch Of Light. Chang won best new director at the 2012 Golden Horse Awards for the film.
Yu graduated from New York University in 2004 with a Master of Fine Arts in directing and has written and directed short films, documentaries and commercials. In 2001, she launched Spring Bear Productions, which has produced her short films, including Acupuncture Girl, a Student Academy Awards regional finalist, and most recently Milk, which premiered at NewFilmmakers in New York.
Producers Rachel Chen
Production companies We Share Entertainment, Spring Bear Productions
Budget $800,000
Finance raised to date $10,000 (development grant from Taiwan's Ministry of Culture)
Contact Sen-I Yu seni.yu@gmail.com
My Last Wish
Dir Leon Liang Sun
Project's country of origin China
The debut feature of Chinese film-maker Leon Liang Sun, My Last Wish is based on a true story about a computing student at Beijing University whose promising future is cut short when he misses his graduation examination. His despair drives him to suicide, but his last wish is to rob a bank and repay the debt his parents ran up to pay his tuition fees.
"We are often told about the success stories, but seldom about failure and how to deal with it. We are often told how to pursue our goals, but not how to face setbacks," says Sun, adding that he would consider committing a crime like his protagonist if he knew he was going to die.
Sun, who is also writing the project, has completed the script as well as location scouting in Beijing. The project will be produced by Li Feng, who is a director at Chinese media conglomerate Beauty Media and vice-president at Beauty Media subsidiary ICN International TV.
ICN is a leading Chinese broadcaster with 16 English and Chinese channels in North America, ranging from drama and entertainment to news and education. It aims to launch three feature films and 20 microfilms within the next couple of years.
Sun graduated from New York Film Academy in 2006. Two of his short films, Coin and X2, previously screened at Sundance Film Festival. He has worked with Li on several TV programmes in New York for ICN.
Producers Li Feng
Production company ICN International TV
Budget $900,000
Contact Leon Liang Sun sunliang2001@hotmail.com
Silence In The Courts
Dir Prasanna Vithanage
Project's country of origin Sri Lanka
Acclaimed Sri Lankan director Prasanna Vithanage plans to make his first foray into documentary with his HAF project Silence In The Courts.
The film tells the true story of two women in a Sri Lankan village, about 100 kilometres from the capital city of Colombo, who were sexually abused by a magistrate presiding over cases that involved their husbands as accused parties.
The husbands swore revenge but their efforts were futile, so the editor of a leading alternative newspaper published the story of one of the women. He continued to follow the incident and published a series of articles exposing the magistrate's misdeeds. Yet, 18 years later, the editor and the two women are still waiting for justice.
"This true incident made me angry about our judiciary system. I wanted to puke," says Vithanage. "I channelled my anger as an inspiration for this documentary."
He made his feature debut with award-winning drama Fire On Ice in 1992, while his second feature, Dark Night Of The Soul (1996), won a special mention at the first Pusan film festival.
Vithanage's subsequent films have screened at prominent festivals. His latest feature, With You, Without You, was nominated for best film at the 2013 Asia Pacific Screen Awards.
Silence In The Courts is in post-production and Vithanage is looking for completion funds.
Producers Prasanna Vithanage, Rahul Roy
Production company Prasanna Vithanage Productions
Budget $50,000
Finance raised to date $30,000 (Prasanna Vithanage Productions, Rahul Roy)
Contact Prasanna Vithanage prasannavith@yahoo.com
That Summer
Dir Zhou Quan
Project's country of origin China
Taimen, traditional dwellings in which unrelated families live together and share the same courtyard, are an important part of That Summer, the debut feature of Chinese director Zhou Quan.
Inspired by his childhood memories of living in a taimen, the story revolves around a 10-year-old boy who befriends an elderly neighbour in the summer of 1998. At the same time he discovers a secret affair between his father and his teacher, who is the neighbour's daughter-in-law.
"I hope this film opens a door for me to revisit my childhood before the traces of the past disappear completely," says Zhou. "While capturing China's on-going modernisation, I'm seeking to retrieve my generation's collective memories."
Zhou currently travels between Beijing and his birthplace Shaoxing in southern China. He will shoot the film in Shaoxing and neighbouring cities.
In 2012, he interned for Terence Chang at Lion Rock Productions in Beijing. He then returned to Los Angeles for his AFI thesis production, Woman In Fragments, which won the Air Canada Short Film Award at Toronto Reel Asian International Film Festival and the grand jury prize at the China Short Film Academy Awards.
Production is scheduled to begin in the second half of 2015. The film will be an international collaboration with a US DoP, UK composer and possibly a US team for post-production.
Producers Terence Chang, Jacqueline W Liu
Production company Each Other Films
Budget $1m
Finance raised to date $200,000 (private equity)
Contact Jacqueline W Liu jacqwlliu@gmail.com
Unexpected And Ambiguous
Dir Zhou Hongbo
Project's country of origin China
Chinese director Zhou Hongbo's latest project is about a married woman who travels from Shanghai to Yangzhou for her 10th anniversary college reunion, not knowing dark secrets involving her ex-boyfriend will come to haunt her.
"Without any supernatural or overtly stylised elements, it's a rare Chinese metropolitan thriller about the loss of innocence of the new middle class amid China's rapid urbanisation," says Zhou, who first conceived the story idea five years ago.
"I will lead the audience into a familiar yet unknown psychological world set in an ordinary urban landscape."
Yangzhou will be the main location with additional scenes shot in Shanghai. Taiwanese cinematographer Mark Lee Ping-bin will serve as DoP.
Mei Feng, the regular writer for Chinese auteur Lou Ye, makes his first foray into producing with the project. A lecturer at Beijing Film Academy, he won the best screenplay prize for Spring Fever at Cannes in 2009 and for Mystery at the Hong Kong Film Awards in 2013.
Established in 2010, Shanghai Tanshang Film Works produced Zhou's first two features, The Mirage and Winter Cicadas. Zhou is also known as a documentary director for Shanghai Media Group (formerly Shanghai TV Station).
In 2013, he presented Departure at HAF, a documentary following a mortician practising at funerals in the villages around Suzhou. It is now awaiting funding from the Shanghai Cultural Fund.
Producers Mei Feng, Wu Dan, Li Yuan
Production companies Shanghai Tanshang Film Works
Budget $1.5m
Contact Zhou Hongbo daofilm@163.com