Profiles of projects from the 14th Hong Kong - Asia Film Financing Forum (HAF).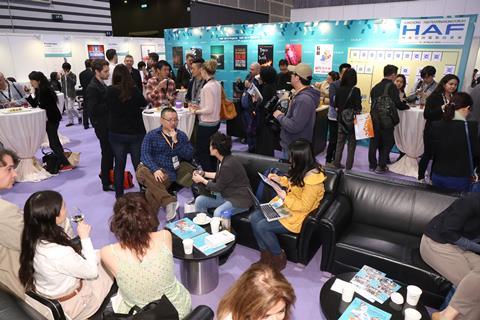 The Lady Improper
Dir Tsang Tsui Shan
Project's country of origin Hong Kong-China
Hong Kong director Tsang Tsui Shan cooks up an erotic combination in The Lady Improper through food and sexuality. When her sexless marriage fails, a virgin sets out to revitalise her father's Hong Kong-style restaurant. She encounters a cult chef who mixes his culinary senses with sexual awareness.
"Female desire is often suppressed in our seemingly open yet conservative society. We look into this taboo world of Asian women with a story filled with food, lust and desire," says Tsang.
Based on a true story, the screenplay is written by Link Sng, co-writer of several films by Singaporean director Jack Neo, including box-office hits Ah Boys To Men and most recently Long Long Time Ago.
Tsang was named best new director at the Hong Kong Film Awards in 2012 for her second feature Big Blue Lake, which also won the Asian New Talent Jury Prix at Shanghai. Big Blue Lake was filmed in her home village Ho Chung in Sai Kung, which she says is a source of inspiration for her work. Her documentary Flowing Stories, also set in the village, won the best documentary award at South Taiwan Film Festival in 2014.
The producer is Polly Yeung, who produced Tsang's Scent, a Chinese-Korean romance starring Korea's Park Si-hoo. Yeung is also a regular collaborator with Hong Kong film-maker Jacob Cheung, having worked on A Battle Of Wits, Ticket and Rest On Your Shoulder. River Vision is Tsang's Hong Kong-based production company, while Fiction 9 is a Beijing-based company founded by Yeung, Lim Young Chien and Li Yun Fei.
Solitude
Dir Madhu Mahankali
Project's country of origin India
Hyderabad-based film-maker Madhu Mahankali started to explore the theme of death in his short film The Journey, which played at Cannes in 2007. His latest feature project Solitude builds on this and will also consider the notions of loneliness, solitude and loss.
Solitude traces the spiritual journey of an old man as he loses his long-term companion of more than 50 years, and must come to terms with his new reality.
"Although the story has a lot of emotional elements attached to it, the film tries to focus on the philosophical journey of this old man, making it more universal," says Mahankali. "It will probe the spiritual bond that continues beyond death."
In development for just over a year and with the script now completed, Mahankali is seeking completion funding for the Telugu and Hindi-language film. Casting is underway and shooting locations have been secured in the Indian cities of Hyderabad, Lucknow and Varanasi. The director's previous work includes advertising, documentaries, feature and short films.
Mahankali's company Dhriti Media is the primary producer with Telugu producer Raj Kandukuri's Dharmapatha Creations on board as equity partners and Balwanth Singh of Kauphy Talkies picking up marketing and distribution costs of both the Telugu and Hindi versions.
The Imitator
Dir YC Tom Lee
Project's country of origin Taiwan
Crime thriller The Imitator opens with a bank heist that takes place using the stolen gun of a cop who was gunned down just days earlier. In the aftermath, the police are shocked to discover the crime is a direct imitation of Taiwan's first ever armed robbery, which took place more than 30 years ago.
"The concept of someone imitating a crime has always intrigued me because either the imitator is simply a copycat paying sadistic homage, or has a deeper meaning and purpose behind it," says Taiwan director YC Tom Lee. "For our film, the imitator has a specific reason to take down the entire corrupted justice system at any cost."
Crime thrillers are rare in Taiwan and Lee aims to revive the genre by giving his film a commercial appeal for the global audience. "We are using elements of the thriller, crime drama and action to tell an intriguing story with cinematic Taipei as a backdrop," he says.
The Imitator will be the debut feature of Lee, an award-winning director of dramas, commercials, music videos and narrative short films for the past 10 years in Asia and North America.
Producer Jade Lee has a wide range of experience in distribution, marketing, international sales, production and post-production. Her credits include Bad Girls and Pick The Youth.
Founded in 2014, Dare Entertainment is a Taipei-based company for film and TV production, distribution and international sales. The Imitator is the first feature film under its banner.
Brothers
Dir Jong Yu
Project's country of origin Malaysia
Inspired by a real kidnapping case between close relatives, Malaysian director Jong Yu's Brothers revolves around a young boy with learning difficulties, who is the only heir to the family fortune. Although his kidnappers are arrested, the police find each witness recounts a different version of events, a la Rashomon.
Complicating matters is the young boy's growing attachment to one of the kidnappers, who may be his long-lost brother. The screenplay is written by Chan Yoke Yeng, whose writing credits include smash hits The Journey and Ola Bola. Malaysian singer-actor Jack Tan will play the brother.
"We aim to make a Malaysian-Chinese film that is full of suspense and mystery, unlike the usual love and family dramas that are the norm in Malaysia," say producers Roland Lee and Jin Ong.
Brothers will be the debut feature of Yu, who is a well-known director of TV series and music videos. His Malaysian TV series I, My Brother won the viewers' choice most popular drama prize at the Golden Awards in 2010.
Founded by Ong, More Entertainment handles artist management, an album label as well as film and TV production. Ong's producing credits include coming-of-age film The Gathering and TV series Love 18 (directed by Yu and co-written by Lee); Yes Sir; I, My Brother and Backlight Lover.
Ong and Lee are also producing Shuttle Life, which won the grand prize at Golden Horse Film Project Promotion in 2014.
Man-Made Citizen
Prod Moonlight Shang
Project's country of origin China
Man-Made Citizen is an ambitious $14m sci-fi fantasy about a high-school girl who discovers special powers when she is turned into a creature who can live underwater. On discovering this transformation has it origins with a secret organisation that now wants her to reproduce, she has to go on the run, avoiding the various military forces and media that are closing in on her.
"This is more than a science-fiction movie," says Moonlight Shang, who is both the producer and screenwriter of the project. "The story will explore the inner world of a highly intelligent species, look into their existence and ponder on their future prospects, while trying to provide an answer to big philosophical questions." Shang has won several scriptwriting awards, including a Xia Yan Award, a top honour approved by SARFT, and a Hua Xia Starlight Award. She has also produced and directed documentaries and short films.
The project has no director attached at the moment. "We are looking for a director, who has the right experience and global vision to handle such a big commercial film with artistic values," says Shang.
The co-producer is Janet Wu, president of Bright East Films, which was founded by her late father, Chinese director Wu Tianming. Wu also runs the China Film Foundation's Wu Tianming Film Fund for young talents. Her producing credits include TV series and Sino-US co-production features including The War Of Gene, Hi Frank! and Ma Wen's Battle.
Coarse Tea, Plain Rice
Dir Cheung Suk-Yee
Project's country of origin Hong Kong
Told from a female perspective, Coarse Tea, Plain Rice deals with the forbidden love between an older woman and a much younger man — her stepson.
Hong Kong writer-director Cheung Suk-Yee uses Eat Drink Man Woman and Babette's Feast as points of reference for the project. "The biggest challenge is how to convey the intricate connection between food and desire in a visual medium, and how to convey the subtext of sexual tension through the metaphor of cooking and taste," she says.
Producer Trevor Morris is a former senior creative manager at Walt Disney Studios Motion Pictures (Asia Pacific), who has worked on Disney-branded Chinese-language local co-productions for Greater China, including Trail Of The Panda and High School Musical China.
He first collaborated with Cheung on her yet-to-be released debut feature Greed Hate Delusion, which follows a group of people stuck on a resort island where they are forced to confront their own evils. "It is my pleasure to be able to bring some of my knowledge and experience to assist a smaller-scale independent film, and try to bring an intimate and worthwhile story to audiences in the region, especially at a time when it's becoming increasingly difficult for such projects to be made," says Morris.
Cheung has more than 10 years of professional experience in the media industry. She set up Pratyeka Pictures to produce Greed Hate Delusion, and Coarse Tea, Plain Rice will be the company's second feature.
About Life Of Planets
Dir Katerina Suvorova
Project's country of origin Kazakhstan
Katerina Suvorova's second feature documentary is an observational portrait of a group of amateur astronomers who join forces to help revive an observatory near to the city of Almaty in Kazakhstan.
"After the end of the Soviet Union, there was no finance for its upkeep and the observatory was abandoned," says producer Anna Vilgelmi of Kazakhstan-based Kino Company. She produced Suvorova's documentary Sea Tomorrow about inhabitants of the shrinking Aral Sea.
"The only person left was a scientist who felt responsible for keeping the observatory going and has been supported by a group of amateur astronomers," she adds. "Katerina is interested in people who fight for ideals that might seem unimaginable for ordinary people, and do everything to make them possible."
Suvorova's background in music videos informs her visual style, which Vilgelmi describes as "unselfconscious and direct". As in Sea Tomorrow, the film-makers would like to incorporate animated elements into the film. The idea for About Life Of Planets was developed during a four-day workshop as part of the Werner Herzog Rogue Film School in Los Angeles in 2014. Vilgelmi sees parallels between About Life Of Planets and Herzog's Encounters At The End Of The World.
Filming over the different seasons at the observatory may begin in late spring, according to Vilgelmi. She also produced Kazakh director Emir Baigazin's second feature The Wounded Angel, which premiered at Berlin this year.