In South Korea, filmmakers are protesting a recently announced cut in funding from the Korean Film Council (KOFIC) for the beleaguered Busan International Film Festival (BIFF).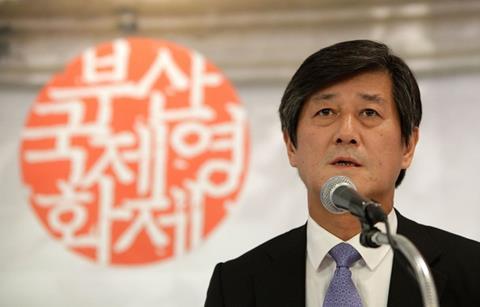 On the eve of the May Day weekend, KOFIC announced on its website the results of its funding decisions for international film festivals in Korea. The government-funded organization cut its support for BIFF 45% from last year's KW1.46bn ($1.33m) to KW800m ($732,500).
The pan-film-industry emergency committee to defend freedom of expression (which has yet to decide on an official English title) released a statement today demanding KOFIC should "immediately stop reprisals against and oppression of the Busan International Film Festival" and take back the budget cut.
Latest "reprisal"?
They stated they saw KOFIC's recent measure as a "materialization" and "an extension of a series of political reprisals that began with pressure on festival director Lee Yong-kwan to resign". This happened after the festival last year went against Busan mayor Seo Byeong-soo's request that they cancel screenings of The Truth Shall Not Sink With Sewol (see related story here).
The controversial documentary is critical of the government's handling of the April 2014 Sewol ferry disaster which resulted in 304 death - the majority of victims schoolchildren - with nine bodies still left missing.
The general review of KOFIC's jury members for the film festival support programme stated that they went through an "intense debate" about the size of support that should be allotted to BIFF: "In the end, according to the majority opinion that the Busan film festival already occupies the status of a global film festival, in name and in reality, it should strengthen its autogenic power, we reduced [the size of support] partially."
The emergency committee for freedom of expression found this a "lame" reason for cutting KOFIC support 45% when the fest has "grown into the representative film festival of Korea". More so because this is BIFF's 20th anniversary year, when budget increases are "customary" and such a measure "goes against common sense".
The lack of transparency in the KOFIC committee's decision-making process has also given rise to questions as the jury members remain unidentified and the specifics of how they came to their decisions unrevealed. (In previous administrations, KOFIC made it a point to announce jury members and decision-making processes for different programmes, although that has changed in recent years.)
Budget issues
Made up of national funds, city funds and sponsorship, BIFF's total budget comes to about KW12bn ($10.96m) yearly. Last year, KOFIC gave KW1.46bn in national funds and this year cut that amount to KW800m. Busan Metropolitan City approved KW6bn this year as well as last.
"Basically, we've been brought to a stand. In a way, KW660m could seem small compared to the total budget. But this is the festival's 20th anniversary and we value every coin, so it's actually a big part of budget. We need to overhaul and shrink our budget across the board," said BIFF Publicity manager Jungyun Kim.
The festival will be pressing ahead to find sponsorship to make up for funding losses, but Kim says they are concerned about the negative press the controversy has been generating.
Festival director Lee has also cancelled his annual Cannes trip at the last hour.