Dir: Gina Kim. South Korea-Thailand. 2013. 98mins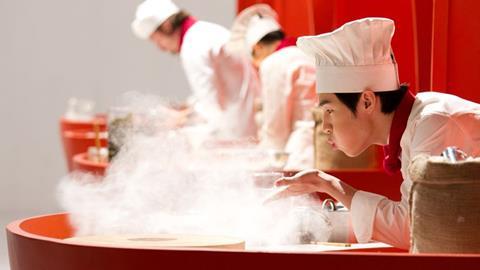 A warm-hearted story of cooking and families, the glossily made Final Recipe is a frothy, engaging and gently moving story of a family driven apart and finally reunited by a passion for food. Shot in English (with only a couple of scenes in Mandarin) and with the ever-charismatic Michelle Yeoh on-board as both star and executive producer, it has the qualities to play well as well as being a solid seller.
The heart of Final Recipe may be pure melodrama, but it is a glossy and enjoyable journey.
Set against the backdrop of a televised 'Master Chef' competition, the film plays on expected notions of family, love and loyalty (with a dash of melodrama added to give it more taste) while also lovingly filming food as it is prepared. Mouth-watering at times, the beauty of the dishes themselves are almost reason enough to make the film enjoyable mainstream fun, though it is given extra weight thanks for a series of enjoyable lead performances.
Gina Kim shoots with a good deal of energy, mixing up the laughs with the pathos and the food with the fun, and making good use of Shanghai and Singapore locations. And while Final Recipe may well, at heart, be all rather predictable, it is also engaging and gently entertaining.
The film opens in Singapore where renowned but rather grumpy chef Hao Chan (Chang Tseng) is struggling to keep his restaurant going. He is desperate for his grandson Mark (a charming Henry Lau) to study engineering and not become a chef, but little does he know tat at heart Mark simply loves food and wants to be like his grandfather and his father (who vanished years earlier) and work as a chef.
When Hao is taken ill, Mark decides to go to Shanghai and try and enter the high-profile televised Master Chef competition, where the winner from hordes of entries wins the chance to cook-off against legendary chef David Chen (Chin Han) to try and win $1 million. He blunders his way into the competition having not realised he needed to formerly apply taking the place (and name_ of a Russian competitor named Dmitri who failed to turn up.
Julia Lee (Yeoh), executive producer of the show and who is married to David Chen, whose career she launched when he was a humble chef from Singapore, begins to watch over Mark and starts to see his talent. She also unearths the truth of his background and his connection (guess what?) between Mark and David. As Mark makes his way through the cookery competition rounds the scene is ultimately set for a showdown between the two chefs.
The heart of Final Recipe may be pure melodrama, but it is a glossy and enjoyable journey. Henry Lau is engagingly fresh-faced and enthusiastic as Mark, while Michelle Yeoh is sheer class as a woman who comes to realise that she needs to bring a family together to heal a rift that she had been part of.
There are some delightful laughs (as well as cool cooking) in the central section as Mark has to team with three other competitors (played by Aden Young, Bobby Lee, Lika Minamoto) to cook as a team, and while Chang Tseng and Lori Tan Chinn (as Mrs Wang, who tends Hao and helps look after the restaurant) plays things much more broadly (and likely appeal to an older demographic) the film is at its core a quite tender and moving tale of a family finally coming together.
Production companies: Grand Elephant, Bang Singapore
International sales: Fortissimo Films, www.fortissimo.nl / CJ Entertainment, www.cjent.co.kr
Producer: Yeonu Choi
Executive producers: Miky Lee, Mike Suh, Keiko Bang, Michael Werner, Michelle Yeoh
Screenplay: George Huang, based on a story by Gina Kim
Cinematography: Young-Ho Kim, Jun-Young Kim
Editor: Steve M Choe
Co-producer: Khan Kwon
Production designer: Darcy Scanlin
Music: Young Jin Mok
Main cast: Michelle Yeoh, Henry Lau, Chin Han, Chang Tseng, Lori Tan Chinn, Aden Young, Bobby Lee, Lika Minamoto