Dir/scr: Dylan Mohan Gray. UK. 2013. 84mins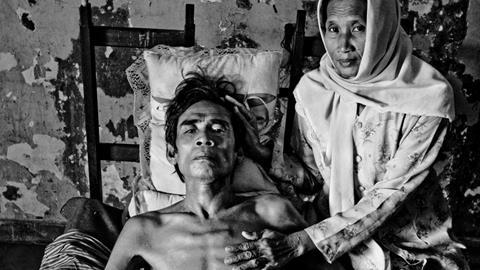 Fire In The Blood quite simply makes for stark, sobering, moving and ultimately shocking viewing. It offers little new in terms of tracing the evolution of HIV treatment and how anti-retroviral breakthroughs have saved lives, but bluntly and passionately points out that AIDs medication is made unavailable to the poor of the developing world, and in Africa in particular.
Fire In The Blood is a smartly film made that hits all of the rights notes.
Dylan Mohan Gray's impressive film avoids simplistic political rhetoric – when it would have been an easy route to take – and simply presents the dreadful truth…that two thirds of all AIDs cases are in Africa, and that the West (and the major pharmaceutical companies in particular) turned their backs on the continent, with HIV and AIDs increasingly seen as old news.
The are some stark facts on view – that drugs giant Pfizer in 2000 made $1 billion a year from sales of the anti-fungal drug Fluconazole at $40 a tablet…and that in South Africa the average weekly wage was $68 – and much debate on how patents laws had been used to keep prices high.
Talking heads are used prudently and impressively (such as former Pfizer VP Dr. Peter Rost who bluntly says that multinationals run the US), though rather hope and illumination comes from a few real heroes who are making a stand and changing the playing-field.
People such as Yusuf Hamied, the Indian scientist behind the socially conscious pharmaceutical manufacturer Cipla; James P. Love, an American intellectual property activist; Dr. Peter Mugyenyi, head of the largest HIV treatment and research centre in Uganda; former US President Bill Clinton; and Zackie Achmat, a South African AIDS activist, are striking, charismatic and provocative in their stance and their arguments, with Hamied a clear and lucid voice. This is backed up by New York Times writer Donald McNeil who interviewed and profiled him.
But despite Hamied's plans to offer drugs at much lower prices the product is still expensive to some African countries, where patent laws also block generic drugs available from other non-Western countries. What the film emphasises – and has been said in films many times before – is the power and influence of the big pharmaceutical companies.
It is a film that offers glimpse of hope, but makes no bones that the situation is still awful…despite the stark truth that drugs are cheap enough to be distributed. As and Zackie Achmat comments about the campaigns against the pharmaceutical companies in South Africa: "The rich world didn't care till poor people mobilised."
Fire In The Blood is a smartly film made that hits all of the rights notes – intellectually and emotionally – making good use of Ashutosh Phatak's gentle music, and while perhaps a hard one to sell to formal theatrical distribution it is a film with a vital message and likely to find festival and broadcast interest where publicity support will be strong.
Production companies: Sparkwater India, Dartmouth Films
International sales: Films Transit, www.filmstransit.com
Producer: Dylan Mohan Gray
Executive producer: Christopher Hird
Cinematography: Jay Jay Odedra
Editors: Dylan Mohan Gray, Chris Seward, Pascal Akesson, Hugh Williams
Music: Ashutosh Phatak