Dirs/scr: Razvan Radulescu, Melissa de Raaf. Romania, France, Croatia, Belgium. 2009. 120 mins.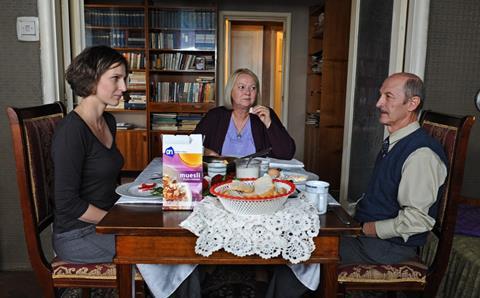 In his feature debut (working with Melissa de Raaf), screenwriter Razvan Radulescu (The Death of Mr. Lazarescu) displays a keen ear for dialogue, a gift for developing dramatic scenes and a talent for capturing and driving home some of the most sensitive issues troubling his countrymen at this point in time.
Though narratively repetitive and in sore need of trimming before it reaches the international marketplace, Felicia could find a niche audience thanks to the intensity of its separate scenes, the dark humour permeating even the most frustrating moments and two great performances from Ozana Oancea as a dutiful daughter crucified by her own best intentions and Ileana Cernat as her overwhelmingly doting mother.
Felicia (Oancea) is a youngish woman who left her home some 20 years ago, moved to the Netherlands, had a child, divorced, and made a career for herself in her adopted country but comes home faithfully every year to Bucharest to visit her parents. Every visit is a wrenching emotional experience which only reaches its climax on the day of her departure. Her father (Mentzel) is retired and sickly, her mother (Cernat) a portly, insistent, passive-aggressive woman who claims that all she does is sacrifice herself for her husband and her daughters and her efforts are never fully appreciated.
Plotwise, the film consists of a series of incidents which conspire to prevent Felicia from catching her flight back to Holland. Her sister never arrives to take her to the airport, the taxi ride through the hellish traffic of the Romanian capital takes forever, the airline assistants turn down all her emotional pleas and refuse to re-open the flight, decently priced alternatives that would bring her home in time to pick up her son from summer camp are unavailable and her ex-husband in Holland bluntly turns down her appeal for help and will not take the boy to his place for one night.
Picking up on such themes as the love-hate relationship between children and their parents, the backbone of the entire piece is the confrontation between Felicia, carrying her own guilt for having left her parents, for being a divorced single parent, for not being able to fulfil her obligation to her son in time, and so much more, and her mother, for whom Felicia is still a baby, to be indulged, goaded, encouraged, chided, reminded and corrected at all times.
Feliciais shot entirely on location and with live sound, reminiscent of a stage play with changes of scenery taking place in a confined stage space. Radulescu and de Raaf keep their two leading ladies on the edge throughout, before allowing Felicia the predictable final outburst in which she puts on the table all the grievances she has accumulated, not only in the last visit home, but in every one that preceded it. Oancea's profoundly sincere rendering makes this scene palpably painful, while Cernat's bewildered look expresses the shock of hearing out loud what she must have always suspected.
Production companies
Hi Film Productions
Unlimited
FraKas Productions
Kinorama
ARTE France
International sales
Hi Film Productions
+40 21 2524867
Producer
Ada Salomon
Cinematography
Tudor Lucaciu
Production designers
Carmen and Sorin Dima
Editor
Dana Bunescu
Main cast
Ozana Oancea
Ileana Cernat
Vasile Mentzel
Victoria Cocias
Gelu Nitu
Serban Georgevici