Dir: Pascal Chaumeil. France. 2012. 104mins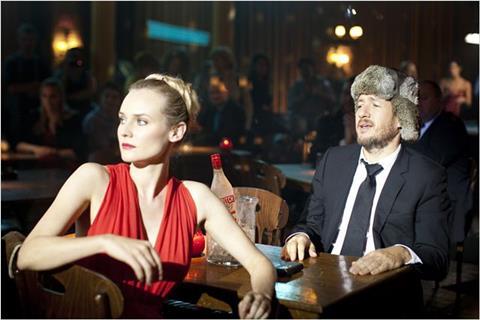 A promising premise and five or six genuinely funny gags plus the acting chops of Diane Kruger and Dany Boon aren't enough to make Fly Me To The Moon (Un Plan Parfait) a satisfying comedy. Director Pascal Chaumeil's follow-up to his debut sleeper hit Heartbreaker (L'Arnacoeur), which took 3.7 million admissions in France spins its wheels and never finds the rhythm or chemistry that made the pairing of Romain Duris and Vanessa Paradis in Chaumeil's first film such a jaunty breath of fresh air.
As with Intouchables, there are a few physical gags that will strike some viewers as merely cruel rather than funny. Exotic locations and decent special effects work provide a classy backdrop.
Boon (who made juggernaut Welcome To The Sticks) has a massive built-in following in French-speaking territories. Whether that will translate into impressive returns for a story in which he's a gun for hire remains to be seen. Kruger handles comic beats with ease.
The film's set-up is not half bad although it takes close to forever to spell out. The members of a French family - mother, father, daughter Corinne (Alice Pol) and son-in-law Patrick (Jonathan Cohen) - have invited Corrine's new boss Valerie (Laure Calamy) to Christmas dinner. Recently divorced, Valerie, age 36, is boring her hosts to death with her account of modern dating, finally bursting into tears over the lonely unfulfilled life she faces without a mate.
To counter their guest's despair, the hosts launch into the story of the family curse and how the other (not present) daughter, Isabelle (Kruger), tried to outsmart it. Isabelle's convoluted adventures in Paris, Kenya, Denmark and Moscow comprise the body of the film.
It so happens that for generations, dating back to the 1880s, every last woman in the family has had to endure a failed first marriage in order to achieve happiness with a second spouse.
In light of this dismal record and unwilling to tempt fate, Isabelle, a dentist, consistently refused to marry fellow dentist Pierre (Robert Plagnol), the love of her life. But after 10 years of perfect unweded co-habitation, Isabelle desperately wanted kids. The rub? Pierre said if he fathered a child out of wedlock his family would consider it "the spawn of Satan." No marriage, no kids.
So, they set the date for the wedding. To outsmart the family curse, Corrine and Isabelle secretly undertook the "perfect plan" of the original French title. For a fee, Isabelle was to marry a guy in Copenhagen and divorce him the same day. With her first marriage technically out of the way, her union with Pierre would theoretically be blissful.
But when the arranged marriage falls through, and with the date of the real marriage to Pierre around the corner, Isabelle decides any guy will do. She picks funny-looking doofus Jean-Yves (Boon), her seatmate on the plane from Paris to Denmark, to whom she was mighty rude. He's a Moscow-based travel guidebook writer en route to Kenya.
Isabelle buys a ticket to Nairobi and sets out to seduce him. Hilarity does not ensue.
Fortysomething Jean-Yves, who hasn't had a steady girlfriend since he was 12, can't imagine why this gorgeous, shapely blonde is so interested in him. Still, after much local colour and meandering through the lowlands around Mount Kilimanjaro, Isabelle achieves her goal in a manner she thinks will defeat the curse while leaving no administrative traces. Wrong.
More hilarity does not ensue, although matters do pick up after the first hour and there are a handful of resonably clever set-pieces that liven up the overlong proceedings.
The camera returns to the Christmas dinner party at several intervals as the tale drags on. While not entirely predictable, the narrative still feels clunky. Isabelle's mercenary mission involves so egregiously mistreating Jean-Yves that the audience has very little invested in her eventual happiness.
As with Intouchables, there are a few physical gags that will strike some viewers as merely cruel rather than funny. Exotic locations and decent special effects work provide a classy backdrop. French reviewers are pointing out that this October 31 release is allegedly Kruger's first comedy, but it must be said that she was skillfully amusing in National Treasure and Inglorious Basterds.
As an interesting side note, French cinema chain MK2 has chosen this title to launch an experiment in showing new French films in Paris with English subtitles in the theory that some 400,000 English-speaking residents of greater Paris might appreciate the gesture.
Production companies: Quad Films, Universal Pictures International France, TF1 Films Production, Scope Pictures, Les Productions du Ch'Timi, Yeardawn, Chaocorp Distribution
International sales: Kinology, gmelin@kinology.eu
Producers: Nicolas Duval, Yann Zenou, Laurent Zeitoun
Screenplay: Laurent Zeitoun, Yoann Gromb, Béatrice Fournera from an idea by Philippe Mechelen
Cinematography: Glynn Speeckaert
Editor: Dorian Rigal-Ansous
Production designer: Hervé Gallet
Music: Klaus Badelt
Main cast: Diane Kruger, Dany Boon, Robert Plagnol, Alice Pol, Jonathan Cohen, Laure Calamy, Etienne Chicot, Bernadette Le Sache