Dir: Craig Brewer. US. 2011. 113mins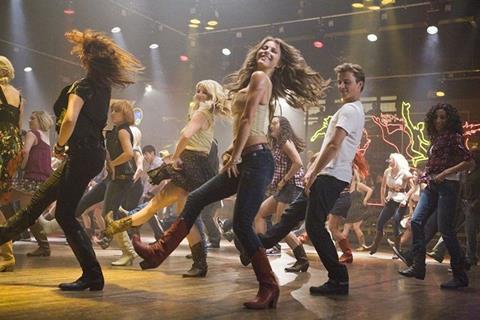 An energetic and curiously faithful remake of the 1984 film of the same name starring Kevin Bacon, writer-director Craig Brewer's Footloose is a virtual cinematic poison pill to anyone irrevocably divorced from any trace memories of adolescent feeling, and further proof that in life but especially art feeling is stronger than thought. Transparently but for the most part effectively rousing, this modestly pitched movie breaks no new ground, but also evinces no ambition to do so.
Cinematographer Amelia Vincent captures the dance action in a manner that doesn't betray the various settings'
Just as the original Footloose, an $80 million hit for distributor Paramount, came on the heels of movies like Fame and Flashdance, this remake arrives in the wake of a plethora of other dance-infused hits, most notably the Step Up franchise. Healthy youth market reception and an easy translation to international markets should make Footloose a solidly profitable performer, before it dances off to more earnings in ancillary markets.
Following the death of his mother from a terminal illness, Ren McCormack (Kenny Wormald) is transplanted from Boston to the tiny Tennessee burgh of Bomont, where he goes to live with his uncle Wes (Ray McKinnon) and aunt Lulu (Kim Dickens). Despite what might charitably be described as a cultural chasm between them, Ren strikes up a fast friendship with country bumpkin Willard (Miles Teller), who's dating Rusty (Ziah Colon).
Ren also finds himself in the crosshairs of Chuck (Patrick John Flueger), the older boyfriend of Ariel (Julianne Hough), the rebellious daughter of town reverend and city council member Shaw Moore (Dennis Quaid). When Ren finds out Bomont's teens have been banned from having dances ever since a car accident several years earlier that killed a group of teens including Ariel's older brother, he rallies his fellow high school students and decides to fight the system to try to overturn the prohibition.
What's curious is how much of Footloose is directly ported over from the original, despite more than a generation having passed. The film doesn't wander too far in search of faddishness; there's no You Got Served-style crunking, and the movie's oft-lampooned, angrily cathartic abandoned warehouse dance-off is kept intact.
While the setting is moved from the American West to the more fundamentalist South, and there is some lip service paid to the vulgarity of modern music, the movie largely abandons fire-and-brimstone rhetoric in favor of using the ban on dancing as a marker for the surging potency of adolescent emotion.
For the most part, this works, in a simpleminded way. It's not high art, but Footloose is sincere about trying to establish that the town's ban on dancing comes from a place of concerned overprotection rather than moralistic hectoring. In this sense, while the specifics of its plot are often ridiculous on the surface, they are acceptably emblematic of the sort of generational frictions that exist between teenagers and parents, and will forevermore.
Certain story strands don't connect, however. A romance between Ren and Ariel is unconvincing and makes little sense (they're suddenly a couple, as if by exterior decree) apart from the extra personal charge it lends the dancing conflict. Likewise, that Ariel would be involved in a sequence in which busses are raced in daredevil figure eights seems especially dubious given the fate of her brother.
Footloose's performances are also hit-and-miss. In an about-face from the gripping downbeat persona he showcased in Rabbit Hole, Teller is a hoot as Willard, while Wormald showcases an engaging cocksure charisma that checks all the right boxes for his character. Small screen Dancing with the Stars veteran Hough, meanwhile, is less successful in illuminating the swallowed trauma that in theory informs her rebellious streak. The more mature adult performers stand credibly in contrast.
Technical credits are slick throughout. Cinematographer Amelia Vincent captures the dance action in a manner that doesn't betray the various settings, and Brewer and editor Billy Fox locate just the right peppy, foot-tapping pace for these sequences. Adults, however, might have trouble locating that rhythm.
Production companies: MTV Films, Spyglass Entertainment, Weston Pictures, Zadan/Meron Productions
Domestic distribution: Paramount
Producers: Craig Zadan, Neil Meron, Dylan Sellers, Brad Weston
Executive producers: Timothy M. Bourne, Gary Barber, Roger Birnbaum, Jonathan Glickman
Screenplay: Dean Pitchford and Craig Brewer, based on a story by Dean Pitchford
Cinematography: Amelia Vincent
Editor: Billy Fox
Production designer: Jon Gary Steele
Music: Deborah Lurie
Website: www.FootlooseMovie.com
Main cast: Kenny Wormald, Julianne Hough, Miles Teller, Dennis Quaid, Ray McKinnon, Andie MacDowell, Ziah Colon, Patrick John Flueger, Kim Dickens, Ser'Darius Blain