Dir: Takashi Miike. Japan. 2012. 134mins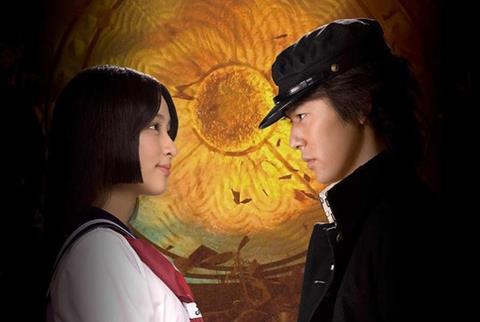 Any fears that Takashi Miike might be mellowing with age are roundly dispelled by For Love's Sake (Ai To Makoto). This deliriously daft romantic epic unfolds with a mixture of dynamic gang rumbles, sadistic slapstick violence and showstopping high camp musical numbers that would not seem out of place at a Eurovision gathering.
Miike ensures that For Love's Sake has style to burn.
The whole heady brew is likely to send most Western viewers running for the hills but Japanese audiences might be more welcoming when the film is released in June. Miike supporters should ensure it a future as a midnight madness-style curio at Festivals around the globe.
A considerable change of pace after recent, well-received samurai epics 13 Assassins (2010) and Hara-Kiri: The Death Of A Samurai (2011), For Love's Sake is inspired by Ikki Kajiwara's popular 1970s manga The Legend Of Love And Sincerity, previously the basis of a television series and three cinema adaptations. Miike underscores the Kajiwara inspiration with anime sequences that top and tail the main narrative.
The Tokyo of 1972 is where high school student Ai (Emi Takei) only has to catch a glimpse of sulky bad boy Makoto (Satoshi Tsumabuki) and the prominent scar on his forehead to know that they have a special connection. Where others see danger, she only sees her Prince Charming.
He could not be more contemptuous of her concern but happily accepts her family money and a place at an elite high school where Ai is top of the class and goody two-shoes Iwashimizu (Takumi Saito) pines for a sign of her affection. When Makoto is subsequently expelled, Ai follows him to the hellhole of Hanazono School and is willing to do anything to ensure his salvation even as he becomes an object of interest to both the deadly Yuki and the besotted Gumko (a scene-stealing Sakura Ando).
Reflecting the look and feel of 1970s cinema with neon glows of sulphurous orange, soft focus lighting and slow-motion fights, Miike ensures that For Love's Sake has style to burn. An initial fight between Makoto and a gang segues from Michael Jackson's Thriller to West Side Story in manner as the violence prompts an explosion of song and dance.
Most of the plentiful musical interludes are pitched somewhere between Bollywood and Broadway occasionally tipping over into John Waters territory. At times this could be Miike's Cry Baby or an especially surreal episode of Glee. The fight scenes are equally exuberant, accompanied by thunderous sound effects and the sense that even if someone is beaten to a pulp there appears to be no lasting harm from their injuries.
We do learn more of Makoto's back-story but an overlong film grows wearingly repetitive, perking up again with the introduction of fresh characters and the satisfaction of discovery that everything will eventually be coherently resolved. Still, there is only so much fun to be had from watching people being repeatedly whacked over the head or endlessly punched in the face.
Production companies: Kadokawa Shoten, Excellent Films, Olm
Sales contact: Kadokawa Shoten asako_suzuki@kadokawa.jp
Screenplay: Takayuki Takuma
Cinematography: Nobuyasu Kita
Editor: Kenji Yamashita
Music: Takeshi Kobayashi
Production designer: Yuji Hayashida
Main cast: Satoshi Tsumabuki, Emi Takei, Takumi Saitoh, Ito Ohno