Dir/scr: Ruben Ostlund. Sweden-Denmark-France-Norway. 2014. 119mins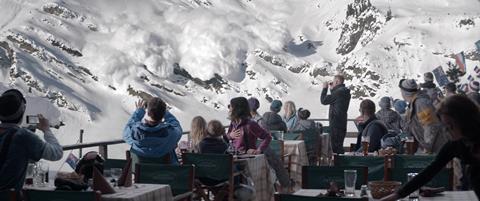 A sardonic, serious, funny, precision-controlled psycho-comedy-drama inspired by the selfishness of our survival instincts, Swedish director Ruben Ostlund's fourth feature is his best yet. Though screening in Cannes' Un Certain Regard section, this impressive film, revolving around a Swedish family's unexpectedly conflictual skiing holiday in the French Alps, would not have looked out of place in competition.
One of this superbly directed film's many pleasures is the way Ostlund risks provoking out and out laughs from the midway point on, as the dramatic stakes heighten.
Already sold in several territories, Force Majeure – which also goes by its original title, Turist – looks set to notch up several more deals. Imperfect human behaviour is still under the microscope here, as in the director's previous work, but though at times he likes to watch his specimens wriggle on pins, or stick pins into each other, there's a new sense of compassion as well as a striking visual unity in this new film – with cinematographer Wenzel doing a superb job of framing the comedie humaine against indifferent nature in a series of razor-sharp fixed-camera shots. Combine this with Ostlund's knack for rescuing comedy out of the jaws of drama, and you have a title with surefire appeal for discerning arthouse audiences.
Ostlund began his career as a director of skiing films, but it's not so much the beautifully shot ski scenes that impress in his vision of the unnamed resort where model Scandinavian family formed of handsome father Tomas (Kuhnke), quietly radiant mother Ebba (Kongsli) and two blonde children Vera and Harry (the real-life siblings Wettergren siblings) are taking a winter break. It's the sense of the slopes, and the machinery that services them, as a menacing beast with its own mind, as remote-controlled avalanche explosives boom and snowploughs roar in the night with no visible drivers. Groomed for unease (a mood underscored by repeat bursts of that famous thunderstorm riff from Vivaldi's Four Seasons), we follow the family through their seven-day holiday, with each day constituting a titled chapter.
On Day 2, when the family is eating lunch on the terrace of an on-piste restaurant, a 'controlled' avalanche down a facing valley builds as it rushes towards the chalet. Tomas bolts in the general stampede (not forgetting his iPhone), but Ebba stays to protect the kids. There are no serious consequences – the whiteout that enveloped the terrace (and, in one of many masterful visual touches, the camera) was just powder, and when it settles life goes on as before. Except it doesn't. Tomas' instinctive act of selfishness, and his refusal to fess up to it, begins to poison the couple's relationship.
What follows is a nuanced dramatic choreography in which Ebba's distress and Tomas's self-delusion are exposed through spot-on body language, competitive tooth-brushing sessions and whispered not-in-front-of-the-kids arguments in the corridor outside the family's hotel room. Ebba's encounter with a self-assured Swedish woman in an open relationship opens a crevasse of doubt, which is further widened by a cathartic confrontation in the presence of Tomas' hipster friend Mats (Game Of Thrones actor Hivju) and his much younger girlfriend Fanni (Metelius). One of this superbly directed film's many pleasures is the way Ostlund risks provoking out and out laughs from the midway point on, as the dramatic stakes heighten.
But Force Majeure never loses sight of its mandate to make us wonder how we might react in a survival scenario. The pressbook helpfully informs us that many marriages do not survive such catastrophe tests. One wonders how many break-ups the film itself might provoke, as the after-screening discussions escalate.
Production companies: Plattform Produktion, Parisienne, Coproduction Office, Motlys
International sales: Coproduction Office, www.coproductionoffice.com
Producers: Erik Hemmendorff, Marie Kjellson, Philippe Bober
Executive producers: Jessica Ask, Film i Vast
Cinematography: Fredrik Wenzel
Editor: Ruben Ostlund, Jacob Secher Schulsinger
Production designer: Josefin Asberg
Music: Ola Flottum
Main cast: Johannes Bah Kuhnke, Lisa Loven Kongsli, Clara Wettergren, Vincent Wettergren, Kristofer Hivju, Fanni Metelius