Cinemas closed and concerts cancelled in aftermath of deadly Nice attack; cast and crew of '50 Shades Darker' reported safe.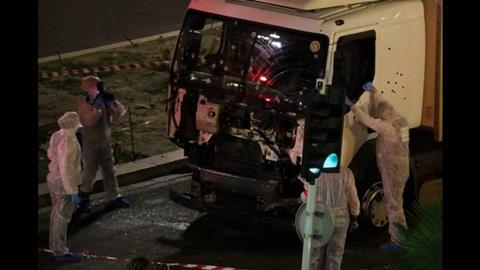 French President Francois Hollande has declared three days of national mourning following a brutal terror attack on people gathered on the seafront in Nice to watch a firework display marking Bastille Day on Thursday evening.
France's interior ministry said on Friday morning that 84 people died and another 18 people had been left with life-threatening injuries after a man deliberately drove an HGV lorry into festive crowds on the resort's famous seafront Promenade des Anglais.
Hollande, who was due to visit Nice on Friday afternoon with Prime Minister Manuel Valls, also announced the extension of France's state of emergency, first put in place following the killing of 130 people in a wave of attacks across Paris on November 13.
The Promenade des Anglais remained closed to traffic on Friday and the beaches flanking the section of boulevard where the lorry plowed into passers-by were also off limits.
Cinemas in Nice were set to remain closed until Monday (July 18). A number of concerts and shows in the region were also cancelled including the latest leg of pop star Rihanna's Anti world tour, which was due to arrive in Nice's Allianz Stadium on Friday night.
She announced via social media that the show would not be going ahead due to "the tragic events".
The Nice Jazz Festival – which was to have hosted performances by The London Community Gospel Choir and George Clinton – was also cancelled.
Neighbouring Cannes announced that a number of entertainment events scheduled for the weekend had been abandoned out of respect for the victims. The town put in place extraordinary security measures during the last Cannes Film Festival and remains on high alert.
Like Cannes, Nice also had extra security measures in place. The town is renowned for its high-level of video surveillance with the number of cameras on the streets hitting 1,000 earlier this year.
As well as being a top tourism destination, the entire Provence-Alpes-Côte d'Azur region, within which Nice is situated, is a popular film and TV shooting destination, particularly in the summer months,
Absolutely Fabulous: The Movie was shot there last year and productions currently underway close to Nice include 50 Shades Darker and Neil Jordan's high-end TV series Riviera.
50 Shades Darker co-stars Jamie Dornan and Dakota Johnson, who have been spotted in the region in recent days, were reported as safe on Thursday evening by one of the film's producers, Dana Brunetti.
"Production has confirmed that everyone working on location in the south of France is okay," he announced on Twitter.
Screen understands that the shoot was not halted and the schedule will continue as planned.