Dir: Gyorgi Palfi. Hungary-France-South Korea. 2014. 82mins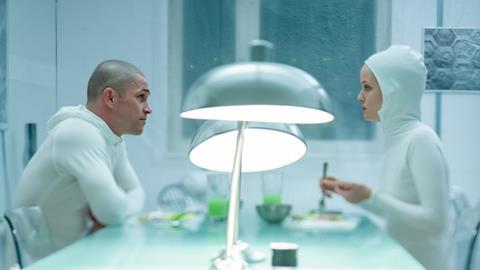 Evidently lacking the necessary funds to complete his film at home, Gyorgy Palfi (Hukkle, Taxidermia), the enfant terrible of Hungarian cinema, went not only to France but all the way to Jeonju in South Korea to find the right partners for this wildly sardonic commentary on modern society. The result is no doubt extreme enough to fit into the tradition of Palfi's earlier grotesque satires, though not quite as finely tuned as some of his earlier work. Festivals will find it eccentric enough to spice up their programmes and the same may go for art house cinemas.
The large cast has no problem keeping a straight face with all the weird proceedings invented for them.
The opening scenes indicate this is Palfi territory, through and through. An old woman (Piroska Molnar) serves her husband (Miklos Benedek) peppermint tea, goes up to the roof and jumps several stories down. Then she picks herself up from the sidewalk and starts back, up the same building, climbing the stairs on foot, because the elevator is naturally not working.
As she slowly puffs her way from one floor to the next a series of episodic caricatures succeed one another, all of them dedicated to contemporary addictions, every door the old woman passes hiding behind it yet another anomaly of our times.
On the first floor, a messianic master (Tamas Jordan) teaches his students to overcome the limitations of their physical body and one of them does so well that he manages to walk through a wall. Next door, where a black-tie party is taking place, a nude woman (Marina Gera) wearing only her handbag is introduced as the host's wife but no one notices her nakedness. Suggesting, probably, that every lecherous male around sees in her a sex object and disrobes her with his eyes, until she will find a sex object of her own, and treat him in the same manner.
In yet another flat, painted all white, more sterile than an operating theatre, a couple (Zsolt Nagy and Nora Lili Horich) all wrapped up in plastic, are making love without really touching, until a cockroach puts an end to their ecstasy. Moving on down the corridor, a parody of a TV sitcom (or could it be a reality show) unfolds as one wife (Nora Parti) and her two husbands (Zoltan Schmied, Zsolt Trill) fitfully try to get along together, with the audience laughing on the soundtrack at every joke, whether funny or not.
Going up one floor, a gynecologist (Geza Hegedus) is putting a cute baby back into the womb of its mother (Diana Kiss), possibly because she found out she isn't quite ready for it. Then, in the next flat, as if to underline the incapacity of a modern couple to take care of their children, a young boy's parents (Attila Menszator-Heresz and Reka Tenki) refuse to perceive the terrors - represented in this case by a live bull in their flat - haunting their little son, and cruelly force him to face his nightmares on his own.
There may be plenty to commend in each one of these satirical sketches - they are certainly cockeyed and bizarre - suggesting some kind of animated version of Magritte surrealist inventions, but this is not quite enough to hold the attention for long. The large cast has no problem keeping a straight face with all the weird proceedings invented for them, but each and every one of the episodes delivers its message too early for its own good and then goes on to overstay its welcome, whether it is the naked woman parading in a party of tuxedoed men or the bull helping himself to a piece of bread from the table at the family dinner. Either each of these sketches needs to be a bit more elaborate or more substantial to keep an audience alert.
Production companies: KMH Films, coproduced with Scipode, Jeonju Digital Project
International contact: KMH Films, pusztai@kmh.hu
Producer: Ferenc Pusztai
Screenplay: Zsofia Rutkai, Gyorgy Palfi
Cinematography: Gergely Pohamok
Editor: Reka Lemhenyi
Music: Amon Tubin
Main cast: Piroska Molnar, Miklos Benedek, Tamas Jordan, Marina Gera, Csaba Gosztonyi, Zsolt Nagy, Nora Lili Horich, Nora Parti, Zoltan Schmied, Zsolt Trill, Diana Kiss, Geza Hegedus, Attila Menszator-Heresz, Reka Tenki, Janos Varadi