Dir: Craig Gillespie. US. 2011. 105mins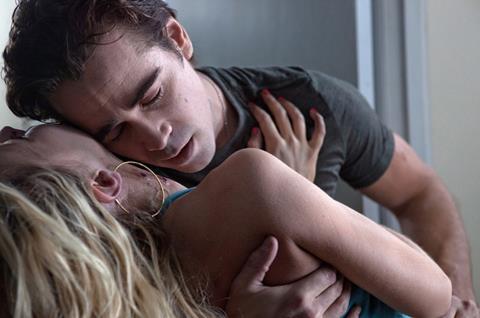 A pumped-up remake of the same-named 1984 vampire horror-comedy, Fright Night represents a well oiled machine of goosed senses that has no clearly defined motivating purposes, even within the genre confines of its own story. Fun and engaging performances carry the film a great distance, but it eventually bogs down courtesy of loosely defined stakes and poorly incentivized action.
Overall, the story feels beholden to a series of character choices and actions that make no particular sense.
A nice villainous turn by Colin Farrell, combined with some general cultish nostalgia for the original film and a massive PR campaign from distributor Disney (looking to make a splash with its first R-rated film in many years, from production company DreamWorks), should make Fright Night an opening weekend winner, but its box office staying power is to be determined. Foreign appeal may be limited by relative source material appeal in relation to competition Conan the Barbarian.
The story centers on Las Vegas high school senior Charley Brewster (Anton Yelchin), who lives with his single mom real estate agent, Jane (Toni Collette), and has successfully pivoted away from his geeky past enough to bag a popular girlfriend, Amy (Imogen Poots). Things get turned upside down when Ed (Christopher Mintz-Plasse), an old friend from whom Charley has distanced himself as he's climbed the social strata, announces his belief that Charley's charismatic new next-door neighbour, Jerry (Farrell, oozing dark charm and menace), is a vampire.
Charley's not inclined to believe him, but when Ed goes missing he does some investigating and quickly confirms Ed's worst suspicions. Charley then turns to professional magician Peter Vincent (David Tennant), who touts his vast knowledge and collection of the occult as part of his act. Jerry, for his part, does little to hide his true nature, and soon he and Charley are locked in direct conflict, with the fates of Amy, Jane and others hanging in the balance.
Fright Night benefits from a game cast that right out of the gate establishes a grounding emotional credibility for the concept. It also possesses some good individual set pieces, in particular the escape of a snooping Charley from Jerry's house with a hostage, and a finale that delves into the bowels of Jerry's basement. Other sequences, however, misfire, like a sloppily edited automotive getaway and subsequent clash. Overall, the story feels beholden to a series of character choices and actions that make no particular sense.
In transposing the material to the outskirts of Las Vegas, Marti Noxon's updating of Tom Holland's script finds a visually and emotionally compelling backdrop for the story that successfully divorces the conceit from stale Gothic clichés — so much so that even characters within the movie comment on the brilliant plan of a vampire moving into a town with a highly transient population that, owing to nearby casinos, is active at night and often asleep during the day.
That ostensible cleverness is irrevocably undermined, however, if a vampire is offing people in their cars during dusk or blowing up houses, both of which are the case here. Jerry's actions, then, almost immediately become unbelievable if, as the audience is told, he is attempting to amass a new vampire army. If discretion is sometimes the better part of valor, then cunning is also the better part of monstrousness, and Fright Night forfeits any semblance of intelligent malevolence.
The movie's indiscriminate killing seems less interesting than the idea of Jerry stalking or targeting those who have been previously victimized by abusers. Crucially, too, there's a late line of dialogue explicitly linking Jerry to Peter's tortured past, which then inexplicably goes unremarked upon by any of the characters. Peter doesn't necessarily need a personal motivation to assist Charley, but to awkwardly cram it into the script with absolutely no payoff is beyond strange. It's dumb.
Director Craig Gillespie keeps Yelchin nicely balanced between snappish, panicked and focused. Meanwhile, cinematographer Javier Aguirresarobe deploys some evocative framing, but he's mortally hamstrung by the fact that large swathes of the movie take place at dusk and/or in low light, a problem which is compounded by the dimming effects of the film's 3-D presentation.
Chris Sarandon, one the stars of the original Fright Night, also cameos in intriguing fashion.
Production companies: DreamWorks SKG, Reliance Entertainment
Domestic distribution: Touchstone Pictures, Walt Disney Studios
Producers: Michael De Luca, Alison Rosenzweig
Executive producers: Ray Angelic, Josh Bratman, Michael Gaeta, Lloyd Miller
Screenplay: Marti Noxon, based on the film Fright Night written by Tom Holland
Cinematography: Javier Aguirresarobe
Editor: Tatiana S. Riegel
Production designer: Richard Bridgland Fitzgerald
Music: Ramin D. Jawadi
Visual effects supervisor: Joe Bauer
Website: www.WelcomeToFrightNight.com
Main cast: Anton Yelchin, Colin Farrell, Imogen Poots, Christopher Mintz-Plasse, David Tennant, Toni Collette, Dave Franco, Reid Ewing, Will Denton, Sandra Vergara and Chris Sarandon