Dir/scr: Ryan Coogler. US. 2013. 84mins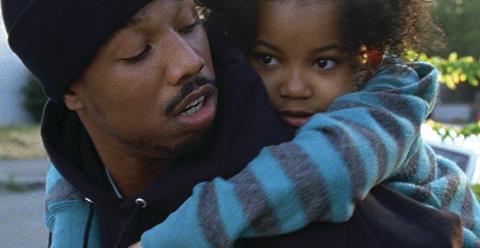 Fruitvale Station (called Fruitvale when it won the Grand Prize at Sundance earlier this year) is a foreboding doc-like day's walk unto death, based on a senseless police shooting of a young black man in the Bay Area subway on New Year's morning 2009.
Fruitvale Station takes its audience through the constant challenges to black family life – poverty, debt, crime, and the prospect that an encounter with the police can have deadly consequences.
The fatalistic martyrology of a black everyman (also Sundance's audience awardee) lacks marquee stars, but its planned US release in late July - often a time of racial tension in steamy American cities - could add seasonal heft to this festival crowd-pleaser. Most American audiences will not see the drama as fiction, while the film's striking tactile realism will rally critics internationally.
The upcoming trial of the killer of Trayvon Martin, an unarmed black teenager in Florida, should help market the film in the US, as should Forest Whitaker's role as executive producer.
Fruitvale Station is the metro stop in Oakland (California) where 22 year-old Oscar Grant was killed after police suspected him of fighting amongst New Year's revelers. Grant's death became a cause celebre, not least because the shooting seemed unprovoked. The policeman who shot Grant in the back was tried and jailed briefly for involuntary manslaughter, while other cops involved were fired.
The no-budget drama, which opens with actual cell phone footage filmed in the station before Grant's death, is the feature debut of writer/director Ryan Coogler. His script follows Grant (Michael B. Jordan) through everyday emotional fireworks with his young daughter's mother (Melonie Diaz). The young man, newly out of prison, is dutiful to his own mother (Octavia Spencer) and grandmother, but still can't hold a job.
Using close-ups sparingly, Coogler favoUrs the approach of shooting a scene by setting up the camera and filming the action in the frame as if a kitchen or a bedroom were a stage, giving us the theatrical rhythms – ordinary and explosive — in the day of a life before that life ends. Like doc scenes, some of these are too long, but the realism takes the story beyond the rapid television editing that this subject usually gets. The tenderness of the family scenes brings improbable warmth to Coogler's twist on Dead Man Walking.
This director is also remarkably adept at shooting the volatile dynamics of a crowd. Within seconds, a swirl of impromptu dancing in a subway car suddenly bursts into a fight, and police intervention in an emotional tornado leaves a dead body on the ground – all filmed by dozens of cell phones.
With a sympathetic and not too heavy hand, Fruitvale Station takes its audience through the constant challenges to black family life – poverty, debt, crime, and the prospect that an encounter with the police can have deadly consequences. The ensemble acting drives that point home, without preaching or shrillness.
Michael B. Jordan (Parenthood) recreates Grant with a charm that shines on and off, and a temper that flares. We end up with Grant as a martyr, but until then, while he's not Tupac, he's not a saint. Like Coogler, Jordan is in the crosshairs of agents now. So (in a marketplace infatuated with Beasts Of The Southern Wild) is little Ariana Neal, who plays his adorable four-year old daughter.
In a film inspired by a mission to make Oscar Grant human, the police in Fruitvale Station are anything but complex, a brutal blue enemy who, when encountered at the film's crescendo, scream "fuck" louder than a crew of black kids on New Year's eve.
When cops line Grant and his friends on the ground against a concrete subway wall, the image could have been taken from Iraq or Afghanistan.
Production values in Fruitvale Station are suited to its story and its ordinary locations in Oakland. The film's production design by Hannah Beachler seems drawn from whatever was there at the time, also fitting for this grim subject.
Production company: Significant Productions
International sales: The Weinstein Co.,http://weinsteinco.com
Producers: Nina Yang Bongiovi, Forest Whitaker
Executive producer: Michael Y. Chow
Cinematography: Rachel Morrison
Editors: Michael P. Shawver, Claudia S. Castello
Production designer: Hannah Beachler
Music: Ludwig Goransson
Main cast: Michael B. Jordan, Melonie Diaz, Octavia Spencer, Kevin Durand, Chad Michael Murray, Ahana O'Reilly, Ariana Neal, Keenan Coogler