Dir: Josh Schwartz. US. 2012. 87mins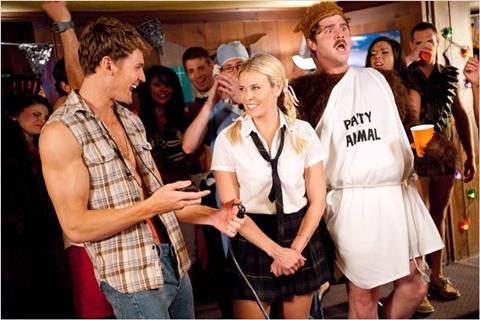 With Nickelodeon star Victoria Justice heading the ensemble cast, Halloween-themed family comedy Fun Size mixes a perky tone with some mildly risqué humour aimed at the older end of the tween-teen spectrum. While the tone might put off more cynical teens, in the US at least the popularity of Justice and her hit cable sitcom Victorious could lead to a decent (or better) theatrical performance and a strong video showing for this Nickelodeon Movies production.
The comedy ranges from basic slapstick to pretty innocuous verbal and visual gags.
Launching the film this week in North America, worldwide distributor Paramount will be able to leverage the theme during Halloween festivities, though the PG-13 rating (Nickelodeon offerings usually get a straight PG) might be a limiting factor. An October 29 opening in the UK should have a similar effect while performances in other international markets will probably vary according to the local popularity of Victorious and its star.
Justice's Wren is a smart and pretty Cleveland high schooler whose Halloween plans centre on going to the coolest party in town with status-obsessed friend April (Jane Levy, from the US version of Shameless). When the odd-acting kid brother she's supposed to be babysitting sneaks off, Wren has to spend most of the night tracking him down. In the process she gets to measure the romantic attentions of the party host against those of a nerdy nice guy (Project X's Thomas Mann).
First time feature director Josh Schwartz (whose TV writer-producer credits include Gossip Girl and The OC) gives the film a sitcom feel and an episodic structure - other characters who get turns at the centre of the action include Wren's widowed and slightly flaky mother (played by TV host Chelsea Handler) and a crazed wrestler (an uncredited Johnny Knoxville).
The comedy ranges from basic slapstick to pretty innocuous verbal and visual gags about boobs and humping (plus a couple of awkward jokes about out-of-place adults).
The proceedings end with a more serious sequence in which Wren, her brother and their mother meet after the parties are over and get back on terms as a fatherless but affectionate family.
Production companies: Nickelodeon Movies, Anonymous Content, Fake Empire
Worldwide distribution: Paramount Pictures
Producers: Stephanie Savage, Josh Schwartz, Bard Dorros, David Kanter
Executive producers: Michael Beugg, Steve Golin, Paul Green
Screenplay: Max Werner
Cinematography: Yaron Orbach
Editor: Michael L Sale
Production designer: Mark White
Music: Deborah Lurie
Website: www.paramount.com/funsize
Main cast: Victoria Justice, Thomas Mann, Jane Levy, Thomas McDonell, Thomas Middleditch, Chelsea Handler