Dir: Judd Apatow. US. 2009. 140 mins.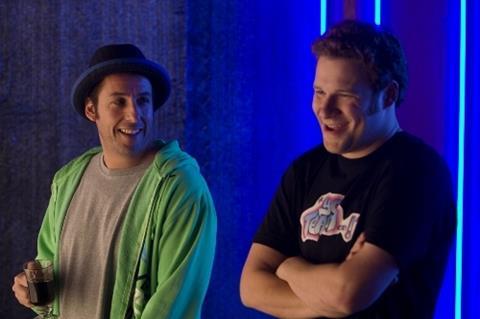 Judd Apatow's eccentric third directorial effort is an unwieldy mishmash of ideas and comic styles which feels like it has three distinct movies inside its gargantuan 140 minute running time. It just about compensates for its many indulgences with typically warm humour and a knockout lead performance from Adam Sandler which shows a deepening maturity in the actor that could land him awards attention.
Even though it's replete with the words "dick" and "penis", Funny People is more of an adult film than Apatow's previous two hits The 40 Year-Old Virgin and Knocked Up, or his many productions. Teen audiences who lapped up the puerile humour of Superbad or Pineapple Express will be severely challenged by the running time and themes which include terminal illness, the nature of love, and the darker side of fame.
Apatow's obsession with the male genitalia has never been more prevalent.
Domestically, Funny People is unlikely to hit the box office heights of Apatow's other titles, although the big names should stir up respectable numbers. Internationally, where titles from the Apatow stable have never been as big as domestic – Pineapple Express mustered just $14.3m last year – it will be of less interest.
Sandler plays a fabulously wealthy Sandler-esque movie superstar called George Simmons, a former stand-up comic who has become famous by making mainstream comedies with titles like Merman and My Best Friend Is A Robot. But Simmons is an unhappy clown. Alone at his ocean-front Malibu mansion, he has few real friends, threw away the only woman he ever loved years earlier and spends his life watching TV and having sex with women attracted by his celebrity.
When Simmons finds out he has a rare type of leukemia and only a few months to live, he returns to the standup circuit where he meets a young wannabe called Ira Wright (Rogen) whom he enlists as a writer and personal assistant.
George confides in Ira, who quickly shares the news with two other young Hollywood wannabes (Hill, Schwartzmann). But when George finds out that he has beaten his disease, he takes Ira on a desperate visit to see his old girlfriend (Mann) in northern California, determined to win her back and break up her marriage to hunky Australian Clarke (Bana, in a return to his comic roots).
There are three stories in here – the tale of the icon and his young apprentice, a yarn about three youngsters on the make in Hollywood, and a love story about a man trying to win back the woman he let go.
Because Apatow's frame of reference is Hollywood, the film dwells on the foibles of that peculiar industry. As such, it shares some of the problems of one of Sandler's least successful films Spanglish, namely a conviction that LA naval-gazing is of interest to the wider world. The myriad cameos here – James Taylor, Eminem, Ray Romano, Andy Dick – add little beyond minutes to the running time, and international audiences will struggle to recognise most of the stars or the numerous US cultural references.
Thankfully, Apatow has Sandler, who steers the drama through its various convolutions – away from the saccharine and into a multi-layered portrait of a man who knows how to make people laugh but who has lost the ability to connect with them. Rogen is charming as the foil, as are the director's real-life wife Mann and their two children in the elongated northern California section. Apatow's obsession with the male genitalia has never been more prevalent. Every male character talks about his own and everybody else's penis with such frequency that Bruno looks moderate in comparison.
To sign up for Screen's weekly Reviews Newsletter with international openings and full festival reviews delivered free every Friday, please click HERE

Production companies
Apatow Company
Mr Madison Productions
Universal Pictures
Columbia Pictures
Relativity Media

Worldwide distribution
Universal Pictures/UPI

Producers
Judd Apatow
Clayton Townsend
Berry Mendel

Screenplay
Judd Apatow

Cinematography
Janusz Kaminski

Production designer
Jefferson Sage

Editors
Craig Alpert
Brent White

Music
Jason Schwartzman

Main cast
Adam Sandler
Seth Rogen
Leslie Mann
Eric Bana
Jonah Hill
Jason Schwartzman
Aubrey Plaza
RZA
Maude Apatow
Iris Apatow