Oscar-winning director Gabriele Salvatores tells Andreas Wiseman about mixing fantasy and reality in his latest film, Happy Family.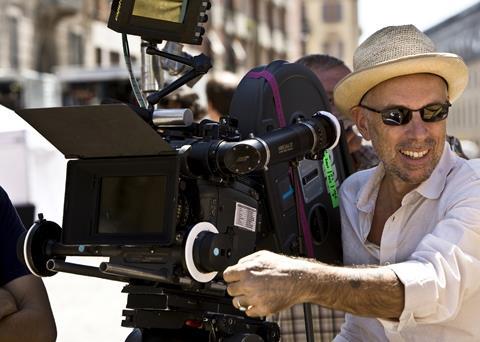 After picking up the foreign language Oscar in 1992 for Mediterraneo, Gabriele Salvatores has carved out a diverse directorial career with his work including such acclaimed films as I'm Not Scared, the romance Teeth and Nirvana, an action sci-fi film.
Salvatores' latest, Happy Family, is a Milan-set comedy in which a neurotic writer, Enzo, struggles to finish a screenplay about two dysfunctional families. As Enzo becomes increasingly attached to his eccentric characters they assume central roles in the film's plot. Produced by Colorado Film and RAI Cinema the film stars Fabio De Luigi, Fabrizio Bentivoglio, Margherita Buy and Salvatores regular Diego Abatantuono. Sold internationally by RAI Trade, the film was released in Italy at the end of March by 01 Distribution.
How did Happy Family come together?
The film is based on Alessandro Genovesi's 2005 play of the same name. It was first performed by Teatro dell'Elfo, the theatre company I co-founded in the 1970s. Alessandro had conceived the play in a very cinematic way. The stage itself was long, with space for different scenes to take place simultaneously. I asked my producer to come and see it with me and soon after we decided to buy the rights. Then Alessandro and I went on to co-write the screenplay. The original story was already about mixing fantasy and reality but we amplified this feature in the film.
The story is told through a film within a film. What were you trying to express by using this structure?
The creative process itself. And something about the dangerous job of the director, which is to mix fantasy and reality. Also, that creativity isn't something that only a director deals with; we are all implicated. We each have the right to our own story. I wanted to say that we mustn't have fear in life; we must take risks. I would like to be able to speak to whoever wrote my life story but I can't.
Happy Family, like much of your previous work, is rich in cinematic allusion. Who were your main influences for this film?
Woody Allen said that if you're going to have a model, you might as well have a good one. He was one of mine, just as Fellini was for him in films like Stardust Memories. Fellini's 8 ½ was also very important for Happy Family. That film also dealt with fear, imagination and a struggling scriptwriter, who is, to some extent, my alter ego. Another influence was the work of contemporary directors like Charlie Kaufman and Michel Gondry. They also deal with fantasy and reality and explore an escape from realism. The fourth big influence was cartoons. The framing of certain shots resemble those of early cartoons.
Is this is a particularly difficult time to make films in Italy?
All dictatorships are afraid of the intelligentsia. I'm not afraid to say that we live in a media dictatorship. Cinema is hard to control so the government tries to limit it. Yes, it's a difficult time. In the 1970s Pier Paolo Pasolini said that television would become pornography. A famous P2 manifesto claimed that the state would control the media. They were right. There is complete state control of the media. Television has become very ugly, actors have had to play a lot of bad roles and there are plenty of bad scripts. The public's appreciation for good material has dipped. So, yes, it's hard to make films in Italy. But our cinema has always found a way to stay vital. I have faith in Italy's young directors. It's just a shame Italy is no country for young men.
I'm really not sure. The producers would like me to do another comedy like Happy Family, which is doing well in Italy. But I don't get many like this one. I'm reading some books and novels and trying to decide which one to do. The stories coming to me at the moment are very different from Happy Family.