Dir: Jon M. Chu. US. 2013. 112mins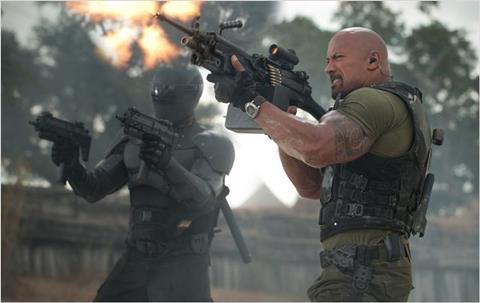 Muscle-bound and lumbering, G.I. Joe: Retaliation goes in a more stripped-down, no-nonsense direction than its predecessor, and the end result is a beefier but not better movie. This sequel to the cartoonish first film, 2009's G.I. Joe: The Rise Of Cobra, discards much of the original cast for a new set of heroes, most notably an always-game Dwayne Johnson. But between its generic action-thriller plotting and unsophisticated worship of warfare and hardware, Retaliation is a conspicuously uninspired effort that goes through the motions, hoping undiscriminating genre fans won't mind.
Retaliation mostly plays out as one more familiar shoot-'em-up, and even when Willis tries to provide a little smart-ass comic relief, it mostly falls flat.
Opening in much of the world starting March 27, G.I. Joe: Retaliation will look to at least match The Rise Of Cobra's overall grosses of $302m. (The films are based on Hasbro's line of action figures, which were adapted into an animated kids' series in the 1980s.) Johnson is the film's lead, and his star power will help, as will the presence of Bruce Willis in a supporting role. And considering that there won't be a major action movie on the landscape for a few weeks, Retaliation could see smooth sailing, with returns boosted by 3D and IMAX ticket sales.
Early on, Retaliation establishes the fact that, in the time period since The Rise Of Cobra, brash young upstart Duke (Channing Tatum) has advanced up the ranks to become the new leader of G.I. Joe, an elite American military force on a constant search for the terrorist organization known as Cobra. But after a stealthy, lethal sneak attack wipes out most of the Joes, Roadblock (Johnson) must assume command, taking under his wing Flint (D.J. Cotrona) and Lady Jaye (Adrianne Palicki). With no one to help them after realizing that the world thinks that the Joes are actually traitors — misinformation spread by a Cobra operative posing as the American president (Jonathan Pryce) — these three soldiers must stop Cobra's mysterious plan that involves convening the planet's most powerful leaders at a nuclear disarmament summit.
Where The Rise Of Cobra was directed by The Mummy filmmaker Stephen Sommers — known for his wholesome, somewhat dopey action movies — Jon M. Chu (Step Up 2: The Streets, Justin Bieber: Never Say Never) has taken the reins for Retaliation. It's an interesting choice considering that Chu has made his name with movies that emphasise cutting-edge music and dance, and there are a few moments in Retaliation where his camera captures a balletic energy, most notably in a dizzying fight sequence across a mountain range that involves swords, zip-lines and even an avalanche.
Unfortunately, this dark-toned sequel sets up a rather conventional arc where our heroes have lost everything and must fight against long odds to overcome an enemy with superior forces. But that stab at a grittier G.I. Joe movie fails since the three new central characters aren't developed enough to really be that compelling. As always, Johnson is effortlessly commanding and sympathetic, his mix of swagger and charm instantly winning us over.
But that's not enough to form a character, and Rhett Reese and Paul Wernick's screenplay is too busy juggling between different locations — not to mention laying out Cobra's elaborate scheme — to bother fleshing out its participants. (At least Lady Jaye is given a sliver of a back story, while Flint's main characteristic seems to be that he's hunky.)
Retaliation was initially scheduled for a summer 2012 release but was then pushed back, the studio stating it wanted to convert the film into 3D. And while the 3D adds a certain amount of visual punch, it can't compensate for the lack of chemistry between the central characters. To be sure, The Rise Of Cobra was an overly jokey and tame affair, but the frat-house rapport between Channing Tatum, Marlon Wayans and Rachel Nichols at least give it a little gusto.
None of Retaliation's new characters are as lively, and Chu's focus on big guns and super-macho dialogue drowns the movie in testosterone. This is all the more disappointing since Chu's earlier films had a spring in their step. Sadly, Retaliation mostly plays out as one more familiar shoot-'em-up, and even when Willis tries to provide a little smart-ass comic relief, it mostly falls flat. Rather than trying to tell a captivating story, this sequel feels like a course correction meant to further the franchise and establish new rooting interests. But everybody in it is as lifeless and plastic as the toys that inspired the series.
Production companies: Metro-Goldwyn-Mayer Pictures, Skydance Productions, Hasbro, di Bonaventura Pictures
Domestic distribution: Paramount Pictures, paramount.com
Producers: Lorenzo di Bonaventura, Brian Goldner
Executive producers: Stephen Sommers, Herbert W. Gains, Erik Howsam, Gary Barber, Roger Birnbaum, David Ellison, Dana Goldberg, Paul Schwake
Screenplay: Rhett Reese & Paul Wernick, based on Hasbro's G.I. Joe characters
Cinematography: Stephen Windon
Production design: Andrew Menzies
Editors: Roger Barton, Jim May
Music: Henry Jackman
Website: GIJoeMovie.com
Main Cast: D.J. Cotrona, Byung-hun Lee, Adrianne Palicki, Ray Park, Jonathan Pryce, RZA, Ray Stevenson, Channing Tatum, Bruce Willis, Dwayne Johnson