Dir: Marc Turtletaub. US. 2013. 90mins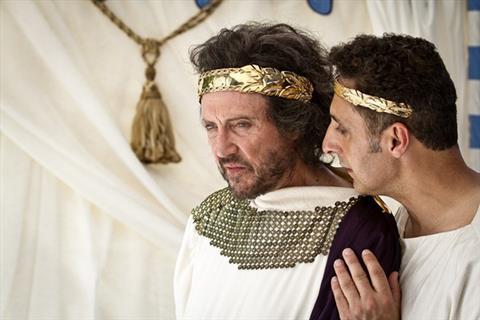 The real joke in Gods Behaving Badly is the fact that it recruits a bunch of actors who are – how to put it? – no longer being offered the roles they used to get, to play its titular Greek gods of Olympus, whose powers are in decline and who now all live together in a New York brownstone. But this mild-mannered bubble of a film is too fatally frothy and empty-headed to pursue the satirical point: and Sharon Stone, Christopher Walken, Alicia Silverstone and the rest are left to flounder their way through an increasingly silly script. By the end, Apollo is not the only one who's been turned to stone.
The result is a mess of a film that occasionally charms but more often leaves us feeling embarrassed for the talent.
The shame is that it all should and could have been great fun. Based on a light squib of a novel by British writer Marie Phillips, the film had the potential to be a screwball send-up of the upscale Westerner's shop-around approach to religion, mixed in with an entertaining spoof about bickering ancient gods (humanised deities are always good for a laugh) laced with some reality-TV digs. As it is, Gods Behaving Badly doesn't really know what it is. Is it a supernatural rom-com or a fantasy spoof for college Classics majors? Should it make its mid-to-low-budget CGI effects look real, or ham them up for comic effect? Should its gods really behave badly, or would that limit the audience demographic?
First-time director Marc Turtletaub (whose production credits include Little Miss Sunshine) has opted to answer 'yes' to all the above questions in the script he co-penned with Josh Goldfaden. The result is a mess of a film that occasionally charms but more often leaves us feeling embarrassed for the talent. The film screened out of competition at the Rome Film Festival.
Part of the problem is that the script is too inexplicably in awe of its lightweight source material, though that said, Phillips' novel provides the film's only really good joke – involving a Goldman Sachs banker who is turned into a tree. You keep wishing Trey Parker and Matt Stone had got hold of the basic concept (washed-up Greek gods in NYC) and turned it into a scurrilous South Park feature; as they didn't, we may be looking at a film that for all the stariness of its cast could miss the theatrical bus in several territories, including the States. Late night cable audiences may be kinder – treating the film as the extended sitcom that it is.
Walken, in fine sardonic, jaded form, talks us through the premise and introduces us to the other gods during the credit sequence. He's Zeus ("Who do you pray to?" he quips; "I'm guessing it's not me"); some time ago, he and the other Greek gods, their powers in decline, moved from Mount Olympus to New York, where they all live en famille in an elegantly appointed Manhattan brownstone. Aphrodite (Stone) is a predatory cougar, but still contrives to be jealous of husband Apollo (Platt), an unctuous womaniser who has parlayed his talent for prophecies into his own TV clairvoyant show.
Goddess of chastity Artemis (Falco) tries to keep everyone in line, while Eros (Glick), who has got religion, frets about what Jesus would think. (A god? Getting religion? Never mind – it's not funny in the film either). The film plumbs the depths of cliché in the character of Dionysus (Ellis) god of ecstasy – a laid-back dreadlocked DJ and pothead who actually says "Whassup man!".
Thanks to slacker Hermes (Zebrowski), the god of coincidence, into this kooky coven of impish immortals steps Kate (Silverstone), a sweet, bespectacled mortal girl who Apollo has conceived a passion for, having been pierced by one of Eros' arrows in a scheme hatched by Aphrodite. Kate's real love interest is her scrabble partner Neil (Moss-Bachrach), a nice nerd who can't quite work up the courage to declare his passion.
Soon enough, Kate has been killed and dispatched to the underworld by the wrath of a spurned Apollo, and we are briefly consoled by the film's standout performance – John Turturro as camp bad-guy Hades, who has turned his reign (which the dead reach by subway) into an all-inclusive happy-happy leisure camp where all human emotions are gradually lost. That includes Kate's affection for Neil, who must get his girl back before she forgets him. Oh, and persuade river-goddess Styx to turn the sun back on again, which Apollo had shut down in a fit of pique, draining all his powers in the process, and turning him to stone.
Gradually it dawns on one that what this increasingly absurd (but alas not increasingly funny) film with its jaunty music resembles is a Christmas pantomime. There's even a Tinkerbell moment towards the end. Perhaps someone should buy the pantomime rights to the film of the book?
Production companies: Big Beach Films, Red Hour Films
International sales: contact Big Beach Films, info@bigbeachfilms.com
Producers: Marc Turtletaub, Peter Saraf
Executive producers: Caroline Jaczko
Screenplay: Marc Turtletaub, Josh Goldfaden
Cinematography: Tak Fujimoto
Editor: Alan Heim, Joe Landauer
Production designer: Kalina Ivanov
Music: Christopher Young
Main cast: Alicia Silverstone, Ebon Moss-Bachrach, Sharon Stone, Christopher Walken, John Turturro, Edie Falco, Oliver Platt, Rosie Perez, Nelsan Ellis, Will Swenson, Henry Zebrowski, Gideon Glick