Dir/scr: Thomas Arslan. Germany. 2013. 113mins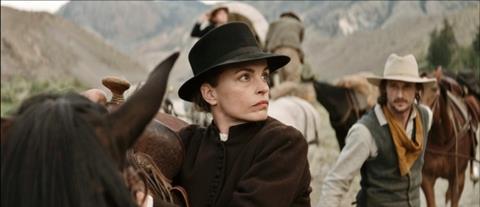 A revisionist Western that is strong on visuals and a gritty sense of authenticity but rather short on drama, humour or a needed dose of emotional intensity, Thomas Arslan's Gold provides a strong role for Nina Hoss as a German woman hoping to make her fortune in the Klondike Gold Rush. Admirable in its decision not to pander to standard Wild West clichés and favouring understatement over gunplay it is at its best when it comes to emphasising the harsh and bleak realities of immigrants making their way out in the wilderness.
Dramatic incident is handled in a very matter-of-fact way by Arslan, who tends to tick them off rather than use them to help drive the story.
A beautifully shot film that makes the most of its widescreen format, Gold provides a fascinating glimpse into a dramatic period, with Arslan taking a cue from Kelly Reichardt and her desert-set Western Meek's Cutoff in presenting his lead characters as brow-beaten and often exhausted explorers who trudge resolutely ever onwards rather than heroically forging their way through the great unknown.
Driven by dreams of a better life rather than a realistic sense of what life on wilds would be like, the Gold Rush of 1898 saw many nationalities throng to the Canadian hinterland caught up in a lust for gold. Their routes through a harsh wilderness were often based on unreliable maps and bad advice with many simply not up to the long trek and brutal realities.
The film opens with Emily Meyer (Hoss) joining up with a group of other Germans intent on making their way to the Klondike. She is a prim, strong-minded, organised and unsmiling character who gives little way, but fits easily into this small band of seven travellers as they head off north. Led by Wilhelm Laser (Peter Kurth), who holds their money, has a map and happily shows off some gold nuggets he claimed to have recovered from the Klondike River, they trudge through the wilderness, forging through woods and across rivers and in truth barely equipped to handle the tough terrain.
We know it is tough out there because the regularly come across the carcasses of dead horses or the remains of fellow travellers. As is expected in such stories this band of travellers don't always get on, with injury and incident gradually whittling down their number.
Dramatic incident is handled in a very matter-of-fact way by Arslan, who tends to tick them off rather than use them to help drive the story. In fact while he tries to eschew traditional Western styles, often his characters feel rather clichéd and familiar, with Nina Hoss's character pinch-lipped and unemotional until the very last scenes.
The film lacks a much-needed sense of humour and notion of dramatic drive, though a few oddball moments – such as a shabby man with a back pack emblazoned with a union jack ambling through their remote camp – help punctuate the lengthy sequences (admittedly beautifully shot) of tired-eyed and shabby travellers riding interminably through forests and over mountains.
Production companies: Schramm Film Koerner & Weber Production, Red Cedar Films
International sales: The Match Factory, www.the-match-factory.com
Producers: Florian Koerner von Gustorf, Michael Weber
Executive producer: Henrik Meyer
Cinematography: Patrick Orth
Editor: Bettina Bohler
Production designer: Reinhild Blaschke
Music: Dylan Carlson
Main cast: Nina Hoss, Marko Mandic, Lars Rudolph, Uwe Bohm, Peter Kurth, Rosa Enskat, Wolfgang Packhauser