Dir: David Fincher. US. 2014. 145mins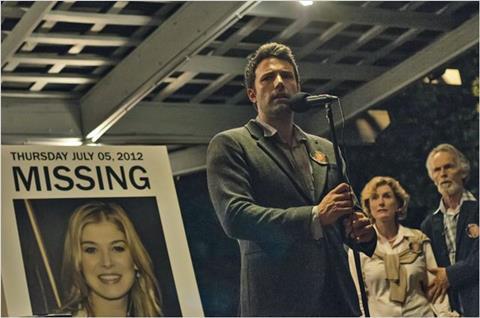 Ostensibly a serpentine cat and mouse thriller that will leave many viewers looking askance at their spouses, David Fincher's guileful Gone Girl - which opens the New York Film Festival - should transcend its aura of adult sophistication to become a major hit in all territories. Awards prospects are less certain for the long-anticipated adaptation of Gillian Flynn's bestseller. Ben Affleck will grab some voters' attention as the ambiguously glib Nick Dunne, however, and Rosamund Pike's dynamic turn as his fierce wife Amy – the missing woman of the title – should belatedly make the gifted English actress a star.
As it traces what went wrong in the marriage, Gone Girl simultaneously evolves as a mordant satire of the mediating of domestic violence as mass entertainment.
Flynn herself wrote the screenplay, boldly condensing the narrative, though rumours that she supplied a new ending were exaggerated. The initial focus is on Nick, who runs a bar in North Carnage, Missouri, which was bought with Amy's trust fund after her parents had spent it. Fincher hints at his strategy when Nick brings bartender Margo (Carrie Coon), his acerbic but doting twin sister, a symbolic board game – a bizarre gesture on his and Amy's fifth wedding anniversary.
Back home, he calmly surveys the damage and disarray in his and Amy's McMansion and calls the cops to investigate her absence. Detective Rhonda Boney (Kim Dickens), as dry as her name, and her taciturn partner Jim Gilpin (Patrick Fugit) search for the missing piece – Amy's corpse – they need to charge Nick for homicide.
This sets up a standard police procedural that promptly loses momentum – all of Gone Girl's appearances proving deceptive. Flashbacks introduced by Amy's sardonic diary entries, perhaps narrated posthumously by her, reveal that her parents (Lisa Banes, David Clennon) had ransacked her childhood and adolescence for their successful series of books about an idealised girl, explaining her subsequent pathological need for control and the wrath she unleashed on men who threatened it. Neil Patrick Harris has a key part as the creepiest of the ex-boyfriends she burned.
Amy and Nick's perfect-seeming marriage was a charade, despite their enduring sexual chemistry. Writers who lost their jobs in the recession – Amy's Ivy League degrees availing her nothing – they had left Manhattan to tend Nick's dying mother in his hometown. They had attempted to sustain the unrealistic personas each had originally projected to the other, but Nick was far from a confident dreamboat and Amy latterly feigned her dutiful helpmate-cum-wild mistress image. The film thus emerges as a damning metaphorical analysis of marital role-playing.
Less visceral in the main than most Fincher films, save The Social Network, Gone Girl is stylistically restrained, but for a few poetic touches (such as a cloud of sugar that dusts Amy with mystery). Jeff Cronenweth's camera prowls when it needs to, while Trent Reznor and Atticus Ross's score is muted.
Psycho is a touchstone (as is Body Heat), though Fincher utilises suspense as a smokescreen for social critiquing. As it traces what went wrong in the marriage, Gone Girl simultaneously evolves as a mordant satire of the mediating of domestic violence as mass entertainment. Missi Pyle (channeling US primetime legal eagle Nancy Grace) and Sela A. Ward clearly relished playing the self-righteous Glinda and Wicked Witch of network TV who pillory Nick on the air.
The accusations that Flynn is misogynistic must be balanced with the consistent empowering of women of variable moral hues. Excepting Tyler Perry as the hotshot lawyer Nick hires, Gone Girl's men scarcely rule the roost. Joining Pike, the excellent Carrie Coon (Nick's secret sharer who gives voice to his conscience), and Pyle and Ward's viragos, Lola Kirke steals several scenes as a cunning white trash floozy while controversial British-American model Emily Ratajkowski (from Robin Thicke's Blurred Lines music video) passes muster as the lone submissive female.
Production companies: New Regency Pictures, Pacific Standard, Regency Enterprises, TGA Entertainment
International distribution: Twentieth Century Fox
Producers: Arnon Milchan, Reese Witherspoon, Ceán Chaffin, Joshua Donen
Executive producers: Leslie Dixon, Bruna Papandrea
Screenplay: Gillian Flynn, based on her novel
Cinematography: Jeff Cronenweth
Editor: Kirk Baxter
Production designer: Donald Graham Burt
Music: Trent Reznor, Atticus Ross
Website: www.gonegirlmovie.com
Main cast: Ben Affleck, Rosamund Pike, Neil Patrick Harris, Tyler Perry, Carrie Coon, Kim Dickens, Patrick Fugit, David Clennon, Lisa Banes, Missi Pyle, Emily Ratajkowski, Casey Wilson, Lola Kirke, Boyd Holbrook, Sela A. Ward