Arnie confirms to Screen that there will be a film version of his newly unveiled animated series The Governator.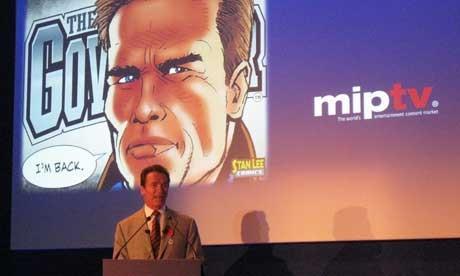 Former Governor of California and Terminator, Arnold Schwarzenegger was at MIPTV in Cannes today to launch his new animated TV series The Governator (and collect his Legion d'honneur).
A collaboration between comic-book superman Stan Lee, Schwarzenegger, brand entertainment company A Squared Entertainment (A2) and Archie Comics, The Governator franchise will comprise a TV series, merchandising, a comic series and, as confirmed to Screen by the big man himself, a 3D film.
The Governator stars an animated Schwarzenegger just days after he has left his post as Governor of California. Restless, Schwarzenegger decides to take on the world's bad guys. With an elite team of teens to help him, he creates a secret identity beneath his home — so secret that even his wife, Maria, and kids are unaware of its existence. Using cutting-edge gear, custom-made "super suits," state-of-the-art weapons (Arnie also told us about bubblegum that lets him change faces and a spray which lets him speak other languages – but only for 40 seconds at a time!) and eco-friendly vehicles, the superhero embarks on a comic and adventure-filled double life, which involves fighting the world's most dangerous villains during the day and going to school parents' nights in the evening. Think Batman meets True Lies.
Not wanting to miss an opportunity to meet a childhood idol, or to ask a vital question, I fought my way through the hordes of journos, paps and a team of bodyguards, and, as he passed me, aimed my question at the great man: "Will there definitely be a film version of The Governator?" I said. The towering icon swivelled, fixed me in his squinting stare and began to raise his arm. I thought my number was up. But Arnie let loose a broad smile, showing off his immaculate white teeth and reached out to shake my hand: "Hi, how are you, good to see you," he said, in his inimitable Austrian/Californian/Terminator tone. "Of course there will be a film version."
A2 will produce the TV series and, as it turns out, a 3D movie. Archie Comics will publish "The Governator" comic series in print and digital forms with Stan Lee and his producing partner Gill Champion overseeing all creative direction and story development.
Check out the hilarious trailer.

Screen's deputy editor based in London.