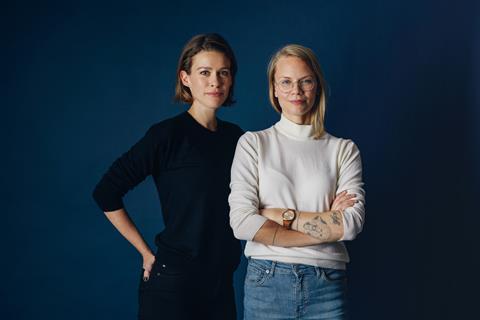 Recently launched Swedish talent agency Albatros Agency is readying its first English-language feature film project for international packaging and has added six Scandinavian directors and screenwriters to their roster.
Elin Sandström Lundh and Martina Österling, founders of Albatros Agency, are announcing the launch of their latest project during the Gothenburg Film Festival: Peter Birro's (Monica Z, Easy Money 2) and Christina Jeurling Birro's feature film 7 Starlings.
The film is described as a political drama about a woman fighting an unjust system.
"It is a privilege to be working with Peter Birro and Christina Jeurling Birro on the launch of their first joint English language project. We look forward to finding people and partners as passionate as us to bring the project to life and to an international audience," the company told Screen.
Albatros Agency is also expanding its client list with six directors and screenwriters: Caroline Cowan (Arne Dahl, Joy), Alexandra Dahlström (All we have is now, Because the night), theatre director Carl Johan Karlson, Dragan Mitic (My aunt in Sarajevo), Isabelle Riddez (Thirty plus) and Jens Östberg (Blowfly Park).
"We are very happy to welcome these talented creators to our agency," the company continued. "By creating Albatros Agency we have had the opportunity to build a company tailor-made not only around our clients needs and goals, but also around our own set of skills. In the Scandinavian market what we offer is unique in that our combined experience represents the whole life cycle of a project, from production to distribution. This enables us to not only be a home for our talents negotiations, but also work on the packaging of their projects and all strategic goals."
Österling has worked at distribution companies including Koch Media UK, Magnolia and Revolver and has consulted for Umbrella, Icon UK, the BFI and Film London.
Sandström Lundh was previously head of production at Pocket Entertainment, managing director at Anagram Pocket and head of development at Anagram Sweden. She was an executive producer on SVT series Thirty Plus and the Swedish version of QI as well as sketch comedy The School for MTG.