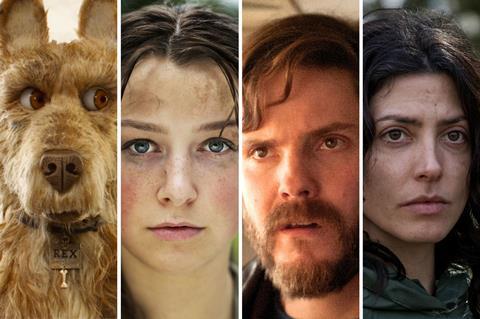 After a "soft" Sundance the Berlinale's official line-up seems to offer proof of a lack of star-driven projects in the independent market-place, a sign, perhaps, of a global drain on talent provoked by the rise and rise of high-end television.
Undoubtedly the festival (which runs 15-25 Feb) is large and sprawling – outside the Competition, the sidebar Panorama section alone offers 47 titles, 37 of which are world premieres, 44 films in Forum, plus special screenings, not to mention the two Generation sections, Culinary Cinema, various Specials programmes, etc.
Outside Competition, this year's festival is also doc-heavy, which doesn't tend to drive a market. And some films, like Hong Sang-soo's Grass or the animation Gordon & Paddy, turn out to be mid-length, TV-friendly featurettes in the 60-minute-plus category. Ursula Meier's Shock Waves: Diary of My Mind, is a 70-minute TV episode for Swiss TV, one of four. Some of the bigger Competition and out-of-Competition titles, such as Damsel, Don't Worry He Won't Get Far On Foot, and The Happy Prince, have played at Sundance to muted effect, as has Yardie, the doc MIA and drama Madeleine's Madeleine.
The market is jittery: will the year get softer still? But Berlin has always been a festival of discovery, an outlier of the year to come. And these films listed below from the Competition, Out of competition and Panorama strands are setting some pulses a-racing in the days leading up to the kick-off.
Competition
Isle Of Dogs (US-Ger)
Dir: Wes Anderson
Four years after The Grand Budapest Hotel opened the Berlinale on its way to four Oscars and $175m global box office, Anderson returns in the same slot with his second animated feature, following Fantastic Mr Fox. The filmmaker's American Empirical Pictures produces alongside Indian Paintbrush and Scott Rudin Productions with Studio Babelsberg as co-producer. Regular studio partner Fox Searchlight returns for this tale of a 12-year-old boy on a mission to rescue his dog after canines are exiled to Trash Island. The voice cast includes Bryan Cranston, Scarlett Johansson, Bill Murray and Edward Norton. Contact: Fox Searchlight
U – July 22 (Nor)
Dir: Erik Poppe
A late addition to Competition, U – July 22 is Poppe's third feature to play Berlin; his debut Bunch Of Five screened in Panorama in 1999 and The King's Choice played the same section last year. He has been working for three years on this project, which looks at the July 22, 2011 attack on a youth summer camp on Utoya island outside Oslo by far-right terrorist Anders Behring Breivik, as told from the youths' point of view. It received backing from the Norwegian Film Institute and was produced by Finn Gjerdrum and Stein B Kvae for Paradox Film 7 AS; Nordisk Film is distributing in Scandinavia. Contact: TrustNordisk (info@trustnordisk.com)
Transit (Ger-Fr)
Dir: Christian Petzold
Petzold's latest film to play in Competition at Berlin charts the story of a man who flees France from the Nazi invasion. After assuming the identity of a dead author whose papers he possesses, he meets a young woman desperate to find her missing husband — the very man he is impersonating. Franz Rogowski — who played one of the male quartet in Victoria — stars opposite breakout actress Paula Beer. Contact: The Match Factory (info@matchfactory.de)
3 Days In Quiberon (Ger-Aust-Fr)
Dir: Emily Atef
For her fifth feature, German director Atef turns her attention to the enigmatic Austrian-born film star Romy Schneider. 3 Days In Quiberon probes what happened during Schneider's last interview and photoshoot, which took place at a spa in Brittany in 1981, just a year before her death at the age of 43. It is Atef's first film to be selected for the Berlinale's Competition. Her 2008 feature The Stranger In Me was selected for Critics' Week at Cannes. Marie Bäumer stars as Schneider in the film, which is produced by Rohfilm Factory. Contact: Beta Cinema (beta@betacinema.com)
The Real Estate (Swe-UK)
Dirs: Mans Mansson, Axel Petersen
Filmmakers Mansson (The Yard) and Petersen (Avalon) — both Berlinale veterans — co-direct for the first time on this dark comedy-thriller. Leonore Ekstrand stars as a 68-year-old woman who inherits an apartment complex in Stockholm before being pulled into the greedy game of real estate. The Real Estate marks the first Swedish film in the Berlinale's Competition since Lukas Moodysson's Mammoth in 2009. Contact: The Match Factory (info@matchfactory.de)
Out of competition
7 Days In Entebbe (US-UK)
Dir: Jose Padilha
The true story of the June 1976 hijacking of an Air France plane — which ultimately flew to Entebbe, Uganda before being stormed a week later by Israel Defense Forces commandos. This screenplay by '71's Gregory Burke offers a broader mix of perspectives, including two German hijackers (Daniel Brühl and Rosamund Pike) and Israeli leaders Yitzhak Rabin (Lior Ashkenazi) and Shimon Peres (Eddie Marsan). Participant Media and Working Title Films produce, while Focus Features releases in the US on March 16. Contact: Lionsgate International (internationalsales@lionsgate.com).
Black 47 (Ire-Lux)
Dir: Lance Daly
Still best known for his third feature Kisses (2008) — which swept through festivals including Locarno, Toronto and Thessaloniki and earned the filmmaker the best director prize at the Irish Film and Television awards — Daly now offers his sixth feature. Set in Ireland during the Great Famine, the drama follows an Irish ranger who abandons his overseas post to reunite with his family. Cast includes Hugo Weaving, James Frecheville, Stephen Rea, Freddie Fox, Barry Keoghan and 2015 Berlinale Shooting Star Moe Dunford. Irish Film Board backs the production from Ireland's Fastnet Films and Luxembourg's Samsa Film. Contact: Altitude Film Sales (info@altitudefilment.com)
Unsane (US)
Dir: Steven Soderbergh
Soderbergh is no stranger to the Berlinale and has brought Traffic, Solaris, The Good German and most recently Side Effects here. After 2017's Logan Lucky, his 'retirement' continues apace with this out of Competition selection starring small-screen royalty Claire Foy of The Crown in the story of a young woman committed to a mental institution against her will. Foy is currently shooting The Girl In The Spider's Web as goth hacker Lisbeth Salander. Fingerprint Releasing and Bleecker Street will distribute in the US on March 23. Contact: New Regency (info@newregency.com)
Eldorado (Switz-Ger)
Dir: Markus Imhoof
Drawing inspiration from his encounter with Italian refugee child Giovanna during the Second World War, this documentary from Swiss filmmaker Imhoof shows how refugees and migrants are treated on the Mediterranean Sea, in Lebanon, Italy, Germany and his native Switzerland. This is Imhoof's third appearance in Competition. Majestic handles distribution in Germany. Contact: Films Boutique (contact@filmsboutique.com)
Panorama
Sunday's Illness (Sp)
Dir: Ramon Salazar
Malaga-born Salazar's fourth feature is his biggest to date and stars the leading Spanish actresses Susi Sanchez and Barbara Lennie as a mother and daughter reunited after 30 years. Produced by Francisco 'Paco' Ramos of Barcelona's Zeta Cinema, Sunday's Illness (La Enfermedad Del Domingo) was shot in Barcelona, Paris and the Pyrenees. Salazar made a splash with his first feature Stones (Piedras) in 2002, which debuted in the Berlinale's Competition before playing widely on the international festival circuit. Contact: Zeta Cinema (infocine@zetaaudiovisual.es)
Xiao Mei (Tai)
Dir: Maren Hwang
Hwang's feature debut is described as an investigation of the enigma surrounding the disappearance of the titular young woman, told through the experiences and memories of nine people who knew her well. The film is in the running for Berlin's GWFF best first feature award alongside fellow Panorama titles Girls Always Happy, The Omission and Marilyn, and other works from across the festival strands. Contact: Mandarin Vision (contact@mandarinvision.com)
Lemonade (Rom-Ger-Can-Swe)
Dir: Ioana Uricaru
Lemonade, about a Romanian woman's experience of the US in one day, marks the feature debut of Uricaru, who was most recently a script consultant on Cristian Mungiu's Cannes competitor Beyond The Hills. Producers include Mungiu, Corn Island duo Christoph Kukula and Eike Goreczka, A Ciambra co-producer Sean Wheelan and Yanick Létourneau. Contact: Pluto Film (info@plutofilm.de)
Profile (US-UK-Cyp-Rus)
Dir: Timur Bekmambetov
Russian-Kazakh filmmaker and producer Bekmambetov, known for making large- canvas fare such as Night Watch, Wanted, Abraham Lincoln: Vampire Hunter and the Ben-Hur remake, returns with an English-language thriller — made under the filmmaker's Bazelevs production company banner — about a British journalist who infiltrates the digital propaganda channels of so-called Islamic State. It is adapted from Anna Erelle's novel In The Skin Of A Jihadist. Contact: Endeavor Content (sracanelli@endeavorcontent.com)