Dir/scr: Ermanno Olmi. Italy. 2014. 78mins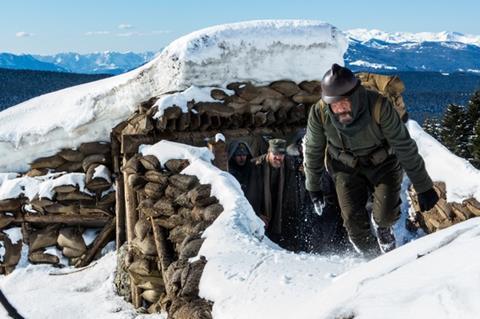 A belated addition to the commemoration of WW1 centenary, Ermanno Olmi's film Greenery Will Bloom Again (Torneranno I prati), released late last year in Italy, is - predictably enough - unlike any of the other film attempts made last year to remind the world of the one step into folly taken by mankind at the beginning of the last century which somehow.
Olmi's austere restraint and slow pace underline the dread hovering every moment of the proceedings.
Inspired by La Paura (The Fear), a novel written by Federico de Roberto in 1921, these brief recollections of moments in a war that was fought mainly in the trenches, replaces the sound and fury normally associated with the genre, focusing instead on the intense fear, loneliness, misery and darkness of soldiers stuck like moles in their underground fortifications, at the mercy of enemy snipers and of heavy artillery and never allowed them to stick their noses into the open, and of the orders coming from their own headquarters, for whom life and death are merely a matter of strategy and statistics.
Olmi, who will soon be 84, may have never been a great storyteller, but very few filmmakers can hold a candle to his talent as a mood setter. He chose his locations in remote corners of the wintery Alto Adige mountains, shooting mostly at night, using for background the vast, spectacular stretches of snow-covered slopes, sprinkled with dark shadows of the pine forests spread over them, a pale moon and the occasional flares sent up life brief comets across the sky, the only lights shed over the scenery.
No doubt a breathtaking landscape, but the heavy silence reigning over it inspires anguish and terror rather than pastoral admiration. The soldiers trapped underground are helpless pawns in a game they have not started, whose reasons they do not perceive, but whose results promise to be fatal, the fatigue, fear and despair written on faces that are barely visible in the murky light. No real plot guides the script, just a series of events that could and probably did take place in the trenches, in this or any other sequence, compressed into just one night.
A sniper puts an early end to an attempt to go out of a trench; heavy shelling gets closer and closer to the shelter until it is hit, leaving behind destruction and death, incidents that are not necessarily tied together either by specific characters or a story line, just brief scenes out of a major carnage, a war drained of all glamorous vestiges of glory, leaving behind only the pain, suffering, desolation and despair it generates.
Working, as he always prefers to, with non-professionals whose anonymous but eloquent features are more effectively striking than anything a famous face might convey, Olmi's austere restraint and slow pace underline the dread hovering every moment of the proceedings. A strangled scream of anguish controlled by a master, this is bound to be appreciated by audiences that will not be scared away by the theme.
But somehow, next to the horrors served on a daily basis by every single audio-visual channel in the world, this impressively stylised plea to put a stop to the self-destructive madness humanity seems bent on, looks almost like civilized reminiscences of another time and place, which may seem almost exotic to a younger audience. As for the film's motto, "War is an ugly beast that wanders the earth and never comes to a halt", it suggests the acceptance of this madness as a kind of divine curse we'll never be rid of. And the only thing that will not be affected is the nature that will bloom again, until the next war breaks out.
Production companies: Cinema Undici, Ipotesi Cinema, Rai Cinema
Producers; Luigi Musini, Elisabetta Olmi
International sales: Rai Com, www.rai.it
Cinematography: Fabio Olmi
Editor: Paolo Cottignola
Production designer: Giuseppe PIrrotta
Music: Paolo Fresu
Main cast: Claudio Santamaria, Alessandro Sperduti, Francesco Formichetti, Andrea di Maria, Camillo Grassi, Niccolo Senni, Domenico Benetti, Andrea Benetti