On the back of Me, Myself and Mum's Cesar nominations, the French actor and film-maker talks about upcoming animation Mr. Peabody & Sherman.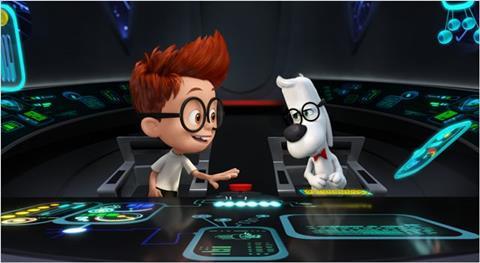 Guillaume Gallienne, the classically trained member of theatre troupe Comedie Française and whose first film (as screenwriter, director and star) Me, Myself and Mum is one of the certified local hits of 2013, took a quick break from the dubbing studio to share his enjoyment at providing the French voice for the talking dog Mr. Peabody in the forthcoming DreamWorks animated feature Mr Peabody and Sherman.
"Mr. Peabody made me laugh," says Gallienne, who looks slightly doughy in Me, Myself and Mum but is now svelte from losing a great deal of weight from what he calls "the intense demands" of playing Pierre Bergé in Yves Saint Laurent.
"Mr. Peabody's sense of understatement cracks me up and, as parent to a son of my own, I like the way he handles his boy."
Do they share a parenting style? "He's way more patient than I am as a father. He's chic — he's almost British, which is why I accepted the role.
"He doesn't seem like a completely American dog. He's unflappable and has a delectable sense of understatement that veers toward British behaviour."
Gallienne was sent off to boarding school in England during his formative years, an experience he apparently preferred to his earlier schooling in France. His spoken English is frighteningly good and should he ever tire of appearing on the French stage, in films, on radio and on television at an almost omnipresent pace, he could almost certainly have a career in English-language fare.
But if Mr. Peabody seems slightly British, the film's strength stems from it's US-centric approach. "It's impressive how deeply American animators understand certain aspects of society," says Gallienne. "A dog adopts a boy and the American-style psychology is very sharp."
(So, one might add, is the pun-laden humour in the film itself, whose time-travel includes arriving at Versailles on the eve of the French Revolution, a memorable encounter with Marie Antoinette, a neat escape from the guillotine and a very, excuse the pun, animated chase through the Paris sewers.)
With 2.5m tickets sold and counting, Gallienne's adaptation of his autobiographical one man show Me, Myself and Mum, in which he portrays himself growing up and also, in fetching drag, plays his own mother, is a runaway hit in France.
The film, which also sold very nicely after its premiere in the Directors Fortnight at Cannes this past May, leads the Cesar race with 10 nominations including Best Film, Best First Film, Best Director and Best Actor.