Dir/scr: Jesse McCormack. US. 2013. 86mins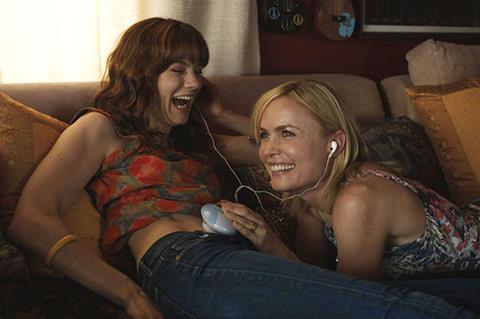 Jessie McCormack's debut feature is a fresh take on the adoption process, with impressive lead performances from Radha Mitchell and Michelle Monaghan. The clever script shows the complications of adopting a baby, with a few laughs along the way.
McCormack's directorial style and sense of humour support the serious themes.
When free-spirited Andie (Monaghan) discovers she is pregnant, she volunteers to give the baby to her friend Lizzie (Mitchell) who has been trying for a baby with her husband Peter (Jon Dore). Lizzie is the perfect housewife and dreams of motherhood but has had two rounds of IVF treatment with no results. Andie moves into her house and they monitor the baby's growth together.
Meanwhile, Peter is struggling in his job as an estate agent and is also stressed at home, where he is looking after his brother Casey (Michel Weston), who has just gotten out of rehab for drug and alcohol abuse. Their lives are shaken up when Andie and Casey are found having a romantic encounter and the family dynamic is put under pressure.
Gus couldn't be accused of being overly sentimental, with a sharp script that won't pander to romantics in the audience. But Monaghan's consistently funny remarks (rude or inappropriate as they may be) lift the tone and keep things quirky and light. The funniest scenes happen when the couple sees a therapist, (a small role for Mimi Kennedy) and many home truths are revealed. But there are also moments of light relief when the couple play Ping-Pong in their house or take their beloved dog Joyce for walks.
Making a film about surrogate birth and drug addiction could be difficult subjects to make entertaining, but McCormack's directorial style and sense of humour support the serious themes. In her first feature length film, McCormack also produced and wrote the screenplay.
Monaghan and Mitchell have good on-screen chemistry and are a charming duo. The strong female leads and story of friendship and dysfunctional families make this a commercially appealing audience-friendly film that many people will enjoy.
Production companies: FilmColony, Unique New York
International sales: ICM, www.icmtalent.com
Producers: Jesse McCormack, Kathryn Himoff, Kevin Fitzmaurice Comer, Erik Van Wyck
Executive producer: Richard N Gladstein
Cinematography: Magela Crosignani
Editors: Kathryn Himoff, Nimrod Erez
Music: Mark Killian
Main cast: Michelle Monaghan, Radha Mitchell, Jon Dore, Michael Weston, Mimi Kennedy