Dir/scr. Bruno Dumont. France, 2009. 120 min.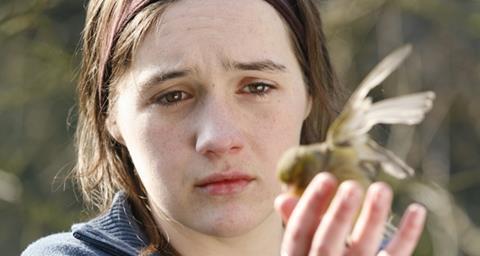 Inspired by the writings of the 13th Century Flemish poet Hadewijch, who insisted that God and love are one and the same thing, Bruno Dumont embarks on a typically introverted tale which takes obsessive faith all the way into the realms of terrorism and back again. Although his arguments aren't always convincing, what occurs on screen is never less than visually fascinating and Dumont's reputation should secure Hadewijch festival dates even if sales action beyond that proves tough going.
Dumont draws an amazing performance out of Sokolowski in particular
Celine (Sokolowski) is a theology student obsessed with the idea that Jesus is love and love is Jesus. She begs to be taken on as a novice in a convent, where she mortifies her flesh and abstains from eating until the Mother Superior decides to send her back into the world. In the sumptuous Parisian apartment of her parents, who are far too busy with each other to pay her much attention, she absent-mindedly watches TV, takes care of her little dog, and goes to church.
Denied human warmth at home, she longs to find it elsewhere, and when young Arab Yassin (Salime) approaches her, she invites him to lunch at home and visits him in his suburban slum. There she meets Yassin's brother, Nassir (Sarafidis), a devout Muslim who realises Celine's vulnerability and takes her to the Middle East to witness brutal eruptions of violence and convince her that the only answer to violence is violence.
Though Celine's transition from excessive piety to violence isn't always persuasive, Dumont's intentions here are obvious. However, the film's real strength, and possibly its commercial weakness, lies in the his poetically inspired visual language.
Moving at a deliberately slow pace, Dumont observes his characters - who hardly ever talk - in long sequence shots combined with stunning close-ups, often more eloquent than anything the characters are saying themselves.
Closer to painting than drama, Dumont film draws much subtext out of close-ups on the nuns and of David (Dewaele), the paroled convict working at the convent, and his cinematic language is more effective than any dialogue. Implying, rather than telling his audience what to think, he keeps us alert most of the time.
Working wonders with a cast of unknowns, Dumont draws an amazing performance out of Sokolowski in particular. Silently, with a Bresson-like intensity, she conveys the inner torments of a young woman hopelessly yearning for a divine answer that will satisfy her body and her soul alike.
Full marks for Yves Cape's beautifully fluid camera and the soundtrack's Bach, both original and disguised.
To sign up for Screen's weekly Reviews Newsletter with all the week's new releases, internationalopenings and full festival reviews delivered free to your mailbox every Friday, please click HERE
Production Company
3B Productions
Producers
Rachid Bouchareb
Muriel Merlin
International Sales
Pyramide International
+33 1 42 96 02 20
Cinematography
Yves Cape
Production design
Jean-Marc Tran
Editor
Guy Lecorne
Main Cast
Julie Sokolowski
Yassine Salime
David Dewaele
Karl Sarafidis