British writer/director/producer Hadi Hajaig talks about his latest project, a London based terrorist thriller called Cleanskin, which is currently shooting in London with Sean Bean and Charlotte Rampling.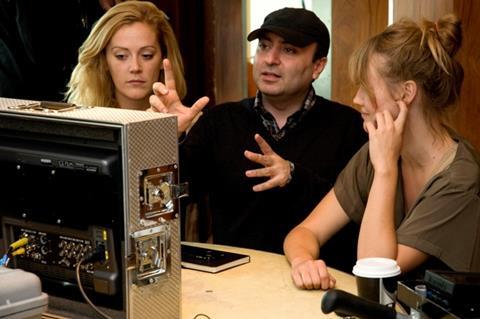 Hajaig has written, produced and is directing the $2.8m (£1.8m) film about a secret service agent (Bean), who is chasing a suicide bomber (Abhin Galeya) across London. Up and coming Brit actress Ruth Wilson stars as the terrorist's unsuspecting girlfriend, with Rampling and James Fox both playing secret service bosses.
The entrepreneurial London film-maker has raised the finances for the project through the government funded EIS system, which allows investors to claim tax breaks on their investment. The film has over 50 private investors from within the film industry and outside the industry.Hajaig is currently in talks with distributors for a 2011 release.
Previously Hajaig directed the 2005 film Puritan with Nick Moran. His next project will be a romantic comedy road trip movie.
How did Cleanskin come about?
I wrote it about 2 years ago. Look at what's happening all around. All writers are influenced by what is happening around them, and it's a very current topic, and it rings home with what's happened in London and all over the world. Other films have covered it but I don't think they've covered it in the way I've done it. It's very action packed but also intelligent.
When I was writing it, I was reading all these Le Carre books, and I did lots of research on why people are turned to terrorism. Most of the incidents that happen in the film are inspired by certain events, taken into cinematic heights. I've expanded on situations that almost occurred.
The film is entirely shot on location in London. How have you found the experience?
We haven't had any issues at all. This hotel [Riverside Park Plaza, where Hajaig is currently filming a wedding scene], is next to MI5 and opposite the Houses of Parliament, but they allowed us to stop traffic and do a huge explosion out the front.
We also blew up a restaurant in Exmouth Market, which was great! I know what people say about London, but we haven't had any issues. It's been quite nice and I'd like to shoot more.
Is it a typical "British" film?
When I wrote it I had in mind Lawrence Kasdan, who, when he wrote Raiders Of The Lost Ark, never wrote a scene which was more than 2 pages, and every page and a half there was a cliff hanger. That was what George Lucas instructed him to do.
While there isn't a cliff hanger every page and a half, I have tried to keep things very tight, very fast moving, so it's not your standard British film. In many ways it is British, but it isn't in its general approach. It's quite cinematic.
What I hope I have made is a very commercial film, which doesn't stop moving. But we are not talking Die Hard here. I didn't have the budget to make Die Hard!
So what are the biggest influences on this film?

A Mickey Rourke film from the 80s, Year Of The Dragon, or Seven. It has that kind of atmosphere to it.
It is also very influenced by films of the 70s. If you look at films of that time, there were influenced by the Vietnam war, and loads of conspiracy films were made. Now we are living in a time which is very similar, there is a war on, there are conspiracy theories all round the planet. You have these characters in government and terrorism, it is not hard to make a story out of it.
Although it is set in the modern day, we have gone for have a real 70s look with the clothes. It has that feeling of the 70s. The paranoia and the feeling that not everything is what it seems.
My favourite film is Taxi Driver, it's got a lot of that influence. The characters in the film, who go on do these horrific acts, are quite similar to the character in Taxi Driver, but with a religious twist.
This is the second feature you have funded using the EIS taxbreak system, following The Puritan in 2005. Is it a viable alternative to the traditional funding models?
It is very viable if you are willing to put the work in. The good thing is, you don't have to go and get quotas and filling out forms which might please lots of people in offices, but don't necessarily please audiences.
I wasted a few years with some of those traditional sources.Maybe I'm not good enough for that kind of approach, maybe I don't fit into things because I'm too independent. I'd love to get funding from those bodies, like the UK Film Council. I think the films they have made have been fantastic. And they have helped a lot of young film-makers. I think they are essential, but I'm not going to wait for someone to go and get me money, I want to do it myself.
If you can work within that system, then great. I'm sure I could in the future, but right now I just decided that I wanted to make this film independently.
How do you manage to combine writing, directing and producing?
The writing is solitary, the producing is solitary, the directing is collaborative. When I actually start filming, my line producer takes over. I set things in place, my line producer does the rest. I am not thinking about where the caterers are or where the cars are parked.
For me, I have to be a writer/director/producer. It never seemed to work for me, waiting for a producer, who is working on 20 scripts, to call me. And I always end up working harder than the producer. It isn't an ego trip, it just works for me.
I've already written something else, a big, funny romantic comedy. Lots of action, set in the present day, but with an 80s soundtrack. It's about an odd couple who meet, go on a mad road trip in England, meet mad weird and wonderful characters, and end up falling in love.
Sounds like a bit of a departure from a terrorist thriller…
It's whatever I'm in the mood for. This is such a heavy subject matter, I need some light relief. I love romantic comedies and films of the 80s which have a certain naïve spirit that isn't really around anymore. So I want to delve into that.