Dir/scr: Juliana Rojas, Marco Dutra. Brazil. 2011. 99mins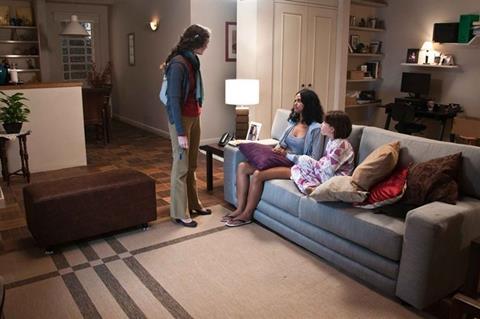 All is not well in the neighbourhood grocery game in this four-hander Brazilian curio. Coming on at first as an employment and family relationship drama in the mould of Laurent Cantet's Time Out, the film gradually shifts into horror-tinged territory. The pressures of the work market in today's recessionary times creates monsters of us all, the young writer-directors seem to be saying - but the audience is left free to extract other messages, or none at all, from the film's dabble with the dark side.
The look of the film is distinctive with bright theatrical lighting and make up, and deliberate, sometimes ponderous dialogue creating a hyper-real tone.
Emotionally perceptive, refreshing in its lack of self-importance, sometimes amusing, and just occasionally scary, the film nevertheless doesn't quite add up as a genre-bending exercise - it ends with a yell from its male protagonist, but more of a shrug from the audience.
Despite its horror-thriller forays, Hard Labour (Trabalhar Cansa) is one for the arthouse rather than the genre fanboys, who will find its frights far too tame. The well-constructed story is full of parallels and ironic mirrors, but simply less absorbing, less urgent than those contemporary benchmarks of reality-grounded supernatural arthouse films, Let the Right One In and The Host. Limited arthouse action and some speciality TV slots look to be Hard Labour's workaday destiny.
Middle-manager Ottavio (Descartes) is fired from his job of ten years on the very day when his can-do wife Helena (Albergaria) signs the lease on an empty shop that she plans to turn into a grocery store. Despite the setback, and against her husband's advice, she decides to go ahead with the venture anyway. To help clean the house and look after the couple's daughter Vanessa (Flores), Helena hires a maid, Paula (Lima), paying her under the table to avoid employment tax.
Paula has the sort of sullen manner that suggests a lurking threat, but the script surprises us here, with the jeopardy coming from another direction - the store itself, which had mysterious previous owners that nobody wants to talk about. A sledgehammer and chain are found behind a display case, a mechanical Santa falls apart and leaks black oil. Meanwhile Ottavio is struggling to get back into the job market, attending interviews that expect him to roleplay with other candidates, and being told by an employment advisor that he should sign up for a motivational seminar.
Our sympathies are played with inventively through the script's layered and nuanced employment waltz, with Helena becoming an increasingly imperious boss, Ottavio losing his self-respect, Paula growing into hers, and even little Vanessa acting in a school play about the end of slavery in Brazil (one of several ironic lobs that are left up the audience to hit over the net).
The look of the film is distinctive, though not always consistently so, with bright theatrical lighting and make up, and deliberate, sometimes ponderous dialogue creating a hyper-real tone. There's a low-budget look about the special-effect props, when we finally get to them, but the film is kept on track by the cast's grounded performances - especially Albergaria as Helena.
Production company: Dezenove Som e Imagens
International sales: Urban Distribution International, www.urbandistrib.com
Producers: Maria Ionescu, Sara Silveira
Cinematography: Mattheus Rocha
Production designer: Fernando Zuccolotto
Editor: Caetano Gotardo
Main cast: Helena Albergaria, Marat Descartes, Naloana Lima, Marina Flores, Lilian Blanc, Gilda Nomacce