Dir: Liza Johnson. US. 2013. 102mins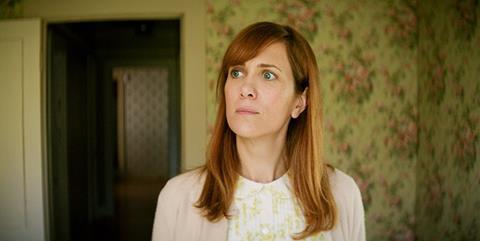 Hateship Loveship examines deception in a family in the American Midwest, fueled by a 21st century identity theft. Kristen Wiig is a revelation as a timid love-deprived victim who turns a tawdry prank into an opportunity. As a work of understatement and restraint, Hateship Loveship will draw praise from the critics who see it on the festival circuit, yet that very composure could keep it from getting traction in cinemas.
Hateship Loveship evokes the formula of governess-versus-teenager tales and humble true-grit morality plays.
The film also showcases another dimension in the versatile talent of Kristen Wiig, whose performance couldn't be farther from the broad bawdy comedy of Bridesmaids.
Liza Johnson's adaptation of a short story by Alice Munro (with a spare script by Mark Poirier) follows Johanna (Wiig), a shy awkward caregiver whose elderly patient has just died. Johanna takes a new job caring for teenaged Sabitha (Hailee Steinfeld of True Grit), whose coke-head father Ken (Guy Pearce) is scorned by father-in-law Mr. McCauley (Nick Nolte), an angry patriarch.
When Sabitha's two-faced friend Edith (Sami Gayle) creates a false correspondence to deceive Johanna into an email romance with Ken, Johanna eagerly takes the bait, yet the simple caregiver reveals her own unexpected quiet guile.
Everything is understated in this American heartland tale, as Johnson probes the inner longings of Johanna, emerging from years of attending to a dying woman. (In Johnson's debut 2011 feature, The Return, a female war veteran came home to uncertainly and emptiness.) Her nuanced portrait in Hateship Loveship of an adult coming of age late in the game – kicked into love as part by a teenage ruse — has a rare subtle sensitivity.
Hateship Loveship evokes the formula of governess-versus-teenager tales and humble true-grit morality plays, yet Munro's story, along with Poirier's script and Wiig's shades of nuance, defy any boilerplate treatment.
The taut script moves assuredly through plot pivots that propel Johanna - who practices kissing on her bathroom mirror - as she falls for a fake email seduction and flees her job for Chicago, usurping the place of Ken's coke-skank flame, played by Jennifer Jason Leigh, who calls Johanna "Little House on the Prairie in pj's."
That spare economy, the film's virtue, also works against it, as we barely see Jason Leigh's entropic character, and Nolte also seems underused as a fuming parsimonious pater familias.
Johnson does leave room for another surprise discovery here besides Wiig's humorless side. Young Sami Gayle (Blue Bloods on CBS) is fearsome in the role of heartless Edith, a dark-haired teen Iago with a keen sense of the weaknesses of those whom she betrays and a mood that can switch from smiles to malevolence in an instant. This is a young actress to watch.
Yet the center of Hateship Loveship is Wiig, framed by cinematographer Kasper Tuxen in shots that evoke the provincial stiffness of Grant Wood's iconic depictions of women or the plainness of Andrew Wyeth's portraits. Another frame for the drama is the production design by Hannah Beachler who creates confining interiors, whether in proper Midwestern houses or in an abandoned Chicago motel.
Production company: The Community
International sales: The Weinstein Company, www.weinsteinco.com
Producers: Robert Ogden Barnum, Michael Benaroya, Cassian Elwes, Jamin O'Brien, Dylan Sellers
Executive Producers: Jacob Pechenik, Abigail Disney
Screenplay: Mark Poirier
Cinematography: Kasper Tuxen
Editor: Michael Taylor
Production designer: Hannah Beachler
Music: Dickon Hinchliffe
Main cast: Kristen Wiig, Guy Pearce, Hailee Steinfeld, Nick Nolte, Christine Lahti, Jennifer Jason Leigh, Sami Gayle