Dir: Christian Vincent. France. 2012. 95mins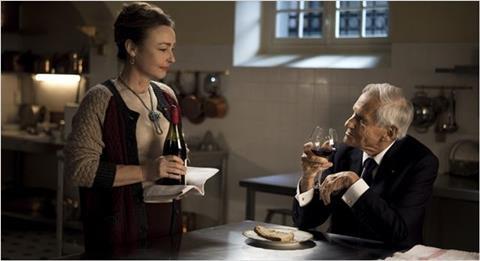 An incredibly French story with near-universal appeal, Christian Vincent's Haute Cuisine (Les Saveurs du palais) is awash in French characters who look and behave the way one expects them to where scrumptious gastronomy and finely-honed protocol are concerned. French box-office fave Catherine Frot couldn't be better as Hortense Laborie who is mysteriously summoned to Paris from her farm in the Perigord region to cook for a high-ranking government official who turns out to be the President of France. An astute, pleasingly sentimental blend of food porn and stubborn artistry in a pre-fab world, the film seems destined to cook up tasty returns at home and abroad.
The food-staging is mouth-watering and Gabriel Yared's mostly jaunty score is appealing and apt.
Sold extensively beyond France, including The Weinstein Company for the US, the film opened in France Sept 19 and will be part of the culinary sidebar in San Sebastian.
France, in case anyone hadn't heard, prides herself on her food and wine. So the story, loosely based on the true experiences of Danielle Delpeuch, apparently the only woman ever to cook at the Elysée Palace (the secretly ailing François Mitterand plucked her from her normal pursuits to cook for him toward the end of his 14 years in office), has instant credibility. Excellent casting and smart production design do the rest.
The tale toggles back and forth between a windswept French scientific outpost on the Crozet archipelago in the sub-Antarctic where Hortense has been cooking for the staff under rustic conditions and the Elysée Palace, the incredibly lavish official residence of the French president.
Four years earlier, Hortense was overseeing her geese and truffles when she landed a job she hadn't applied for: Cooking for the President and his personal guests, more or less by decree. Most of the tale is told in flashback, with Hortense preparing a special farewell meal for her last night on the chilly remote outpost 12,000 kilometres from her native Perigord.
The scientists and seamen she cooks for know she worked as the President's chef for almost two years and they also know she doesn't like to talk about it. The narrative gradually reveals why a woman of her talents might find such a godforsaken place as the sub-Antarctic appealing, at least for a while.
Hortense is no-nonsense and polite, direct and fearless, but down-to-earth. She's creative, self-assured and has a sense of humour.
From the moment she arrives, the rules and constant intrigue of the French White House strike her as needlessly formal and restrictive. By her very existence - and being a woman - she riles the all-male staff of the central kitchen that handles state dinners, especially the head chef who has been there 30 years.
In a maddeningly French way, she's treated as if she should have been born knowing the minutiae of Elysée procedures. But with young assistant pastry chef Nicolas Bauvois (Arthur Dupont) as her ally, Hortense gets swept up into the on-call orbit of being the President's private chef.
A last-minute substitute when the original actor had to bow out, Jean d'Ormesson is an inspired choice as the President. A deeply accomplished author and well-liked intellectual with a crown of white hair and a Kris Kringle glint in his eyes, he makes an authoritative big screen debut at age 87.
When Hortense and the President finally meet, he tells her he wants the basic foods and flavours of his youth: "Give me the best France has to offer." Consider it done - and we get to watch. The subtext is that artistry needs certain conditions to flourish and bean counters— unless they're counting, say, fresh green beans - are an intolerable impediment.
The food-staging is mouth-watering and Gabriel Yared's mostly jaunty score is appealing and apt. The communicative camerawork gives viewers a privileged vantage on the rigors and timing of food preparation that brooks no error.
The only glitch (which could probably be fixed with dubbing) is that, judging by her pronunciation in English, Spanish-born international actress Arly Jover as the "Australian" making a documentary within the film is Australian the same way, say, Mr. Bean is American.
Production companies: Amanda Films, Vendome Production, France 2, Wild Bunch
International sales: Wild Bunch, www.wildbunch.biz
Producers: Etienne Comar, Philippe Rousselet
Screenplay: Etienne Comar & Christian Vincent, freely inspired by the life of Danielle Mazet-Delpeuch
Cinematography: Laurent Dailland
Production designer: Patrick Durand
Editor: Monica Coleman
Music: Gabriel Yared
Main cast: Catherine Frot, Jean d'Ormesson, Hippolyte Girardot, Arthur Dupont, Jean-Marie Roulot, Arly Jover, Brice Fournier