Thai director Pen-ek Ratanaruang recently started shooting his latest project, Headshot, a film noir about a hitman trying to forget his past.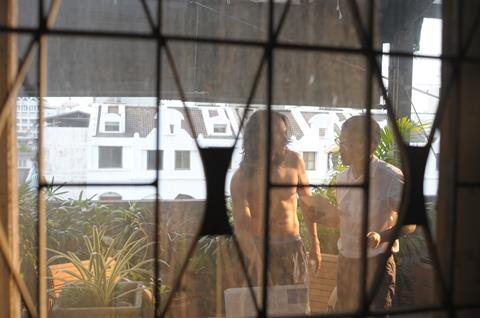 Synopsis: A hitman is shot in the head during an assignment and wakes after a two-month coma to find that he literally sees everything upside down.
Director: Pen-ek Ratanaruang
Writer: Pen-ek Ratanaruang
Producers: Pawas Sawaschaiyamet, Raymond Phathanavirangoon
Cast: Nopachai Jayanama, Cris Horwang
Budget: Euros 500,000
Financing: Office of Contemporary Art and Culture, Ministry of Culture, sponsorships, pre-sales
Language: Thai
Countries of Production: Thailand
Status: Production
Release date: 2011
Pen-ek Ratanaruang was adapting another novel from Thai writer Win Leowarin when he stumbled across his tale of a repentant hitman.
After his last two films – Nymph and Ploy – which were both atmospheric but fairly serious dramas, Pen-ek was talking to his regular investor, Five Star Production, about making something more light-hearted. He started adapting one of the Win's stories, which he describes as a "Thai Singing Detective", but struggled with the script. "It just didn't click and I started finding it really unfunny," Pen-ek says. "But then I picked up another book from the same writer and was intrigued from the opening scene."
The other book, Rain Falling Up The Sky, opens with a hitman who disguises himself as a monk to kill a powerful target. Shot in the head whilst running away, he falls into a two-month coma, and when he recovers finds that he literally sees everything upside-down. Obviously unable to continue working as a hitman, he tries to lead a quiet life, but now the hunter becomes the hunted and he is chased by everyone. He also meets a girl who metaphorically turns his world upside-down.
Pen-ek says he was attracted to the film noir style of the book and the way that it played with the concept of karma. "I'm a Buddhist so I found it interesting that this character has to live with the consequences of what he did," Pen-ek says. But he used the book more as a departure point than a template when writing the script. "One of my earlier films, Mon-rak Transistor, was also based on a book, but in both cases I've haven't followed the plot at all."
Only a few scenes in the film will be shot from the protagonist's point of view as Pen-ek has no intention of making his audience sick by subjecting them to 90 minutes of an upside-down world. "After it's been established that he sees the world upside down, it's not really the point of the film any more," he explains. "It's more of a plot device to explain why he stops being a hitman."
Pen-ek is working with long-time collaborator, Pawas Sawaschaiyamet, on the film who is producing through his Bangkok-based Local Color Films. Originally a production designer, Pawas provides production services for visiting overseas productions, and also produced Pen-ek's Nymph and Wisit Sasanatieng's Red Eagle. Toronto and Asia-based producer and festival programmer Raymond Phathanavirangoon is also producing the film.
During the development stage, Pawas secured 40% of the film's $667,000 (Euros 500,000) budget from Thailand's Office of Contemporary Art and Culture. With initial funding in place, Pen-ek and the two producers decided to raise the rest of the budget from international film funds, sales agents and distributors, rather than majority finance through a local studio as with Pen-ek's previous films. Wild Side Films recently acquired French rights to the film, and the producers are in final negotiations with a sales agent.
The film started shooting in mid-November with Nopachai "Peter" Jayanama and Cris Horwang in the lead roles. Nopachai, who plays the hitman, starred in Pen-ek's Nymph, which premiered in Un Certain Regard at Cannes in 2009, and the last two installments of Prince Chatrichalerm Yukol's Naresuan trilogy. Horwang is a leading actress in Thailand after appearing in hit romance Bangkok Traffic (Love) Story.
Production is scheduled to wrap in January. All of Pen-ek's seven features have played in major film festivals – Nymph and Ploy at Cannes, Invisible Waves at Berlin and Last Life In The Universe at Venice. So hopes are high that Headshot will find a berth at Cannes if it's completed in time.
"The great thing about noir is that it allows you to create a lot of atmosphere in the film," Pen-ek says. "But this film is more plot-driven than my last few films, which were heavy on atmosphere but thin on story."