Dir: Craig Monahan. Australia. 2014. 119mins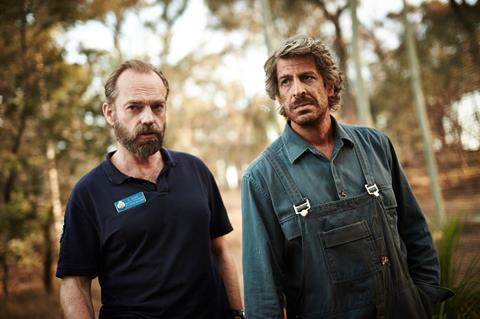 Three wounded creatures need healing in this attractive Australian feature — a broken-winged eagle, the reluctant prisoner given responsible for its rehabilitation, and the officer in overall charge of the raptor programme. Though the three outcomes are hardly in doubt, the heartfelt tale is told with plenty of soaring nature shots in and above Victoria's photogenic Macedon Ranges. Aussie academy award winning cinematographer Andrew Lesnie (The Lord of the Rings, The Hobbitt) adds much visual panache to the otherwise plain narrative. There are market screenings at Berlin this week: a local release is due in April.
Performances are strong. Tough and wounded, both Weaving and Hany hold our attention throughout.
This is director/co-producer/co-writer Monahan's third feature with actor Hugo Weaving (their 1998 collaboration The Interview won the AFI's best picture award), and there's a brooding masculinity about the low-security inland prison farm community in which Healing based. Violence is constantly threatened.
Iranian/Australian Viktor (Don Hany) is in the final 18 months of a 16-year sentence for a drunken crime for which he has no excuses, only self-loathing. Deliberately aloof, he antagonises his fellow inmates ("He may have been a hard man once," says one, "he's just an old man now") and he seems a hopeless case until officer Matt (Weaving), himself unable to recover from a family blow, initiates a programme to assist the nearby wild bird sanctuary. This introduces Viktor to various falcons, owls and Yasmine, a magnificent wounded wedged-tailed eagle.
Performances are strong. Tough and wounded, both Weaving and Hany hold our attention throughout. Hany, an experienced local television actor with many series behind him, smoulders impressively. Also fine are Viktor's two young assigned 'helpers' — the brooding Xavier Samuel and the twitchy, darting-eyed Mark Leonard Winter. There's a splendid symphonic score by David Hirschfelder (Australia, Children Of The Silk Road) featuring Persian/Asian elements.
Production company: Pointblank Pictures
International sales: Lightning Entertainment, www.lightningentertainmentgroup.com
Producers: Tait Brady, Craig Monahan
Executive producer: Richard S. Guardian
Screenplay: Craig Monahan, Alison Nisselle
Cinematography: Andrew Lesnie
Editor: Suresh Ayyar
Production designer: Les Binns
Music: David Hirschfelder
Main cast: Hugo Weaving, Don Hany, Xavier Samuel, Mark Leonard Winter, Jane Menelaus, Justine Clarke, Robert Taylor, Anthony Hayes, Dimitri Baveas, Tony Martin