Dir: Philip Kaufman.US. 2012. 154 mins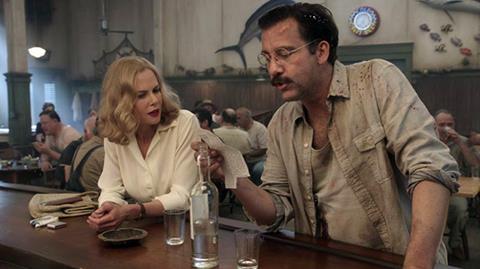 Martha Gellhorn was one of the most respected war correspondents of the 20th century, fearless in her coverage of conflict from the beaches of Normandy to the jungles of Vietnam. She inspired countless colleagues, including the late Marie Colvin, and her life might make a fantastic film one day.
There are too many moments when Hemingway & Gellhorn is hard to take seriously and too many performances that fail to make an impact.
Sadly, Hemingway & Gellhorn is not that film and the narrow focus on her tempestuous relationship with Ernest Hemingway results in a bloated, often risible romantic melodrama that endlessly ricochets between cliche and campness. Director Philip Kaufman is a long way from his 1980s glory days and whilst this is a watchable enough slab of home viewing there is no reason for it to trouble any theatrical venues following its Cannes premiere.
Kaufman and screenwriters Jerry Stahl and Barbara Turner adopt a conventional flashback structure that begins in the 1990s with Nicole Kidman convincingly aged and adopting a husky, cigarettes-and-bourbon drawl as the elderly Gellhorn.
We are then whisked to back to 1936 and her first encounter with Hemingway (Clive Owen) in Sloppy Joe's bar in Florida. Cut rate Bogart and Bacall banter conveys a flirty start to their relationship. Cue introductions to
John Dos Passos (David Strathairn) and a quick chorus of Aye Carmela and they are off to support the fight against fascism in Spain.
The film constantly drifts from colour into black and white to match the significant elements of archive footage that Kaufman incorporates into the story. It is a risky move that doesn't work as the Zelig-like effect of placing Kidman and Owen in the firing line or on the bombed out streets of Madrid doesn't add to the authenticity of the story but merely underlines just how phony it all feels.
This approach reaches something of a nadir late in the day with Kidman's Gellhorn arriving at Dachau.Gellhorn and Hemingway bicker and tease, fight and make-up as they survive the disappointments of Spain, marry and adjust to a world in which she is becoming as celebrated as him. It could almost be a 1930s film very much in the manner of the Clark Gable/Myrna Loy vehicle Too Hot To Handle (1938).
Despite the possibilities of the material, the film never feels especially convincing and falls victim to the old biopic cliches of fleeting encounters between the famous. " Meet my Hungarian friend Robert Capa, " says Hemingway. " Capa, " says Gellhorn. " I like your photos".
The HBO film portrays Hemingway as a man who became Gellhorn's mentor and helped her find her voice as a writer and a war correspondent. He is unable to handle her success or her independent spirit which eventually leads to their divorce. A modest budget is at its most glaringly obvious with scenes supposedly set in a British hospital and wartime London pub that have the look of cramped studio sets. Where is Terence Davies when you really need him?
A stellar supporting cast are given little to do with an unbilled Robert Duvall popping by for a ludicrous role as a belligerent Russian general in Spain. Clive Owen is not the most obvious casting choice as Papa Hemingway and seems to struggle with both the accent and his larger than life character although with his luxuriant black moustache, beret and cigar he might be a fun Groucho Marx.
Nicole Kidman is more convincing and struggles valiantly with some painful dialogue (" the battlefield neither of us could survive was the domestic one") and Kaufman's fondness for energetic sex scenes. There are too many moments when Hemingway & Gellhorn is hard to take seriously and too many performances that fail to make an impact. Ultimately, it leaves you hoping that someone can still serve Gellhorn's memory with a much better film.
Production companies: HBO, Attaboy Films, Walrus & Associates
Executive producers: Peter Kaufman, Trish Hofmann, James Gandolfini, Alexandra Ryan, Barbara Turner.
Sales contact: HBO
Screenplay: Jerry Stahl, Barbara Turner
Cinematography: Rogier Stoffers
Editor: Walter Murch
Music: Javier Navarrete
Production designer: Geoffrey Kirkland
Main cast: Nicole Kidman, Clive Owen, David Strathairn, Rodrigo Santoro, Molly Parker, Peter Coyote