Iraqi-Canadian hip-hop and musician Yassin Alsalman, better known as The Narcicyst, is at the Abu Dhabi Film Festival with the short film Rise.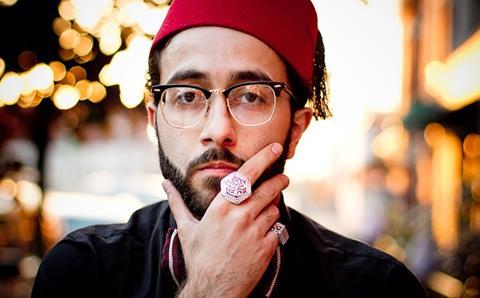 Iraqi-Canadian hip-hop and musician Yassin Alsalman, better known as The Narcicyst or Narcy to his fans, broke new ground for Arab hip-hop in the early 2010s with albums Stuck Between Iraq and a Hard Place and Fear of an Arab Planet which voiced the concerns of Arab diaspora youth across the world.
He is attending the Abu Dhabi Dhabi Film Festival this year with the short film Rise, which he wrote, produced and convinced long-time collaborator Ali Mostafa to direct.
The futuristic tale set and shot in the UAE stars the musician as a businessman in the midst of an existentialist crisis as he attempts to balance creativity with business.
How did the short come about?
I'd come to the UAE to try to set up a multi-media arts label but it wasn't working out. It wasn't financially viable. The situation was sort of driving me mad.
I wrote this story about what I was feeling and sent it to a friend, Nizar Wattad, who is a scriptwriter in LA. It was a race against time because I'd decided to get back to Canada but my wife was pregnant and we had to leave before it was too late for her to fly.
I had three to four months to turn it around. It took me a month and a half to raise the finance and we wrapped the five-day shoot the day before I left.
What's it about?
It's an abstract about art over business, culture over finance and history over the future. If you don't know where you're from you don't know where you're going. I also touch on a lot of stereotypes and representations of both rappers and Arabs. I wanted to crush those things and test the audience's understanding of the Middle East.
How did you finance the film?
I got backing from twofour54 and the Tashkeel Studios, an arts space founded by Lateefa bint Maktoum. One of their resident artists was in the crew. I also got help from my sponsors Ray-Ban and Red Ball Adidas came on board too and Louis Vuitton gave me clothes.
How did you get Ali Mostafa, the director of From A to B, on board?
I was in Ali's first film City of Life playing the character of Khalfan. I really appreciate his vision and the way he represents the area honestly. I also like the cleanliness of his visual. It was a natural fit.
Aside from directing, did Mostafa help out in other ways?
He was the director while I produced and wrote the film. He had a lot of say in the final edit and of course his connections here helped in a number of ways. His production team at AMF helped facilitate a lot of my grandiose ideas.
I wanted the Batmobile and they took me to meet the guy who owns the original Tim Burton Batmobile in Dubai. He wouldn't let me use it so we chose the next best thing, an old school Ferrari from the 1980s, a yellow Testarossa.
I'm not actually a big car guy and the point of having this extravagant car was for people to think "Oh look at this guy he's just another rapper with a nice car' but the car gets destroyed – digitally, of course. I'm glad I didn't have the Batmobile in there it would have been ridiculous.
A number of the songs in the short will be on your upcoming album, can you talk about that?
It will be released between March and May of next year. I have a tentative title for but I'm not one hundred percent sold on it but it's really a story of a boy growing up to be a man in a crazy world.
There are some fictitious elements where I dabble with the idea of World War Free, not Three, in a world where war and weapons are illegal and peace is finally something people are trying to establish.
There are little hints and mentions of the album in Rise. I had a son about a year-and-a-half ago and the album is sort for him and leaving him a time capsule for the era we're living in right now and saying you have the opportunity to make this a better place make sure you don't squander it.
Now based back in Canada, you've just launched the multi-arts collective, The Medium can you talk a bit about that?
Our artists are scattered all over the world — we've got grafitti artists, cartoonists, music producers, screenwriters — we're a mix. Each one of us can reach a certain audience but if we put all those audiences together we can be more powerful. Our eventual goal is to put on multimedia events, where it's a multi-sensory experience – it could be one of my shows, or an art exhibit, or both simultaneously, or a film like Rise, which is our first major project, we had about four or five artists from the collective on that project.
It's really about the power of numbers and supporting one another. I think that's how you build community, how you really expand your audience and create a narrative that's untouched, it's our narrative. We speak to each other about we're going to represent our final product, we overview each other's press releases so we make sure we're not being culturally incorrect to our diverse backgrounds. We're hard to box in. It's hard to explain who we are. We're from all over the place. None of us really have a home. You can check us out on www.wearethemedium.com
What next?
We've applied for several festivals, especially the major ones in the States and London that have short music film competitions. I'd love to get it into Tribeca. After that we're planning an online launch between January and March.
Do you want to make more films or do more acting?
I'd like to carry on producing and acting and I'm working on a couple of projects at the moment but there is nothing I can announce just yet.