Dirs: Dax Shepard & David Palmer. US. 2012. 95mins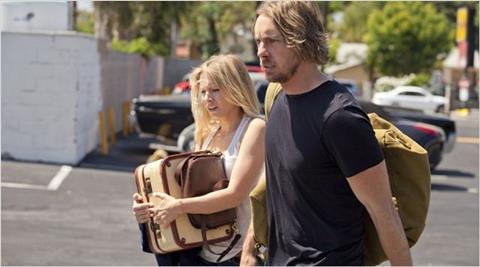 Burdened with a generic title, the action-comedy Hit And Run is derivative but also endearingly low-key. Recalling the freewheeling, Tarantino-inspired indie crime thrillers of the 1990s, the movie mixes romance, colourfully lowlife characters and adrenalised car chases to produce an odd little stew. If Hit And Run ultimately proves too slapdash to recommend, it does provide writer/star/co-director Dax Shepard with a fine platform for his likeably nonchalant sensibility.
But if Hit And Run's humour is decidedly hit-or-miss, the movie gets a boost from several engaging car chases through central California's wide-open spaces.
Opening August 22 in the US, Hit And Run boasts some star wattage, although its leads (Shepard and Kristen Bell) are probably better known for their television work. (The film's one legitimate movie star, Bradley Cooper, takes a supporting role as a quirky bad guy.) Coming out as summer movie season starts to slow down, the film will probably be only a modest theatrical performer that most audiences will decide to catch on cable or DVD.
Shepard plays Charlie Bronson, a seemingly mild-mannered regular guy living in witness protection whose girlfriend Annie (Bell) tells him some big news: She has a promising job interview hours away in Los Angeles. Charlie decides to drive her so that she can make the interview in time, but their journey puts them in the crosshairs of Charlie's old life — specifically, his unhinged former bank-robber buddy Alex (Cooper), whom Charlie had to testify against to avoid jail time himself.
Directed by Shepard and David Palmer, Hit And Run primarily operates as a comedy, with much of the humour stemming from the fact that Annie has no idea exactly what landed Charlie in witness protection. (As she'll also discover, his real name isn't Charlie.) Shepard and Bell are an offscreen couple as well, and they exhibit a flirty rapport that gives their scenes a sexy crackle and lived-in sweetness.
One of the film's best running jokes is that Annie works in non-violent conflict resolution, a skill that proves to be increasingly useless in the face of the danger she and Charlie encounter. Annie's prim-and-proper demeanour clashes nicely with Charlie's more laidback, rough-and-tumble manner, and although the evolution of their relationship doesn't have a lot of dramatic heft, the actors' breezy interplay has its charms.
The film's central relationship easily outshines the peripheral silliness, which includes Cooper donning goofy dreadlocks and Tom Arnold playing a woefully incompetent US marshal. In addition, Michael Rosenbaum's performance as Annie's overbearing, preening ex-boyfriend never builds much momentum. Too often, the filmmakers settle for genially dopey comic moments that are pleasant but not demonstrably funny.
But if Hit And Run's humour is decidedly hit-or-miss, the movie gets a boost from several engaging car chases through central California's wide-open spaces. While realism probably isn't meant to be one of the film's major draws, it does help that Shepard and Bell perform their own stunt driving, adding excitement and authenticity to these sequences. Shepard and Palmer can't juggle the ambitious tonal shifts going on in their film, but they almost make up for it with their giddy execution of Hit And Run's tenser set pieces.
Shepard, who currently appears on the NBC series Parenthood, has played simpletons in film comedies like Idiocracy and Baby Mama. (When he has been afforded the opportunity to portray more nuanced characters, like the nervous husband in the low-budget indie The Freebie, he radiates sympathy and vulnerability.) Hit And Run allows him to tap into both sides of his onscreen persona, and consequently the movie seems to reflect his enthusiastic, offhand manner.
Unfortunately, such enthusiasm doesn't negate the film's overly familiar genre-movie aesthetic. While Hit And Run doesn't crib from any particular Quentin Tarantino film, its milieu of offbeat criminals and buffoonish cops — not to mention its willingness to marry humour and violence — brings to mind a decade's worth of copycat films that emerged in the wake of Reservoir Dogs and Pulp Fiction. Thankfully, Hit And Run lacks the smug edginess of a lot of those imitators, but if Shepard and Palmer get behind the wheel for another film together, hopefully their next vehicle won't be built out of so many old parts.
Production companies: Exclusive Media, Panay Films, Primate, Kim And Jim Productions
Domestic distribution: Open Road Films, www.openroadfilms.com
Producers: Andrew Panay, Nate Tuck, Kim Waltrip
Executive producers: Jim Casey, Erica Murray, Tobin Armbrust, Guy East, Nigel Sinclair
Screenplay: Dax Shepard
Cinematography: Bradley Stonesifer
Production design: Emily Bloom
Editor: Keith Croket
Music: Julian Wass
Website: www.facebook.com/hitandrunmovie
Main cast: Dax Shepard, Kristen Bell, Bradley Cooper, Tom Arnold, Kristin Chenoweth, Michael Rosenbaum, Joy Bryant, Ryan Hansen, Beau Bridges