Dir: Mike Disa. US. 2011. 87mins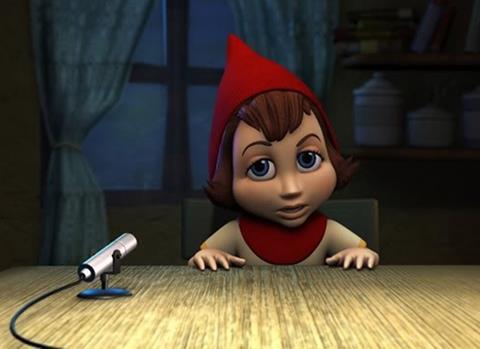 A deliberate end credits crawl extends Hoodwinked Too! to 87 minutes, but nothing else about this manically pitched animated sequel seems near as calculated or particularly well thought out. An annoying, exceptionally unengaging ball of noise that lampoons broadly and poorly, Hoodwinked Too! is an even more dispiriting entry into the marketplace than its narrative failings render it, insofar as it seems to evince no real reason of existence beyond its connection to a predecessor that turned a tidy profit.
Director Mike Disa exacerbates the movie's yawning emotional disconnect by staging breathless action bits that favour movement above all else.
Hoodwinked was a $110 million worldwide grosser during the holiday season of 2005, and while 3-D presentations of the delayed sequel will help rake in a bit of extra money in theaters, deadly word-of-mouth will also tamp down the earnings potential of this clamorous claptrap, leaving ancillary markets to have to try make up the difference if the franchise is to survive.
The story centers on spunky heroine Red (Hayden Panettiere, taking over for a departed Anne Hathaway), part of the secret Happily Ever After (HEA) Agency, a group of fairytale characters designed to foil villainous plots.
After some special training with a group called the Sisters of the Hood, Red rejoins Wolf (Patrick Warburton) and Twitchy (Cory Edwards), an over-caffeinated squirrel that seems modeled on the Ice Age franchise's Scrat, to find that her beloved Granny (Glenn Close) has been captured by a witch, Verushka (Joan Cusack), who has also kidnapped tubby Hansel and Gretel (Bill Hader and Amy Poehler). It is eventually revealed that Verushka is but a pawn in the game of other parties, who have a plot to force Granny to bake a special truffle that will grant them unlimited power.
From the beginning, the script displays a basic lack of trust in its characters. Along with any sense of narrative subtlety, attempts at fairytale deconstruction, which helped inform the first film, are largely tossed out the window here in favor of an increasingly manic sensibility, and a collection of veritable non sequitur one-liners from other movies, like Scarface, Deliverance, Midnight Cowboy and Terminator 2. Its marketing and characters would seem to indicate a skewering of fairytale elements, but this sort of satire is sporadic and haphazardly focused.
Despite a somewhat odd textual introduction of the cast during the film's opening, the characters' strengths relative to one another — what is supposed to make them a team at the HEA Agency, in other words — are never explained, making for a haze of grating action sequences in which convenience repeatedly trumps plausibility. In an early scene, Red's riding hood acts as a bungee cord; later, it displays no elasticity.
Director Mike Disa (Dead Space: Aftermath) exacerbates the movie's yawning emotional disconnect by staging breathless action bits that favour movement above all else. This, combined with all the rib-jamming asides, combines to create a vacuum in which no audience rapport or rooting interest are established.
The movie's 3-D presentation is additionally fairly unexceptional. The animation rendering at times looks a bit cheap and light on the sort of background detail the enlivens many other such contemporary family films.
As Red, Panettiere comes across rather flat. Hader and Poehler lend an amusing liveliness to some of their scenes, but many of the other vocal performances are left to drown under an especially boisterous sound mix.
Production companies: Kanbar Entertainment
Domestic distribution: The Weinstein Company
Producers: Maurice Kanbar, Joan Collins Carey
Executive producers: Bob Weinstein, Harvey Weinstein, Eric Robinson, Rachel L. Warren, Russell D. Pollock
Screenplay: Cory Edwards, Tony Leech, Todd Edwards and Mike Disa
Editors: Tom Sanders, Robert Anich
Production designer/Art director: Ryan Carlson
Music: Murray Gold, with additional music by Christopher Tin
Director of animation: Jeff Siergey
Website: www.HoodwinkedTooTheMovie.com/
Main voice cast: Hayden Panettiere, Glenn Close, Patrick Warburton, Joan Cusack, David Ogden Stiers, Bill Hader, Amy Poehler, Martin Short, Brad Garrett, Cheech Marin, Tommy Chong, Heidi Klum, Wayne Newton, Phil Lamarr, David Alan Grier, Cory Edwards, Benjy Gaither