Dir: Seth Gordon. US. 2011. 95mins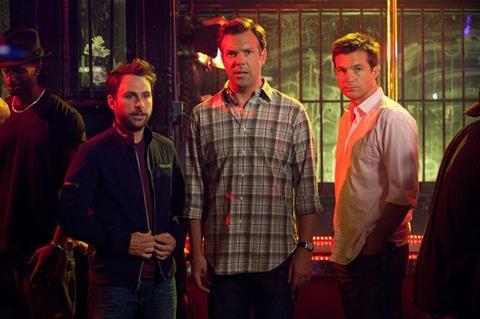 R-rated comedy Horrible Bosses offers up movie stars playing against type and TV stars doing a Three Stooges-style triple act. The ensemble works hard to deliver broad laughs but succeeds only intermittently. So while many moviegoers will relate to the premise of this Brett Ratner-produced, Warner-distributed outing the fitful comedy might ultimately lead to a more limited audience
The most enjoyable performance comes from Jamie Foxx in a cameo.
In the US, where it opens on July 8, the film will have to compete with the three R-rated comedies (Bridesmaids, The Hangover 2 and Bad Teacher) that have already performed well this summer. Internationally, it could work in territories with a taste for broad physical comedy but it will be a tough sell elsewhere.
The first act milks easy laughs from the agony that three obnoxious bosses - a white-collar sadist played by Kevin Spacey, a sex-crazed dentist portrayed by Jennifer Aniston and Colin Farrell's sleazy chemical company chief - inflict on three hard-working employees, management candidate Dave (Arrested Development's Jason Bateman), dental assistant Dale (Charlie Day, from cult cable hit It's Always Sunny in Philadelphia) and accountant Kurt (Saturday Night Live's Jason Sudeikis).
As was the case in director Seth Gordon's 2008 domestic hit Four Christmases, the situations are funny at first but lose something with repetition.
In the second act Dave, Dale and Kurt make a pact to kill each other's bosses, leading to string of scenes in which the hapless would-be murderers attempt to live up to their booze-fuelled bravado.
The third act has Spacey's character going head-to-head - and bumper-to-bumper - with the three frustrated workers.
The script makes it hard for Bateman, Day or Sudeikis to stand out from the klutzy trio. And Spacey is basically revisiting a character that he's done better in other films (most notably Swimming With Sharks). Aniston, though, is fun and Farrell is good in his limited screen time. The most enjoyable performance, however, comes from Jamie Foxx in a cameo that provides the kind of edge that the rest of the film is lacking.
Production companies: New Line Cinema, Rat Entertainment
Worldwide distribution: Warner Bros
Producers: Brett Ratner, Jay Stern
Executive producers: Toby Emmerich, Richard Brener, Michael Disco, Samuel J Brown, Diana Pokorny
Screenplay: Michael Markowitz, John Francis Daley & Jonathan Goldstein
Cinematography: David Hennings
Production designer: Shepherd Frankel
Editor: Peter Teschner
Music: Christopher Lennertz
Website: http://horriblebossesmovie.warnerbros.com
Main cast: Jason Bateman, Charlie Day, Jason Sudeikis, Jennifer Aniston, Colin Farrell, Kevin Spacey, Donald Sutherland, Julie Bowen, Jamie Foxx