Dir/scr: Dean DeBlois. US. 2014. 94mins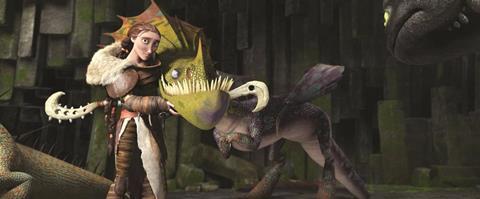 As animation franchises go, the heady combination of rough-and-ready Vikings teamed with dragons offers up plenty of rollicking fun-and-games. DreamWorks Animation's 2011 film How To Train Your Dragon proved to be a hit, taking $495 million internationally, balancing comedy, action and a dash of sentimentality and this smartly paced sequel does a great job of drawing out the led characters, expanding the world they exist in and adding in some warm hearted and moving moments.
The film is jammed full of sweeping action sequences as the colourful dragons spiral through the air, though refreshingly it is a film with a tender heart.
Dragons sweeping through the air combined with the raucous antics of cheerful Vikings makes for perfect 3-D animated fun, and while the film offers up elements of Brave, Frozen, Harry Potter and even Avatar it also manages to suffuse its action-packed and often thoughtful story with a real sense of heart to balance its need for family-friendly comedy. Released by Fox, the film should be poised to be one of the hits of the summer.
A recognisable and very strong voice cast help proceedings immensely and while the whole rights of passage is rather familiar at times (tension between father and son, need to define own personality etc) there are enough nicely staged twists and turns to keep its target audience engaged, amused and entertained.
Set some five years after the previous film, heroic but rather gawky teen Hiccup (voiced as before by Jay Baruchel) has grown to be a good-looking young man (though still on the gawky side) who is still enjoying bonding with his loyal dragon while also railing against the idea of taking over from his burly father Stoick (Gerard Butler, having a fine old time playing a Scottish Viking) as chief of their tribe.
The opening scenes of the clan engaging in a little light dragon-racing (a sport involving throwing surprised-looking sheep into nets, and which owes a debt of gratitude to Quidditch) allows the film to re-introduce Hiccup's friends and classmates, including his love-interest Astrid (America Ferrera) along with Snotlout (Jonah Hill), Fishlegs (Christopher Mintz-Plasse), Tuffnutt (T.J. Miller) and twin sister Ruffnut (Kristen Wiig).
Now that the tribe no longer fight dragons and in fact happily live with them in their midst things have changed in the village of Berk. But peace is threatened by the news that legendary dragon hunter Drago Bludvist (Djimon Hounsou) and his dragon army have plans to invade the region and take over the village's dragons. Plus Hiccup has to confront and negotiate with the mysterious dragon rider who controls a massive alpha dragon which itself can manipulate smaller dragons. When the dragon rider turns out to be someone close to close to Hiccup the scene is set for a series of surprises, emotional reunions, family and reconciliation, all of which act as a prelude to an all out battle with the evil Drago.
The film is jammed full of sweeping action sequences as the colourful dragons spiral through the air, though refreshingly it is a film with a tender heart. Whether it be Hiccup's relationship with his genial dragon; the burgeoning love affair between Hiccup and Astrid and – best of all – the reunion between Stoick and his long-lost Valka (Cate Blanchett), which even allows for a sweetly staged musical moment between Butler and Blanchett as the pair sing to each other. How To Train Your Dragon looks like being a franchise that will run and run, with young audiences boosted by familiarity via the Cartoon Network's DreamWorks Dragons series.
Production companies: DreamWorks Animation, 20th Century Fox
Distribution: 20th Century Fox
Producer: Bonnie Arnold
Executive producer: Dean DeBlois
Cinematography: Roger Deakins
Production designer: Pierre Olivier Vincent
Head of Character Animation: Simon Otto
Main cast: (voices) Jay Baruchel, Cate Blanchett, Gerard Butler, Craig Ferguson, America Ferrera, Jonah Hill, Christopher Mintz-Plasse, T.J. Miller, Kristen Wiig, Djimon Hounsou, Kit Harrington