Dir: Ben Miller. UK. 2010. 80mins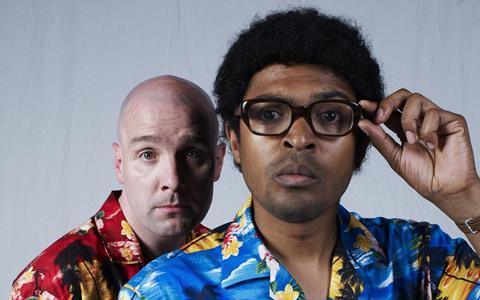 The debut feature of popular British comedian Ben Miller is a slight, underwhelming, buddy-comedy charting the travails of an aspiring double-act. The basis of Huge is a stage play that Miller co-wrote back in 1993 which makes the tentative, undernourished nature of the film all the more puzzling.
The casting of Noel Clarke and momentary appearances from a host of British comedy greats (Jack Dee, Frank Skinner, Eddie Izzard etc) might be enough to attract a sliver of theatrical interest in the UK where a more friendly welcome might await on television.
Miller is part of a successful British comedy double-act with Alexander Armstrong, but fails to do more than scratch the surface of a potentially fertile subject that has been tackled so memorably in the likes of Trevor Griffiths play Comedians or Scorsese's King Of Comedy.
Warren (Johnny Harris) is an aggressively ambitious, aspiring stand-up comic. On the basis of one incident of mild heckling, he decides that nerdy waiter Clark(Noel Clarke) is the perfect partner for a double-act to rival his idols Morecambe and Wise. The cruel silence of unimpressed audiences is part of the learning curve as they struggle to make any impression on the fringes of the comedy circuit.
Sporting a perm and Eric Morecambe-style glasses Noel Clarke cuts an engaging figure as the bumbling, mild-mannered Clark and a baleful Johnny Harris is a needy Warren, but both performances are one-note and the acting honours are easily stolen by Thandie Newton in a brief appearances as a ruthless, coke-snorting agent.
The biggest problem with Huge is that we never gain a convincing sense that the duo has any talent or teamwork which merely adds to the slightly aimless, unsatisfactory feel of the film.
Production companies: Fortuitous Films, Matador Pictures, Toff Media
International sales: Fortuitous Films, www.fortuitousfilms.com
Producers: Rebeca Farhall, Colin Jones
Executive producers: Jimmy Mulville, Nigel Thomas, Charlotte Wells
Screenplay: Ben Miller, Simon Godley based on the play by Miller, Godley and Jez Butterworth
Cinematography: Trevor Forrest
Editor: Richard Graham
Production designer: Kristian Milsted
Music: Trevor Forest
Main cast: Noel Clarke, Johnny Harris, Oliver Chris, Michelle Ryan, Thandie Newton, Ralph Brown, Tamsin Egerton