Dir: Martin Scorsese. US. 2011.125mins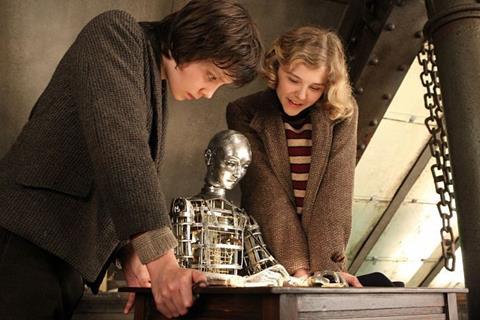 Taking on a new genre but leaving none of his vision or style behind, Martin Scorsese has turned hit young adult novel The Invention of Hugo Cabret into a warm and delightfully engaging family film that makes refreshing use of 3D and cleverly spins the director's love of early cinema into a moving fable about art and self-discovery.
While Scorsese himself should at least get some award nominations, the film's below the line work may end up earning the most prizes.
The themes and subtleties of Hugo won't be easy to market and might stop the GK Films production from capturing the broadest possible family audience when it opens in North America through Paramount on Nov 23, at the beginning of the competitive Thanksgiving holiday weekend.
But with its glowing visuals and the help of title recognition and, probably, awards season attention, the film should still end up a strong and steady performer for the duration of the holiday period.
In the international marketplace (where a few territories are being handled by independents, the rest by Paramount), the film will benefit from pre-Christmas openings in the UK and France and should get a boost from its French setting and largely British cast.

John Logan (who also wrote Scorsese's The Aviator and this year's animated hit Rango) adapted Brian Selznick's illustrated novel about Hugo Cabret (played by Asa Butterfield, from Nanny McPhee Returns), an orphan who lives secretly in the hidden corners of a 1920's Paris train station, evading the authorities by keeping up his absent uncle's job of winding all the station's clocks.
Befriending local girl Isabelle (Let Me In's Chloe Grace Moretz), Hugo sets out to unravel the mystery of an automaton figure left to him by his father. The mystery leads to Isabelle's grandfather (Ben Kingsley), a curmudgeonly old toy maker who, unbeknown to Hugo, Isabelle and most of the rest of Paris, was once a celebrated cinema pioneer.
Scorsese opens the action with an elaborately staged set piece that explores the station and Hugo's precarious place in it and introduces some of the other habitues, among them the seemingly cold hearted station gendarme (Borat's Sacha Baron Cohen).
The opening sets a nice mood and offers plenty of Gallic charm (although the views of Paris appear to have been wholly created with special effects). But for a while thereafter the film feels a little unfocused and clinical, as if Scorsese is just experimenting with a new form and a new shooting format.
Before too long, however, the film finds its emotional heart by connecting the stories of Hugo, who longs to discover a purpose beyond maintaining the station clocks, and Isabelle's grandfather, a character named after and based on real-life French film-maker Georges Melies, who pioneered the use of special effects but sank into obscurity when many of his early works were destroyed.
While Scorsese himself should at least get some award nominations, the film's below the line work may end up earning the most prizes. Production designer Dante Ferretti and costume designer Sandy Powell, both regular Scorsese collaborators, make outstanding contributions, particularly in the flashback sequences that show Melies shooting his wildly imaginative sci-fi and fantasy films.
Cinematographer Robert Richardson, who also shot Scorsese's Shutter Island, helps the director make excellent use of 3D, which here seems to enlarge every scene rather than just intruding at obviously planned moments.
Thankfully, the design and effects don't overshadow the performances, which are uniformly strong. Fourteen-year-old Butterfield make the title character interesting without being too cute and Moretz (also 14) adds considerable charm. Kingsley is quietly moving, Baron Cohen is nicely nuanced and supporting players including Frances de la Tour, Richard Griffiths, Christopher Lee and Emily Mortimer add appealing notes of warmth and humour.
Production companies: Paramount Pictures, GK Films, Infinitum Nihil
Worldwide distribution (exc UK, France, Italy): Paramount Pictures
International sales: GK Films, www.gk-films.com
Producers: Graham King, Tim Headington, Martin Scorsese, Johnny Depp
Executive producers: Emma Tillinger Koskoff, David Crockett, Georgia Kacandes, Christi Dembrowski, Barbara Defina
Screenplay: John Logan
Cinematography: Robert Richardson
Production designer: Dante Ferretti
Editor: Thelma Schoonmaker
Costume designer: Sandy Powell
Visual effects supervisor: Rob Legato
Music: Howard Shore
Website: www.hugomovie.com
Main cast: Ben Kingsley, Sacha Baron Cohen, Asa Butterfield, Chloe Grace Moretz, Ray Winstone, Emily Mortimer, Jude Law