Dir/scr: Khadija Al-Salami. Yemen-UAE-France. 2014. 96mins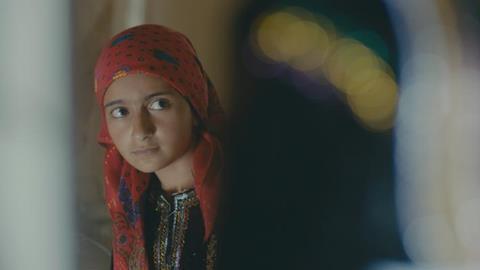 The title tells you pretty much everything about Khadija Al-Salami's powerful, moving and provocative debut drama feature I Am Nojoom, Age 10 And Divorced (Ana Noojoom Bent Alasherah Wamotalagah). An adaptation of Yemeni teenager Nojood Ali and French writer Delphine Minuoi's international bestseller, it follows Ali's bid to extricate herself from an abusive, arranged marriage to a much older man at the age of just 10 through Yemen's courts.
The film ends on a positive and relatively upbeat note that supports childhood and education ahead of child weddings.
Though bearing a slightly different title – the book was titled I Am Nujood, Aged 10 And Divorced – the emotional impact is the same. The original story hit headlines in 2009 after the case made her a key figure in the movement against child brides in Yemen. The beautifully shot film may well have moments when it heads close to melodrama, but an assured central performance by young Rieham Mohammed as the child bride gives the film an open sense of honesty.
Its subject matter and nicely judged performances could see it appeal to other festivals – it had its world premiere at the Dubai International Film Festival – and could well intrigue Middle Eastern distributors.
The film opens with a young girl going to buy some bread, but then making a bid for freedom, hailing a cab and asking to be taken to a courthouse. She watches proceedings in courtroom, siting quietly and observing what is going on, and when the court finally empties the judge (Adnan Alkhader) passes by this little girl she is still sitting quietly. She says to him quite simply: "I want a divorce!"
This statement leads into flashback and her backstory. She was born in the small Yemeni village of Coffee, where he father is disappointed his wife has given birth to another daughter. She is named Najoom ("like the stars in the sky," he sister says), though her father (Ibrahim Alashmori) wants to name her (in a link back to the source material) Nujood, which means 'hidden'.
Things are tough in their remote village and her father decides that marrying off his young daughter will provide a small dowry and one less mouth to feed. In an astute series of sequences she is brought to city (seeing tarmac she comments to he brother Sami that "the road is covered with a black rug"), meets girls her same age who she plays with and is then promptly married to a man (Sawadi Alkainai) 20 years older than her, and taken to his remote hill-top village. As the village celebrates with a wedding party, she is raped for the first of many times.
As the film spirals back to her relationship with the judge who wants to support her and a subsequent trial that sees both her husband and father in the dock, the film does become too melodramatic – and static – for its own good. But by that point the power of the story is just about enough to forgive Khadija Al-Salami resorting to familiar courtroom sequences that feel more television that cinematic. The slow climax is a shame given the impressive vistas and moods she has captured in earlier sequences, but at least the film ends on a positive and relatively upbeat note that supports childhood and education ahead of child weddings.
Production companies: Hoopoe Film, Benji Films, Metksa, Enjaaz, Cornice Pictures
Contact: kalsalam@yahoo.com
Producer: Sheikha Prohaska-Alatas
Cinematography: Victor Credi
Editor: Alexis Lardilleux
Music: Thierry David
Main cast: Rieham Mohammed, Adnan Alkhader, Sawadi Akainai, Ibrahim Alashmori, Munirah Alatas