Dir/scr: Andres Veiel. Germany 2011. 124mins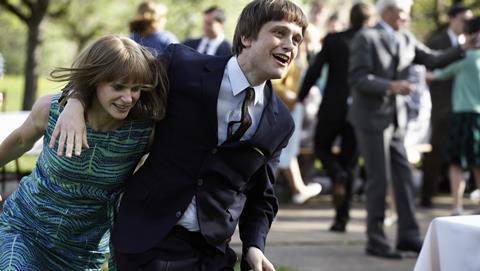 The making of 1960s German radicals is explored - one more time - in If Not Us, Who, (Wer wenn nicht wir) a first fiction feature from documentarist Andres Veiel, who delved into similar terrain with his 2001 study Black Box BRD. A portrait of Baader-Meinhof militant Gudrun Ensslin and her lover Bernward Vesper, the film covers territory already familiar from the broader period panorama of Uli Edel's The Baader Meinhof Complex, which may deter some markets.
Veiel's script displays impressive cogency in examining the relations between words, beliefs and action in a cultural context that is as influenced by literary as by political allegiances.
On the other hand, that film's international profile, along with that of Olivier Assayas's Carlos, has rekindled interest in radical politics of the 1960s and '70s, and that may do Veiel's film some good – along with the fact that it's considerably better than Edel's glamour-laden, mythifying version of events. What could damage the film's international chances is the fact that it contains so many specifically German political and literary references.
But where it loses out on sales, this consistently intriguing, if occasionally pedestrian feature, will stir interest on the festival circuit as well as garnering much media coverage in Germany, where it is released on March 10.
Where The Baader-Meinhof Complex was a group portrait, this film's concentration on two key figures – one notorious, the other less so – allows for greater psychological depth, and more time studying the gradual emergence of the couple's radicalism and its attendant contradictions. The film starts in 1949, with a traumatic moment in the childhood of Bernward Vesper (Diehl), the son of a notorious Nazi author (Thieme) who tells the boys that cats are "the animal kingdom's Jews."
In Tübingen in 1961, Bernward is a passionate student of literature, and a staunch defender of his father – and other now-forgotten German authors – who is so keen to rehabilitate Vesper Sr's reputation that he starts his own press to rehabilitate him. He enlists as a helper Gudrun Ensslin (Lauzemis), and the pair become lovers – initially as an on-off triad with another girl. As the film skips through the 1960s, world events – notably the Cuban missile crisis, Vietnam and the advent of Black Power – radicalises both partners, although Bernward's commitment to his father's memory continues to be a source of trauma.
As Gudrun becomes ever more politically involved, she becomes the lover of a charismatic advocate of violent action, Andres Baader (Fehling), and the rest is history. Gudrun leaves Bernward and their baby son, in favour of the domineering and sometimes abusive Baader, but Bernward still passionately defends her as a witness in court – though still has to witness his partner kissing Baader in the dock.
Despite the intimate tenor of this story of amour fou, the film is far more considered than the young-militants-in-love story that it could easily have been. The leads are incarnated in persuasively contradictory detail, with Diehl commandingly evoking Bernward's tormented psyche and eventual descent into despair.
But it is to Lauzemis that the film really belongs, with her unsettling portrayal of Ensslin as a sexually and politically passionate woman, as well as a habitual self-harmer who is as traumatized as Bernward by the sins of their parents' generation. As Baader, Fehling offers an unashamedly rebarbative portrait of the militant as macho (and unexpectedly, as an aficionado of drag cabaret).
The film is less confident in providing its overview of the political turmoil of the 1960s, opting for a hackneyed series of newsreel interludes that set key events to pop hits of the period (plus a touch of Billie Holiday). The film is provocative – and will no doubt cause controversy in its home territory – in its depiction of political radicalism as akin to, or informed by, personal psychosis.
But Veiel's script – informed by Gerd Koenen's book Vesper, Ensslin, Baader: Prehistory of German Terrorism – displays impressive cogency in examining the relations between words, beliefs and action in a cultural context that is as influenced by literary as by political allegiances. The art direction is never excessively hung up on the potentially camp aspects of period detail, and Judith Kaufmann's solid, unglamorous photography suits the overall seriousness of a film that is consistently involving, if occasionally studious in tone.
Production company: Zero One Film
International sales: The Match Factory, www.the-match-factory.com
Producer: Thomas Kufus
Cinematography: Judith Kaufmann
Editor: Hansjörg Weissbrich
Production designer: Christian M. Goldbeck
Music: Annette Focks
Main cast: August Diehl, Lena Lauzemis, Alexander Fehling, Thomas Thieme, Imogen Kogge