Dir/scr: Kaouther Ben Hania. France-UAE. 2010. 75mins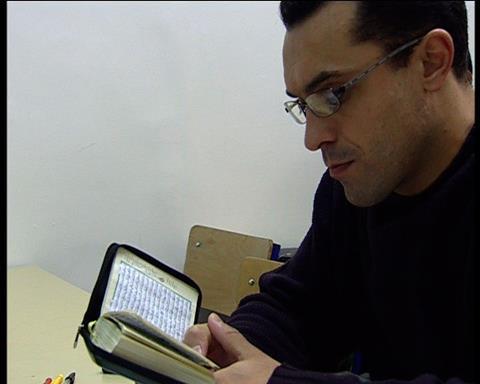 Imams Go To School (Les Imams Vont A L'Ecole) is a simply structured but intellectually intriguing documentary that tackles the contradictions and paradoxes facing apprentice imams in training in Paris. If offers a different perspective on religion and would be an easy fit in any documentary film festival.
Director Kaouther Ben Hania keeps her film tight and nicely paced.
Apprentice imams receiving theological training at the Great Mosque in Paris have to attend courses in secular training in order to comply with French social regulations, and therefore find themselves in classroom at the Catholic Institute in Paris to learn about Republican concepts.
The courses are headed by the engagingly charismatic Olivier Bobineau, director of the Catholic Institute, which is hosting the sessions after the Sorbonne declined to take part. While French history and politics are part of the course, at the heart of the matter is French law defends freedom of religious exercise and the fact that there is an obligation to defend secularism – leading to the point that secular law clashes with Islamic sharia law.
Director Kaouther Ben Hania keeps her film tight and nicely paced, and while it never offers any real hard conclusions, it is engagingly presented and thoughtfully made. The film premiered at the Dubai International Film Festival.
Production company: Who'z Prod, 03 Productions, Images Plus
Sales contact: whozprod@gmail.com
Producer: Eric Borg
Cinematography: Dennis Gravouil, Walid Mattar
Editor: Tuong Vi Nguyen Long
Music: Kaouther Ben Hania