Dir/scr: Jeremy Lovering. UK. 2013. 85mins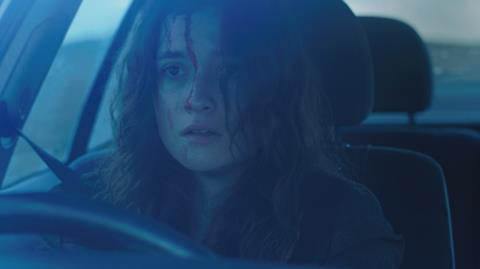 Jeremy Lovering's chilling and gripping feature debut is an old-fashioned white-knuckle horror-thriller that revels in its sense of unsettling claustrophobic style as it tackles that primal fear of what might be lurking in the deep, deep, dark.
The chills and thrills are nicely staged by Lovering, who makes great use of the locations and the limited environment of the car itself.
The film, which had its world premiere in Park City at Midnight section of the Sundance Film Festival, has a controlled and chilling visual style – enhanced by shrewd sound design – and while tense and scary it doesn't resort to clichéd horror routines, instead keeping the story edgy, tense and visceral. In Fear should appeal to distributors of genre and thriller material and features an impressive lead performance from rising star Alice Englert (whose mother is director Jane Campion), who starred in Ginger And Rosa and appears in upcoming supernatural drama Beautiful Creatures.
The lead performances by Englert and Iain De Caestecker are given an added twist by the fact that writer/director Lovering withheld the script and often concealed what was about to happen them as the story developed, meaning that they performed from guide dialogue but were unaware of the chills and twists to come.
Tom (De Caestecker) and Lucy (Englert) have only known each other two weeks and are driving to join friends at a music festival. Tom has booked a room at a remote country hotel , in a bid to add romance to their burgeoning relationship, but after leaving a country pub they find themselves lost in the deep countryside – their sat-nav can't pick up a signal and the downloaded map they have printed is too vague – with darkness descending.
They find signs to the hotel, but are increasingly worried when it turns out the signs just take them in in circles and they find themselves lost in a maze of country road…and to make matters worse they start to realise that someone is out there in the dark and they have become his target.
Director Lovering plays with old-fashioned psychological chiller routines – racking up the tension after seeming moments of respite; offering glimpse of someone lurking in the dark; using sound effects well, emphasising the claustrophobic atmosphere of the small car and playing on the tension as the would-be couple start to bicker – while also having a few smart horror-thrills also in his repertoire.
While trying to escape a figure who attacks them, their car hits local man Max (played with relish by Downton Abbey actor Allen Leech) who they reluctantly agree to take with them. Things then take on an even more dangerous cat-and-mouse quality as the film trades on the innate fear that is absorbing Tom and Lucy.
The chills and thrills are nicely staged by Lovering, who makes great use of the locations (the film shot on Bodmin Moor and nearby woodland in Cornwall) and the limited environment of the car itself. The performances are starkly realistic and striking, with Alice Englert especially fine. In Fear is a tense and gripping little chiller likely to find an appreciative audience with fans of the genre.
Though the underlying message for young couples heading off into the remote countryside is to always do a proper check on Trip Advisor and pack a good map…
Production company: Big Talk Pictures
International sales: StudioCanal, www.studiocanal.com
Executive Producers: Matthew Justice, Danny Perkins, Jenny Borgars, Katherine Butler
Producers: Nira Park, James Biddle
Cinematography: David Katznelson
Editor: Jonathan Amos
Production designer: Jeff Sherriff
Music: Roly Porter, Daniel Pemberton
Main cast: Alice Englert, Iain De Caestecker, Allen Leech