Dirs: Victor Kubicek, Derek Anderson. US. 2012. 82mins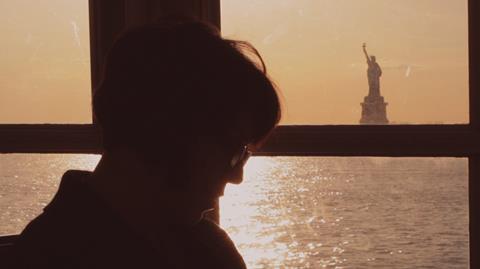 Is there more to know about arch-swindler Bernard Madoff? Madoff's secretary tells of her almost three decades with him in the documentary In God We Trust, directed by Victor Kubicek and Derek Anderson, and even finance junkies will be struck by the questions it raises.
In its blend of poignancy and doggedness, it reminds us that there's a lot more about Madoff and his clients that we still don't know.
In God We Trust finds another human dimension to the Madoff scandal as it details the betrayal of Eleanor Squillari, a woman now aged around 60 from Staten Island. This first-person account, told in the New York accent of a pretty policeman's daughter will make the rounds of the festival circuit in the US, with a short stop in American cinemas before airing on television or cable. International exposure could depend on whether this doc is overtaken by the next financial crisis.
Squillari's take on the Madoff scandal first emerged in an article in Vanity Fair in 2009. In the documentary, we follow her from a grim Italian-American childhood in Staten Island to a journey reminiscent of Mike Nichols 1988 film Working Girl that took her to Madoff's notorious operation in the Lipstick Building where she stayed 28 years. When the fraud was cracked, she lost her job, but began probing the reach of her boss's misdeeds. Like Melanie Griffith in Working Girl, she overcame her modest upbringing and learned how a business worked, albeit bit a too late.
Squillari's story mixes a journey through her own life with Madoff and testimony from journalists and other investigators who were on to the man early. Most of those warnings went unheard, especially at the Securities and Exchange Commission (SEC), the designated regulator. Kubicek and Anderson leave the SEC alone which is a major shortcoming to the film.
Also, testimony from Madoff is absent, as are his wife and sons, one of whom committed suicide. Squillari insists that the sons were not complicit in their father's schemes.
But besides giving human poignancy to a woman who worked for Madoff and believed, until she was told different, that he wasn't a criminal In God We Trust achieves something new…t makes Madoff out to be less of a criminal than some of his clients.
Investigators testify that Madoff's most important clients emerged with most of the money that they had put with him, and maintain that Madoff's money-laundering operations for those clients handled far more money than his Ponzi that guaranteed smaller investors a sure annual 10 % return.
Kubicek and Anderson point fingers at Jeffry Picower, an investor whose wealth escaped being included on the Forbes 400 of the world's richest men, but who nonetheless received 500% returns on funds placed with Madoff. After Picower's body was found in his Palm Beach swimming pool, he wife settled with the US government for $7.2 billion. The filmmakers wonder where the rest is.
One top European beneficiary, Sonja Kohn, who investigators said was also a feeder of billions to Madoff, is shown at a recent business meeting in a Vienna café. Another major Madoff investor vanished from the internet, an act more remarkable than tax evasion.
Even with excellent production values, In God We Trust does not break the mold in reporting on finance or on conspiracies. Nor is all its information new. But in its blend of poignancy and doggedness, it reminds us that there's a lot more about Madoff and his clients that we still don't know.
Production companies: The Halcyon Company, Verisimilitude, Magic Hour Entertainment
International sales: Thought Engine
Producers: Victor Kubicek, Derek Anderson, Hunter Gray, Orlando Wood
Executive Producers: Tyler Brodie, David Aim, Beverly J. Camhe, Marc Altschuler, Paul Wilmot
Co-Producer: Phaedon Papadapoulos
Screenplay: Victor Kubicek, Derek Anderson
Editor: Melody London
Music: Human